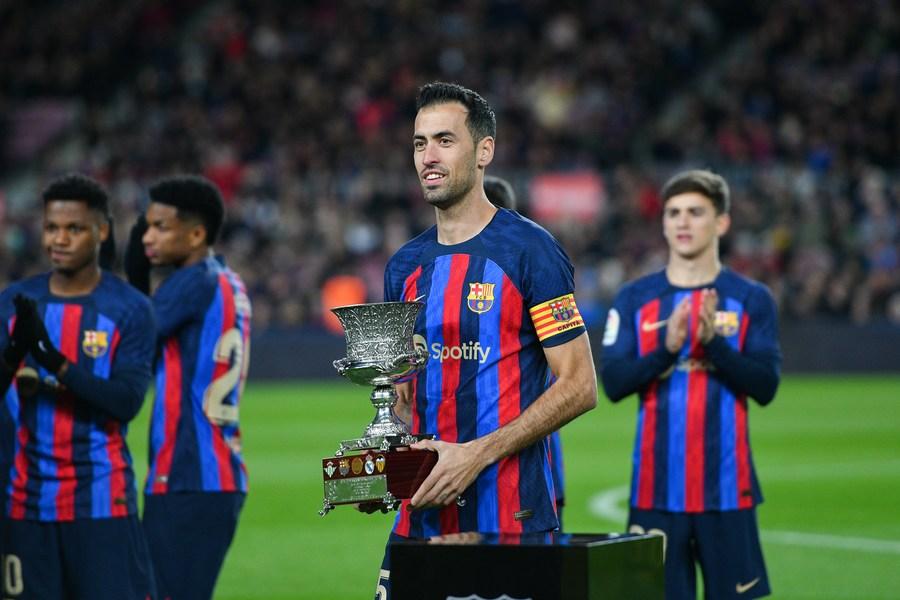 Sergio Busquets (Front) of Barcelona shows the Spanish Supercup before a La Liga match against Getafe in Barcelona, Spain on Jan. 22, 2023. (Photo by Joan Gosa/Xinhua)

FC Barcelona midfielder Sergio Busquets on Wednesday called time on his long career at the club, as he announced that he would not be signing a new contract to replace the one that expires at the end of the current season.
The son of former Barcelona keeper Carles Busquets, 34-year-old Sergio says 'goodbye' to Barca after 15 seasons with the first team in which he has made 719 appearances and scored 18 goals.
"Who was going to tell me when I came as a youth that I would spend 15 seasons in the best club in the world, the club of my life, and of which I have been, am and will be a fan, partner, player, captain and be able to exceed 700 games?" wrote Busquets in an open letter to fans.
"Everything has a beginning and an end. Although it has not been an easy decision, I think the time has come. I want to thank all the people who have made it possible to experience all this from the first day to the last," he added.
Busquets has helped Barca win eight La Liga titles in his career and that will increase to nine if his side defeats Espanyol this weekend. He has also helped the club lift three UEFA Champions League, seven Copa del Rey and seven Spanish Supercups.
The midfielder's decision comes after he announced his retirement from international football after making 143 appearances for Spain, in the wake of the 2022 FIFA World Cup in Qatar.
Although Busquets has slowed down slightly over the past couple of seasons, he has still been vital to Barcelona, making 27 appearances so far this season in La Liga, with the club unable to find a direct replacement for his 'holding' role in the middle of the pitch.
Rumors of a possible return of Lionel Messi had led to speculation that Busquets would delay his exit for another season, but his departure will help Barcelona meet financial fair-play requirements in order to sign new players next season.
Busquets is expected to move to either Saudi Arabia or the MLS, and his departure will almost certainly lead to speculation over left back Jordi Alba, with the highly paid 34-year-old dropping down the pecking order at the club.