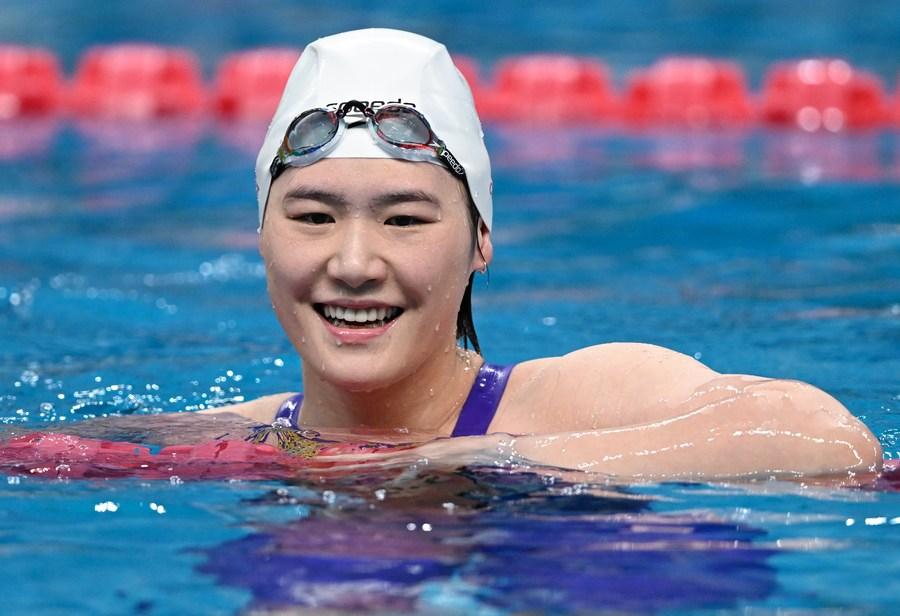 Ye Shiwen wins the women's 200m breaststroke at the Chinese national spring swimming championships in Qingdao on March 23, 2023. (Xinhua/Xia Yifang)

Ye Shiwen has shown a glimpse of returning to top form.
The former Olympic champion claimed the 200m breaststroke crown at China's swimming championships last week in Hangzhou, posting her personal best time in over four years.
"I felt like I've given it my all," said Ye after the competition, breathing a sigh of relief.
Her time of 2:22.44 has reached the qualifying standards for the 2023 Fukuoka World Championships and the 2024 Paris Olympic Games. Her win against seven young competitors born in the 2000s was not easy for the veteran swimmer.
11 years ago, then 16-year-old Ye stunned the world by winning both the 200m and 400m medley titles at the London Olympics, but the pressure from being afraid of defeat then crushed her.
Since London, Ye had to deal with depression, weight gain, insomnia, and an ankle injury. Disaster struck at the Rio Olympics, where Ye could only finish eighth in the 200m final and failed to qualify for the 400m final.
She took a year away from the pool and started her college life as a law student at Tsinghua University.
Having realized how much swimming means to her, Ye decided to challenge herself once again in the pool, but this time with a completely different perspective and mindset.
At the 2019 World Aquatics Championships, Ye won silver medals in 200m and 400m medley and enjoyed the race as an ordinary swimming lover.
Ye, a Hangzhou native, has set her sights on the Hangzhou 2022 Asian Games, taking every training session seriously and trying to improve her technique.
"She didn't give up swimming 11 years after she reached the top of the world," a swimming fan commented on social media. "That's just amazing."
"The story of Ye Shiwen has also shown everyone as long as we stay down-to-earth and step firmly towards our goal, nothing is impossible and we will eventually achieve our wildest dreams," wrote another swimming fan.