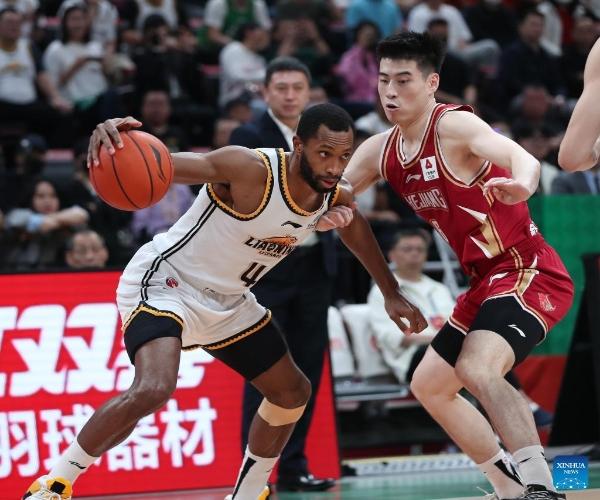 Kyle Fogg (L) of Liaoning Flying Leopards vies with Cheng Shuaipeng of Zhejiang Golden Bulls during the third round final match between Liaoning Flying Leopards and Zhejiang Golden Bulls at the Chinese Basketball Association (CBA) league 2022-2023 season playoffs, in Shenyang, north China's Liaoning Province, May 13, 2023. [Photo/Xinhua]
Defending champions the Liaoning Flying Leopards smashed the Zhejiang Golden Bulls 94-68 to take a 3-0 lead in the Chinese Basketball Association (CBA) Finals here on Saturday.
After having lost the previous two home games, Zhejiang was on the backfoot in the best-of-seven series, and the Golden Bulls' fans had more bad news as their star guard Wu Qian would be absent due to a broken rib.
The game turned into a blowout in the second quarter as Liaoning notched 26 points while their rivals struggled to take 12.
Although Wang Yibo's seven points after the break gave Zhejiang a hint of hope, the away team failed to restrain Kyle Fogg's 3-pointers.
After Zhang Zhenlin threw down a windmill dunk with 3:38 left on the clock, Zhejiang called a timeout to announce they had reluctantly accepted the blowout.
Fogg scored a game-high 28 points for the Flying Leopards, and Eric Moreland added 17. Zhao Jiwei, who has been unstoppable behind the arc in the playoffs so far, found another way to contribute to his team, scoring 13 points while dishing out 11 assists and registering five steals. Guo Ailun appeared on the roster but sat out the whole game.
Wang led Zhejiang with 17 points, followed by Cheng Shuaipeng's 14.
Game 4 will be played in Shenyang on May 15.