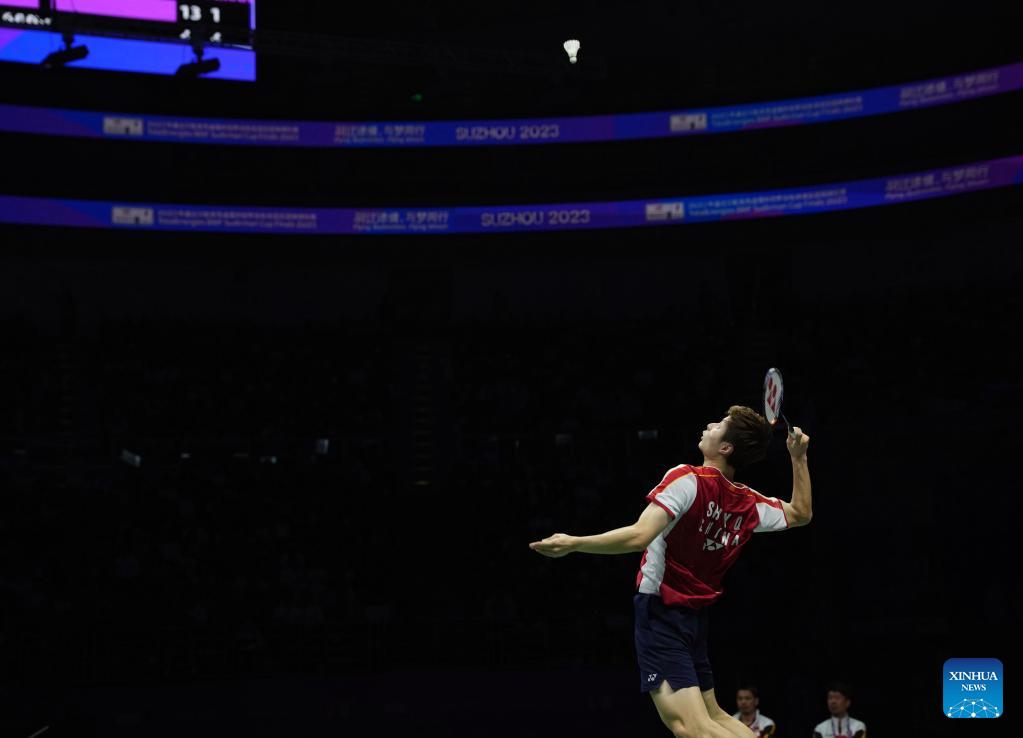 Shi Yuqi of China competes during the men's singles match against Naraoka Kodai of Japan of the semifinal match between China and Japan at BWF Sudirman Cup in Suzhou, east China's Jiangsu Province, May 20, 2023. [Photo/Xinhua]
Hosts China suffered a huge scare before rallying past Japan 3-2 to reach the final of the Sudirman Cup in Suzhou on Saturday.
Liu Yuchen and Ou Xuanyi saved China from the brink of defeat as the men's doubles pair clinched a crucial tie when Japan led 2-1 and had four match points in hand.
China lost their opening tie as Feng Yanzhe and Huang Dongping were stunned by Japan's Kyohei Yamashita and Naru Shinoya in a 106-minute thriller.
The Chinese mixed doubles pair was upset 26-24 in the first set but clawed back 21-18 in the second. In the decider, however, Feng and Huang missed two match points to lose 24-22.
"We were actually leading all the way in the latter part of the third set, and I had a lot of chances but we dropped it. I think I should have been a bit more patient," said Feng.
Shi Yuqi recovered from one set down to beat Kodai Naraoka 13-21, 21-15, 12-17 in the men's singles and made it 1-1 before Olympic women's singles champion Chen Yufei lost to Akane Yamaguchi of Japan.
Liu and Ou became the key men today. The young pair lost their first set 21-17 before claiming the second 21-19. Japan's Takuro Hoki and Yugo Kobayashi showed strength to lead 20-16 in the third set but were turned back by Liu and Ou 22-20 when Japan were one step away from the final.
With such morale and cheering from the home crowds, world No. 1 women's pair Chen Qingchen and Jia Yifan thrashed Yuki Fukushima and Sayaka Hirota in straight sets to seal the win.
"We are very happy to have taken the match, we did our job today and didn't let the fans down at home with the men's doubles," said Liu.
"I didn't think I could play like that before, but I gave it my all," Ou added.
China, the most successful team in tournament history, have won 12 of the past 17 editions and never missed the final since 1993.
Saturday's triumph means China have made to the final 15 times in a row, and the hosts will contend for the title with four-time winner South Korea, who knocked out Malaysia 3-1 earlier on Saturday.
The final of the week-long tournament will take place on Sunday.