A third straight Sudirman Cup title cemented China's dominance of badminton's prestigious mixed team championship in Suzhou, Jiangsu province, on Sunday.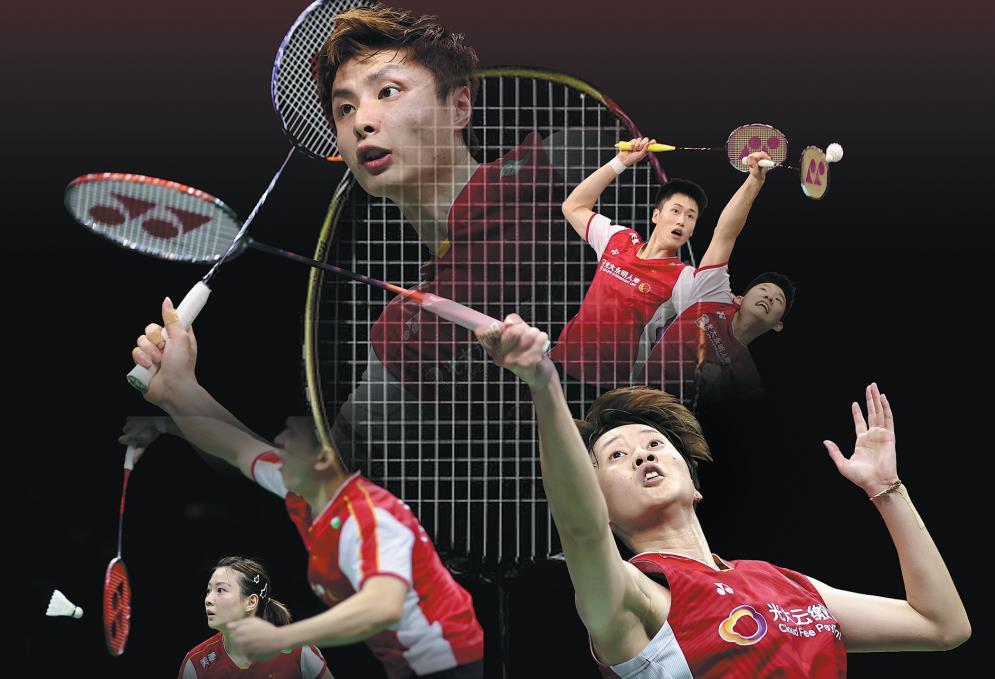 Team China competes against South Korea during the final match at the BWF Sudirman Cup at the Suzhou Olympic Sports Center on Sunday. WEI XIAOHAO/CHINA DAILY
However, the epic effort required to fend off their rivals last week suggested Chinese players will face major challenges to retain their crown in the future.
With the deafening roar of around 7,000 spectators filling the Suzhou Olympic Sports Center, and tens of millions of fans glued to the action on TV, Team China delivered under pressure to beat South Korea 3-0 in Sunday's final.
Men's singles ace Shi Yuqi, reigning women's singles Olympic champion Chen Yufei and world No 1 mixed doubles pair Zheng Siwei and Huang Yaqiong were the heroes, sweeping the Koreans to secure victory.
Despite their individual brilliance, all the Chinese players were keen to stress the triumph was a collective effort.
"If I can win my match and ensure the players after me face a 2-0 situation, then that eases the pressure a bit and all they need to do is focus on their matches. Simply reaching the final was an extremely tough journey. So in Sunday's final, all the Team China players shared the same goal of winning," said Shi.
China breezed through the group stage, beating Egypt, Singapore and Denmark, all 5-0, before seeing off Indonesia 3-0 on Friday in the first knockout round.
An epic seven-hour semifinal tussle with Japan, however, pushed Team China to its limit, with the reigning champion somehow managing to battle back from the brink of elimination and prevail 3-2.
China found itself trailing 2-1 after Huang Dongping and Feng Yanzhe lost the opening mixed doubles rubber, and Chen Yufei was defeated by women's world No 1 Akane Yamaguchi. Shi Yuqi managed to get China off the mark by winning a tough men's singles three-setter against Kodai Naraoka.
Liu Yuchen and Ou Xuanyi were then faced with a must-win men's doubles clash, and they obliged in dramatic fashion — saving four match points to rescue the defending champion. Women's doubles pair Chen Qingchen and Jia Yifan completed the stunning comeback to seal glory.
The enthralling semifinal highlighted the increasingly stiff competition China faces on the global stage.
Denmark's Viktor Axelsen remains the world No 1 in men's singles, where the highest-ranked Chinese player is Shi at No 10. In the women's singles, reigning Olympic champion Chen Yufei is now world No 4, and her compelling battle with the top-ranked Yamaguchi of Japan was another wonderful advertisement for the sport.
Men's double heroes Ou and Liu still only rank No 5 in the world, although China tops the standings in the mixed and women's doubles, with Zheng and Huang, and Chen Qingchen and Jia retaining their No 1 positions this week.
Back when legends Lin Dan and Zhang Ning held court, Team China was the undisputed dominant force in every discipline. Whether China's new generation can truly fill those greats' shoes remains to be seen. However, in Suzhou they showed they certainly don't lack for determination and persistence.
"You can say that my skills are not the best and you can say that I'm even a mediocre player, but you can never say that I lack fighting spirit and resolve. I never give up on any match and I never run away from my responsibilities," said an emotional Chen Yufei after her victory over world No 2 An Se-young of South Korea, which followed Saturday's defeat to Yamaguchi.
"No matter what physical condition I'm in, I always want to win once I step onto the court. No one should underestimate me. I have great courage from all the people and friends who support me."
Last week's action marked the first time many international players had returned to China since the pandemic.
The foreign stars enjoyed a warm welcome from fans in Suzhou — none more so than world No 1 Axelsen. The Dane, who speaks fluent Mandarin, sustained a left hamstring injury during a quarterfinal match and subsequently withdrew from the tournament. His silver lining was the support and best wishes he received from Chinese fans.
"I'm on my way home at the airport, and I want to express my thanks to all the Chinese fans who have been supporting me. There were so many Chinese fans cheering for me at the venue, hotel and online. I'm so happy to return to China to play. I hope the next time I can play more matches in China, and I hope I can recover as soon as possible," Axelsen said in a video posted on his Weibo account.
Pusarla V. Sindhu of India was also impressed by the atmosphere in Suzhou.
"This is the first time after a long time for me to come to China. I think the facilities here are very good and I can feel the enthusiasm of the crowds, which are fantastic. And here we have a really big stadium. I'm happy to be back in China again," Sindhu told reporters.
Organizers ratcheted up the feel-good factor by hosting a series of retirement ceremonies for people who have forged careers in badminton. Chen Long, the 2016 Rio Olympic gold medalist, was among the players to be honored.
"I decided to end my badminton career here at the Sudirman Cup. It was not an easy decision, and it was hard for me to say goodbye. Right now, I'm pretty emotional. I want to thank Team China, my family and all the fans. The 17 years I spent in the national team was the best time of my life," said Chen Long.
"I want to share my experience with the younger generation of players. I hope the young Team China can continue to blossom, and I will keep contributing to this sport."
Organizers excel
To ensure the world's elite badminton aces enjoyed the best possible competition and living environment, local organizers pulled out all the stops.
Feng Tao, an official of the Suzhou Olympic Sports Center, said ensuring the courts were of the highest quality was a priority.
"For instance, the gap between any two pieces of wood flooring under the courts should not exceed one millimeter. Amateur players would probably not notice the difference, but the pros are very sensitive to the quality of the courts," Feng told media.
"After we finished preparing the courts, we asked players to train on them, and then we made adjustments based on their feedback. We made sure they enjoyed the best courts."
Shuttlecocks are sensitive to even the slightest current of air, so ensuring the correct conditions inside the venue was another task that required extreme precision and care. Air-conditioning vents were, therefore, installed under the seats in the stands.
The lights inside the venue were also state of the art. Feng explained that providing players with the correct illumination level (measured in lux) was crucial.
"Usually in training venues, the lights are just 500 lux, but in our venue the lights reach 1,800 lux. Also, we have to ensure the lights are shadow-less, so the players aren't affected by the lights and can focus on their matches," Feng added.
About 300 volunteers, mostly local university students, served at the Sudirman Cup. From translators to guides, the volunteers provided players, media and all participants with comprehensive help.
"We all know that the Sudirman Cup is the world's top badminton competition, and we have players and fans from all over the world gathered here. As volunteers, we represent not just ourselves but also the image of the city," said volunteer Fan Wenjie.
A number of promotional badminton events were staged on the sidelines of the tournament. One highlight of these activities was the visit of star Chinese players Huang Dongping, Chen Qingchen and Shi Yuqi to local primary and middle schools to interact with and coach students.
"Badminton has a huge fan base in China, especially among young people. Through these activities, we hope our champions can pass on their values and spirit to the next generation and enrich their lives," said Xia Xuanze, a vice-president of the Chinese Badminton Association.