Defending champion Wang Manyu of China triumphed in a full-game thriller against Hanna Haponova of Ukraine, securing a place in the women's singles round of 16 at the ITTF World Table Tennis Championships (WTTC) Finals on Wednesday.
Contrary to the vast disparity in their world rankings, the match was a tough contest. Haponova, ranked No. 213 globally, demonstrated her formidable playing style, taking a 2-1 lead and saving a match point to force a deciding game. However, Wang, the tournament's second seed, found her rhythm and emerged victorious with an 11-3 triumph in the final game.
Reflecting on her performance, Wang admitted that she feared defeat but remained confident. "I would have been completely discontent if I lost at this stage. Despite the pressure, I felt a strong motivation to win," she stated.
In addition to Wang, four other Chinese women players advanced to the round of 16. Top seed Sun Yingsha dispatched Elizabeta Samara of Romania in straight games, while Olympic champion Chen Meng overpowered German veteran Shan Xiaona 4-0.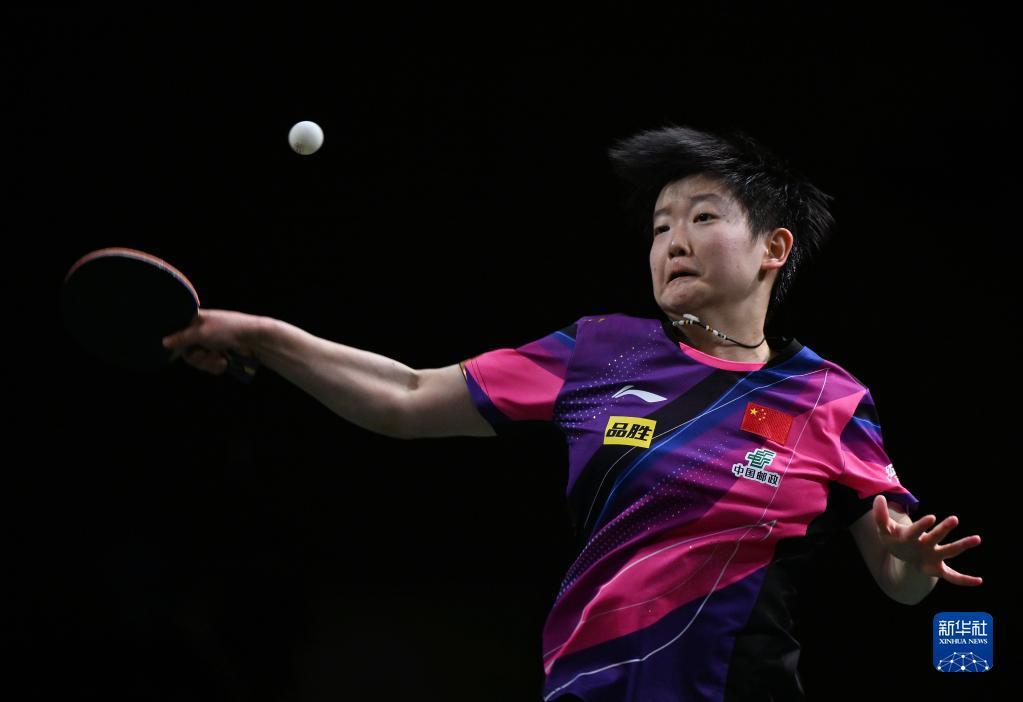 Wang Yidi won 4-1 against Portugal's 44-year-old Fu Yu, and Chen Xingtong secured a 4-2 victory against Zhu Chengzhu of Hong Kong, China.
Notably, Japan has four players in the women's round of 16 - Mima Ito, Hina Hayata, Miu Hirano, and Miyuu Kihara, along with Adriana Diaz of Puerto Rico, Germany's Han Ying, and Cheng I-Ching of Chinese Taipei.
In the upcoming round, Diaz is set to face Ito. "Mima is one of the best players in the world. I will have to prepare thoroughly," Diaz commented.
On the men's side, second seed Wang Chuqin edged out world No. 19 Yukiya Uda 4-1, marking his second consecutive victory over a Japanese player in Durban.
In the wake of Uda's exit, Tomokazu Harimoto remains the only Japanese player in men's contention, having outplayed Chinese Taipei veteran Chuang Chih-Yuan 4-0.
China's top-ranked Fan Zhendong bested Wong Chun Ting of Hong Kong, China 4-1, while Ma Long overcame Kristian Karlsson of Sweden 4-1. They are joined by their compatriots Lin Gaoyuan and Liang Jingkun, who defeated South Korean Lee Sang-su and Paul Drinkhall of England respectively.
Fueled by African support, Egypt's Omar Assar ousted the 2021 World Championships runner-up Truls Moregard of Sweden 4-2. With the World Championships returning to Africa for the first time since Cairo, Egypt, in 1939, the African champion recognized the significance of this event to the continent.
The reigning mixed doubles champions, Wang Chuqin and Sun Yingsha, advanced to the semifinals after sweeping past Lin Yun-Ju and Chen Szu-Yu of Chinese Taipei 3-0. Their young teammates Lin Shidong and Kuai Man overcame French pair Simon Gauzy and Prithika Pavade 3-1 to meet world No. 2 Harimoto and Hayata in the semifinals.
Additionally, Chen Meng and Wang Yidi reached the women's doubles quarterfinals with a 3-0 victory over Romanian pair Elizabeta Samara and Andreea Dragoman. They are set to face Japan's Ito and Hayata, the runners-up of the previous two editions of the event, in the next round