Former German national defender Mats Hummels and Borussia Dortmund have come to terms on a one-year contract extension, the Bundesliga club confirmed in an official statement on Wednesday.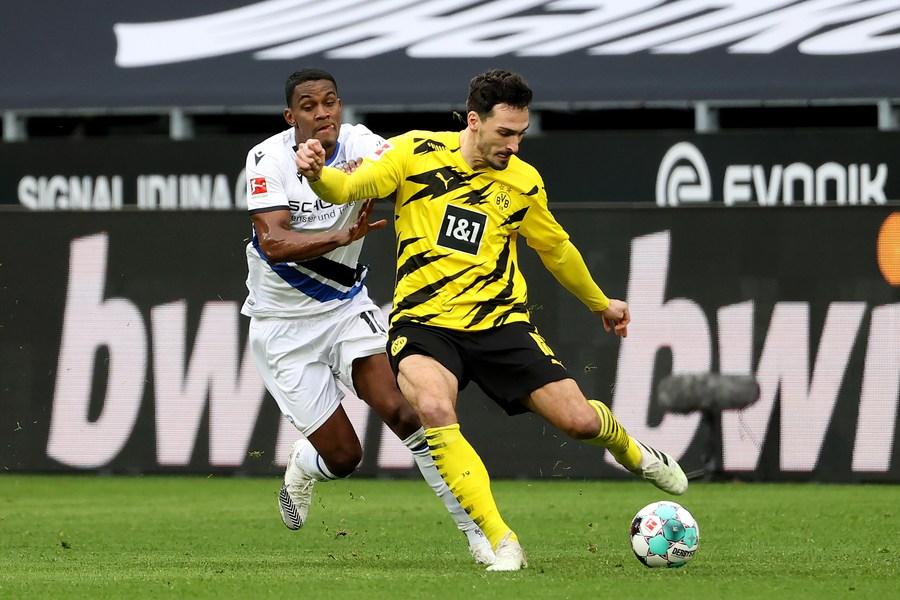 Mats Hummels (R) of Dortmund vies with Sergio Cordova of Bielefeld during a German Bundesliga football match between Borussia Dortmund and Arminia Bielefeld in Dortmund, Germany, Feb. 27, 2021. FOR EDITORIAL USE ONLY. GERMANY OUT. (Photo by Joachim Bywaletz/Pool/handout via Xinhua)

The 34-year-old has been with Borussia Dortmund since 2007, except for a three-year stint with Bayern Munich, accumulating 468 competitive appearances throughout his career.
"I am very pleased that Mats Hummels will continue with Borussia Dortmund. The club and Mats are intrinsically linked," said Dortmund's Chairman of the Board, Hans-Joachim Watzke.
During his tenure with the "Black and Yellows," Hummels won the Bundesliga title in 2011 and the domestic double in 2012, as well as the German Cup in 2021. He also achieved a FIFA World Cup victory with Germany in 2014 while playing for Dortmund.
Hummels spoke on his decision to stay: "Everyone knows how much I enjoy playing here with our fantastic supporters. I didn't take the decision lightly. It was a long process. Now, as the season draws to a close, I can confidently say, I am genuinely excited for another year."
Hummels has an opportunity to secure his third Bundesliga title with Borussia Dortmund as the team needs a win over Mainz on Saturday to clinch the championship in the final round.
"From this moment, the focus is solely on the game against Mainz. We still have a challenging 90 minutes ahead of us. Following that, we hope to celebrate a significant achievement together," Hummels remarked.
Under the guidance of coach Edin Terzic, Borussia Dortmund is poised to claim its ninth Bundesliga title, currently sitting at the top of the standings with a two-point advantage and one game left to play.