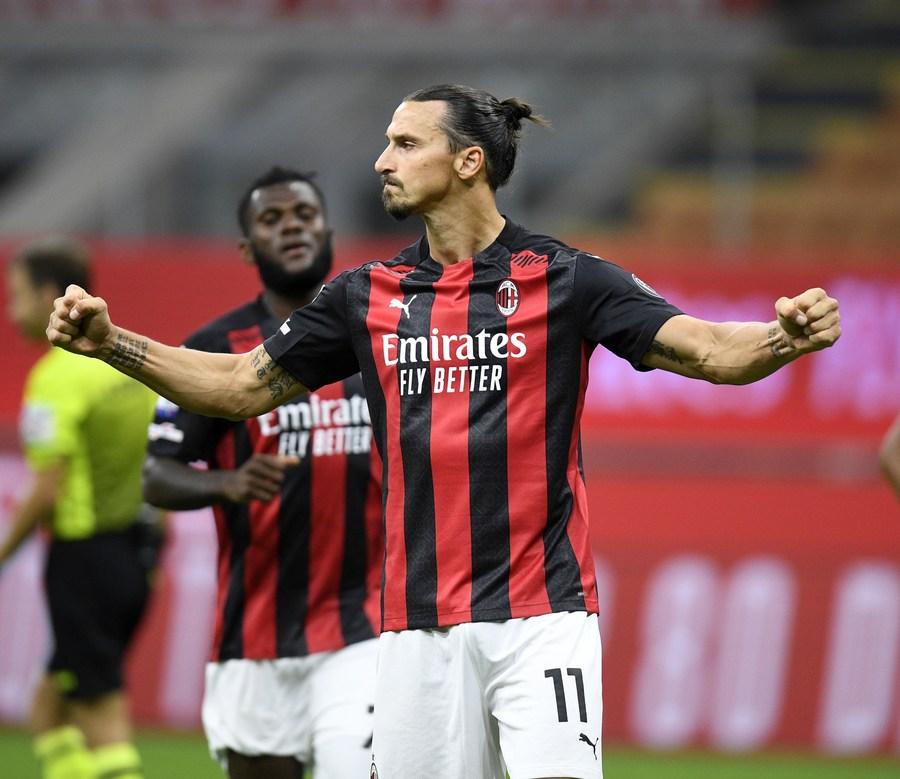 Zlatan Ibrahimovic celebrates after scoring during AC Milan's 2-0 win against Bologna in Milan, Italy, Sept. 21, 2020. (Photo by Alberto Lingria/Xinhua)

Emotions ran high at the San Siro on Sunday when Zlatan Ibrahimovic, also known as Ibra, announced his retirement after AC Milan's final match of the 2022-2023 season.
Ibrahimovic, set to turn 42 in October, decided to depart Milan as his contract drew to a close. Before the kick-off of Sunday's game, the fans in the stands energetically chanted his name and displayed a banner reading "Godbye," a sight that brought Ibra to tears.
The Swedish veteran player, whose previous teams include Malmo, Ajax, Juventus, Inter Milan, Barcelona, Paris Saint-Germain, Manchester United and LA Galaxy, began his second spell at Milanello in January 2020, making substantial impacts both on and off the pitch.
However, injuries beset the striker and limited him to just four appearances this season, during which he mostly made cameo appearances and scored only one goal.
Ibra announced his decision during the post-game ceremony, stating: "It's time to say goodbye to football, but not to you. There are too many emotions for me, Forza Milan and goodbye."
Known as a consistent trophy collector, Ibra amassed more than 30 trophies over his 24-year professional career. He made over 900 appearances at both the national and club levels and scored more than 500 goals.