FC Barcelona may have won La Liga this season, but nobody in or around the club will deny that there is still a lot of work to be done to prepare for next season.
Xavi Hernandez has done an excellent job and shown himself to be a pragmatic coach, not afraid to modify their trademark passing style on occasions, but Barca's failure for a second consecutive season to reach the knockout stage of the Champions League was a big setback to the club, both in sporting and economic terms.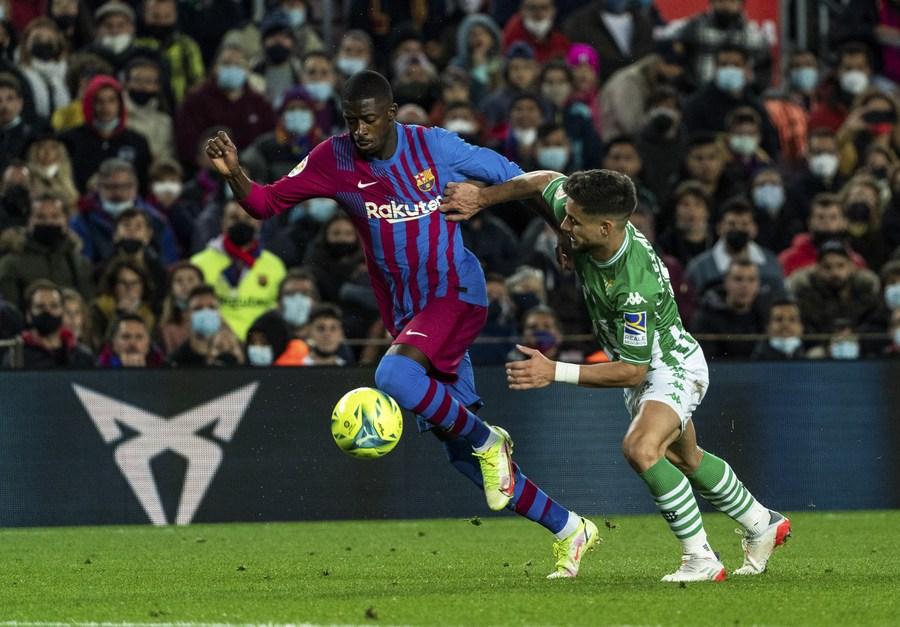 Barcelona's Ousmane Dembele (L) vies with Real Betis' Alex Moreno during a Spanish La Liga football match in Barcelona, Dec. 4, 2021. (Photo by Joan Gosa/Xinhua)

Meanwhile their 4-0 defeat to Real Madrid in the semifinals of the Copa del Rey highlighted the squad is still too thin to compete in three competitions at the same time.
While Barca needs to bring more depth into the squad, they also have to operate under strict financial constraints regarding their wage ceiling. Last year saw the club pull "economic levels" to help meet some of the targets set by La Liga and cost cutting will continue this year.
The club has already confirmed it will close its TV station in a cost-cutting exercise, but some players will also have to leave for others to arrive.
The dream is to bring back Leo Messi, who as well as what he offers in sporting terms and a boost to morale around the club, would also give a huge boost to Barca's marketing department. There are still big doubts over whether Messi can fit under Barca's wage ceiling, and the coming days will be decisive.
The departure of veterans Sergio Busquets and Jordi Alba has lowered Barca's wage bill, while the club will listen to offers for players for Franck Kessie, Ferran Torres and Raphinha.
Kessie has done reasonably well in his first season, but the fact he arrived on a free transfer means anything Barca earn in transfer fees is a net gain. Torres has dropped to the fringes of Xavi's plans and would also command a decent fee and although Raphinha ended the season as second top scorer along with Ansu Fati, he has not entirely convinced and Barca will think they can probably get more money for him from the Premier League than the 40 million euros they paid Leeds United a year ago.
Ansu Fati's future is also far from secure as he struggles to put his injury woes behind him: Xavi has hinted that the player, who is still only 20 years old, can't be guaranteed a starting place, but he would still command a hefty transfer fee.
Barca will also look to earn some money by selling players it loaned out for last season. Clement Lenglet did reasonably well at Tottenham, Samuel Umtiti has rediscovered his form at Lecce and Ezza Abde has had a great season with Osasuna and boosted his value in the transfer market.
Meanwhile the club will have to decide whether to bring Nico Gonzalez back from Valencia as a possible replacement for Busquets or to sell him to raise cash.
Athletic Club Bilbao's Inigo Martinez is lined up as the first signing of the summer and he arrives on a free transfer to add muscle to central defense, while central midfielder Ruben Neves looks likely to join from Wolverhampton, but Barca needs to sign another striker, a specialist right back, given that Jules Kounde is happier playing in the middle of defense and arguably another forward (especially if Raphinha leaves).
All of this will happen under the context of the reform work that has started at the Camp Nou. Barca will play next season in the city's Olympic Stadium, which has a much lower capacity and will mean a loss of revenue.
Meanwhile the club is still sweating on whether or not UEFA could decide to exclude them from European competitions over the 'Negreira case' in which Barca is accused of payments to the former deputy head of Spanish referees in an attempt to influence matches.
If Barca is kicked out of this season's Champions League, that would mean a big financial hit and an abrupt change of plans, and these must be nervous moments in the Barcelona offices ahead of what looks like a busy summer.