China's figure skaters are going back to basics as they bid to find their rhythm on home ice this winter.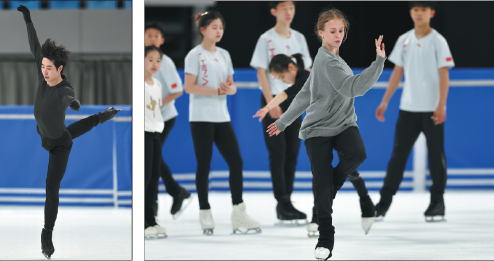 Left: Team China star Jin Boyang practices at the Capital Indoor Stadium in Beijing. Right: Former Russian professional Eva Kuts, who has been hired by Team China to work on skating fundamentals, demonstrates some moves for the squad's young hopefuls. WEI XIAOHAO/CHINA DAILY

As China embraces the resumption of international sporting events following the pandemic hiatus, the country's finest figure skaters have laced up for critical off-season training aimed at gaining on the world's elite performers in the 2023-24 season, when three International Skating Union events return to Chinese rinks.
Starting on May 24, 11 pairs and 30 singles skaters from 11 provinces and municipalities spent two weeks each for singles and pairs training at state-of-the-art Beijing 2022 venue the Capital Indoor Stadium, focusing on strength conditioning, skating basics, artistic elements and choreography.
For a national program so desperate to expand its strength from pairs to singles, improvements are required in numerous areas, according to new national team manager Yao Jia.
"This is where we set the tone for the next Winter Olympics in 2026," said Yao, a former director of the Beijing 2022 Winter Olympics' figure skating program, who took over as national team manager in March.
"We definitely have a higher target (for Milano-Cortina 2026) and a lot of catching up to do. But we need to take one step at a time and focus on each and every chance to improve.
"By assembling all the best available skaters together, including veterans and some young hopefuls we've just discovered, we can provide them with the best conditions and a shared venue, where they can all learn from each other."
In a bid to catch up with the world's very best figure skaters, former Russian professional Eva Kuts has been hired as an assistant trainer, and given specific responsibilities for skating fundamentals, such as step sequence and upperbody coordination.
Kuts, an ice dance specialist, is stressing the importance of focusing more on skating technique — a key ingredient of Russia's winning formula and which has been overlooked in the Chinese system.
"I think it's very important for China to bring some elements from the Russian style," said the 21-year-old Moscow native.
"We spend a lot of time training how to do the steps, how to do the turns and how to get more speed but using less pushes ... how to do less and have more.
"In my opinion, it's the skating skills which help them do the jumps, do their elements, because if they know how to use the ice it will help them perform the jumps more smoothly... so we have to ensure our programs contain choreography of steps and other things, not only running from one jump to another."
With high-difficulty jumps not performed in ice dance, exceptional skating and artistic elements are required to score highly. This makes it a great training method for singles and pairs skaters to complement their routines, reckons Yao, who is also an ISU-certified international judge.
"We usually apply a higher standard to judge skating in ice dance than in singles and pairs at international events," said Yao.
"By training our singles and pairs athletes with the standards adopted in ice dance, it helps push their skating to the next level."
The fresh approach at the camp has enlightened young talents on the fine margins between the good and the very best, said Dai Dawei, men's singles winner at the national championships in April.
"I did pay attention to my step work in skating but it was a different perspective at the training camp here," said the 19-year-old Guangdong native.
"I learned more about how to skate more efficiently and cleanly by using the right step sequence. I hope the step work can help me land all my triple Axel jumps this season."
As an elite nation in pairs skating, Team China is determined to level up its singles performances in time for the 2026 Winter Olympics.
The return of a series of major ISU events, beginning in November, is expected to further boost Chinese skaters' progress.
According to the 2023-24 calendar, the ISU Figure Skating Grand Prix Cup of China will be held in Chongqing from Nov 10-12, with the Grand Prix series final taking place in Beijing from Dec 7-10. The Chinese swing concludes with the Four Continents Championships in Shanghai from Jan 29-Feb 4.
After competing internationally only once — at Beijing 2022 — over the past three seasons, Chinese skaters are understandably raring to get back to business as usual.
"This season's goal is to take part in as many international competitions as possible," said Jin Boyang, China's top men's singles skater.
"After a season of adjustment last year following Beijing 2022, I feel 100 percent — physically and confidence-wise. Hopefully, I can make it to the grand prix final in Beijing," said Jin, whose fourth-place finish at the 2018 Pyeongchang Winter Games in South Korea was the best-ever Olympic result by a male Chinese figure skater.