As the World University Games in Chengdu, China rapidly approach, Kenneth Mwambu, an engineering student at Makerere University in Uganda, is diligently fine-tuning his badminton skills.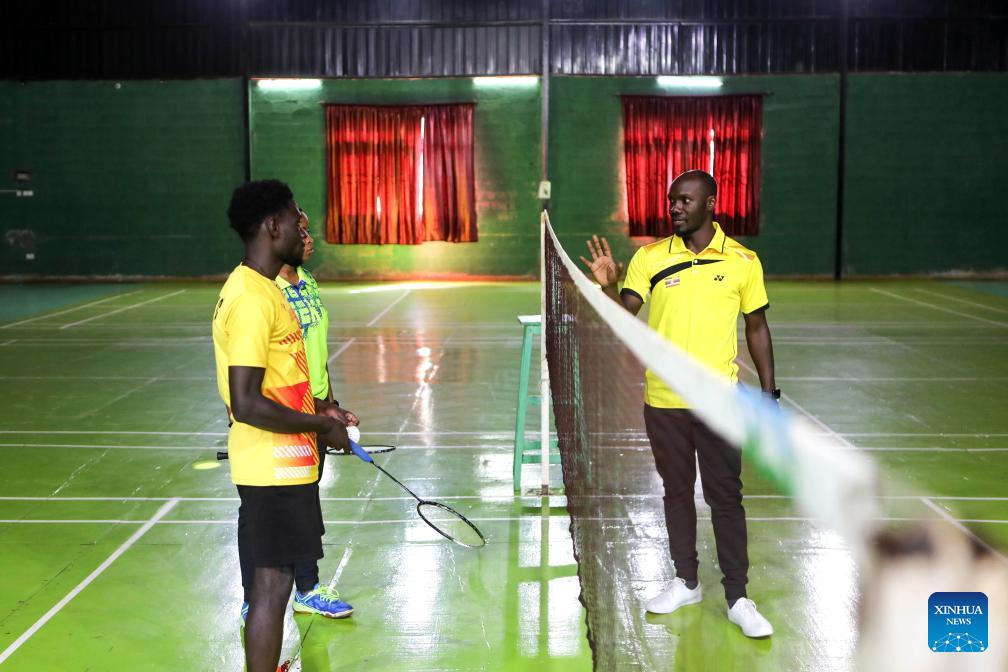 Freddieh Rellys Kirabo (R), coach of the badminton team that will represent Uganda at the 31st FISU Summer World University Games, offers training instructions at a facility located in Kalerwe, a lower-income neighborhood in Uganda's capital, Kampala, July 17, 2023. (Photo by Hajarah Nalwadda/Xinhua)
"With only a few days left until the tournament, we are focusing on addressing our errors while bolstering our strengths," the 23-year-old explained in a recent interview at a badminton training facility in Kalerwe, a lower-income neighborhood in Uganda's capital, Kampala.
Mwambu is part of a seven-member badminton team and a larger delegation of 40 university students who will represent Uganda in various disciplines at the 2023 FISU World University Games, slated to commence on July 28.
The journey to international badminton for Mwambu has been a testament to perseverance, reflecting the numerous challenges that rising athletes in developing countries often encounter.
"As a child, I was frequently sick. My mother raised us, her three children, on her own," he shared after a grueling training session.
Since 2016, when Mwambu began playing badminton in school, he has faced difficulty acquiring necessary equipment. His mother often stepped in to assist him with her modest income.
However, through determination and focus, Mwambu ascended to the national team in 2021. This achievement has opened doors to major international tournaments such as the 2022 Birmingham Commonwealth Games and the 2023 African Games.
Having also trained in India, Mwambu is eagerly anticipating his trip to Chengdu, the capital of southwestern China's Sichuan Province.
"Based on the images and magazines I've seen, I am looking forward to a vibrant, beautifully decorated city. The Chinese are known for their excellent decoration skills, which creates an energizing atmosphere that heightens my motivation," the young athlete remarked.
Once the games commence, Mwambu anticipates intense competition from global participants.
"My goal is to perform at my best. I'm not expecting any easy matches, as I know the tournament will be filled with skilled players. My primary focus is on advancing past the initial rounds, proceeding as far as my abilities can take me," he explained.
"I have been practicing intensely to ensure the quality of my shots is high and that I can compete effectively," he added.
A short distance from Mwambu's training ground is Ntinda, where Emmanuel Kiwanuka, a multimedia university student, is refining his swimming skills ahead of the Chengdu trip. Kiwanuka has been training rigorously for the university games.
"I spend six days a week practicing, with two sessions each day, resting only on Sundays. My week is packed with activities," he explained.
"Currently, I'm focusing on improving my personal best times, and breaking my own records would be a significant achievement," he added, expressing excitement about his upcoming trip to Chengdu and the opportunity to meet athletes from diverse cultures and backgrounds.
Patrick Sebuliba, deputy head of the Ugandan delegation to the games, lauded China for their exemplary preparation for the games and noted the smooth communication between the organizers and different countries and regions.
Sebuliba commended China's consistent efforts to develop its sports industry, citing well-equipped facilities and academies that train young athletes to become professionals.
"From what I've seen in videos and pictures, the Chengdu games promise to be unforgettable," Sebuliba said.
"Despite the recurring challenges we face, such as insufficient training grounds and lack of equipment, our team is prepared to give an impressive performance when the games start in Chengdu," he added.
Freddieh Rellys Kirabo, coach of the badminton team, believes the experience in Chengdu will be educational.
"As a team, a coach, and a country, we're going to learn a lot. I'm confident we will return better," Kirabo concluded.