The father of Spanish women's World Cup star Olga Carmona passed away just hours before she netted the decisive goal in Sunday's final against England, the Spanish Football Federation (RFEF) reported.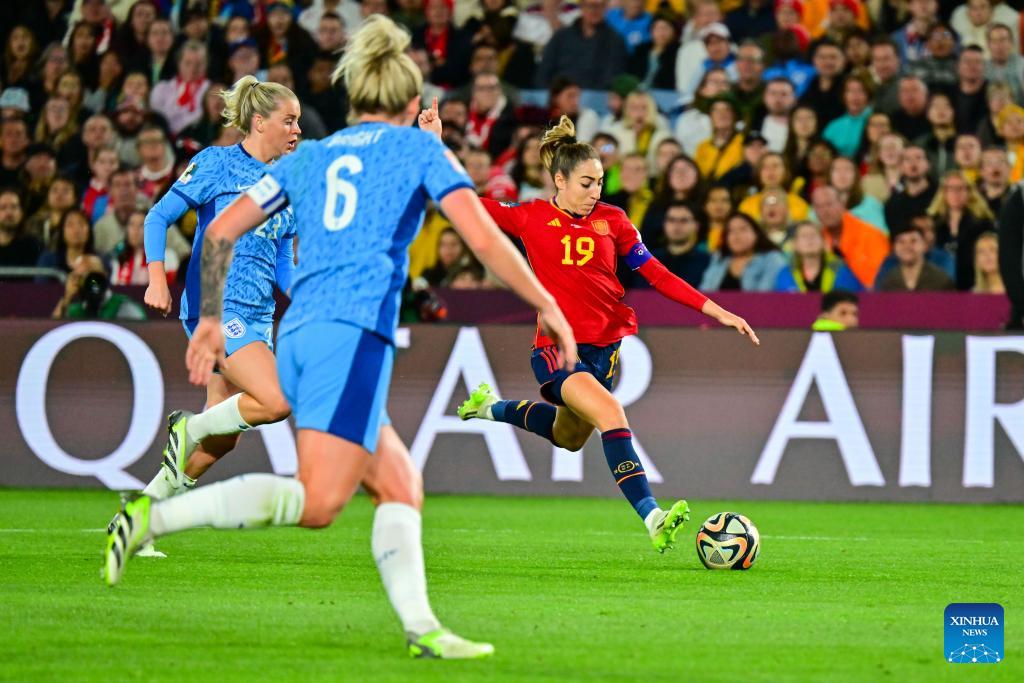 Spain's Olga Carmona (R) shoots to score during the Final between Spain and England at the 2023 FIFA Women's World Cup in Sydney, Australia, Aug. 20, 2023. (Xinhua/Zhu Wei)
The RFEF released a statement at around 22:00 hours Spanish time (20:00 GMT), saying: "the RFEF deeply laments to inform of the death of the father of Olga Carmona. Football heard the news after the World Cup final finished. We send our most sincere hugs to Olga and her family and her family in this moment of deep sadness. We love you Olga: you are history in the Spanish game."
The cause of Olga's father's death, which occurred in the early hours of Saturday morning, remains undisclosed. Olga, who was unaware of the tragic event, played a pivotal role in Spain's 1-0 victory over England, clinching the win with her goal in the 29th minute.
Real Madrid, Olga's club, also posted a message "deeply lamenting the death of the father of our player, Olga Carmona."
After scoring the only goal of the final, Olga revealed the name of her best friend's mother, who had also recently passed away, by lifting her jersey.
The triumphant Spanish women's team will touch down in Madrid on Monday evening, with celebratory events planned by the scenic River Manzanares.