Following England's runner-up finish to Spain at the FIFA Women's World Cup on Sunday, head coach Sarina Wiegman expressed her disappointment but remained hopeful for future performances.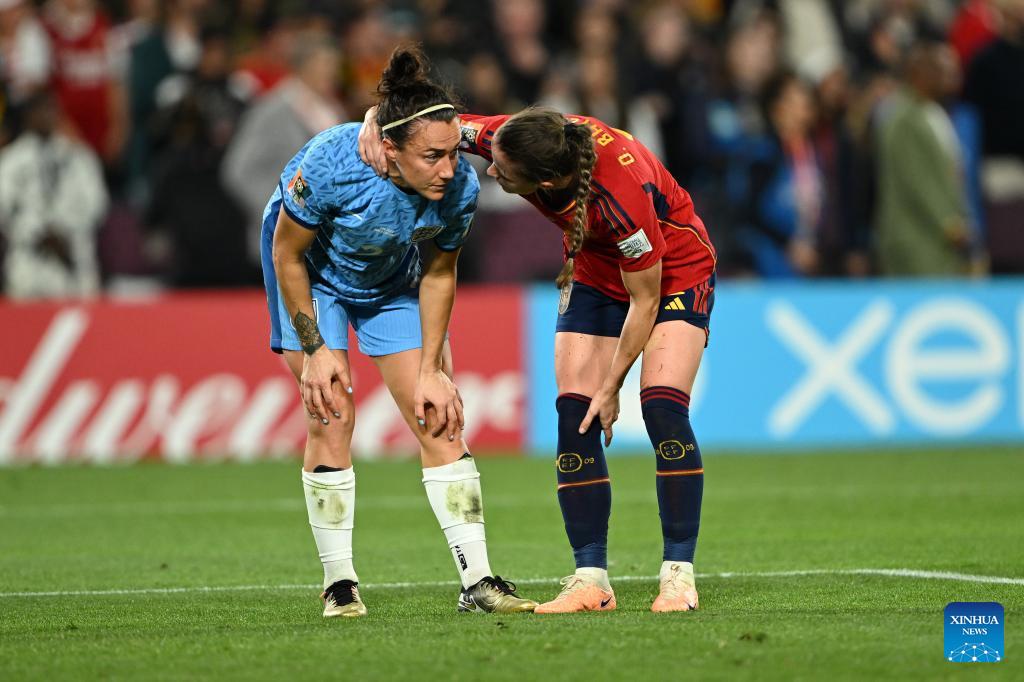 England's Lucy Bronze (L) talks with Spain's Ona Batlle after the Final between Spain and England at the 2023 FIFA Women's World Cup in Sydney, Australia, Aug. 20, 2023. (Xinhua/Li Yibo)
"It's hard to take now. We did everything, we've overcome a lot of challenges. It feels really bad," conveyed the 53-year-old Dutch coach. "We can be very proud of ourselves, though it doesn't feel that way at this moment; that takes a little bit of time."
"We were very close," she remarked. "We struggled to retain possession in the first half, prompting a switch to a 4-3-3 formation. I believe the change improved our gameplay in the second half."
Despite goalkeeper Mary Earps' pivotal penalty save providing a glimmer of hope, England was undone by Olga Carmona's decisive strike.
"She (Mary Earps) stopped the penalty, and I thought we're gonna get back and score a goal. I was really convinced about that," Wiegman noted.
This World Cup marked the second time a team under Wiegman's guidance clinched the runner-up title. Having led the Dutch side to the final in 2019, they eventually fell to the United States. Addressing the two finals, she said the matches were "different."
"I was thoroughly convinced the game would be close, but we felt confident about clinching a win."
"We have a very short turnaround but we'll start in September with Scotland and the Netherlands in the Nations League to qualify for the Olympics," she said. "You want to improve all the time."
Wiegman emphasized the team's dedication, stating, "This group of players are so eager to be successful so every next moment we want to grab and be better. Growth is one of the things that is really into this team."