Sunday's World Cup final between England and Spain was the final act of a month of drama which highlighted how far women's soccer has come — and the challenges that lie ahead.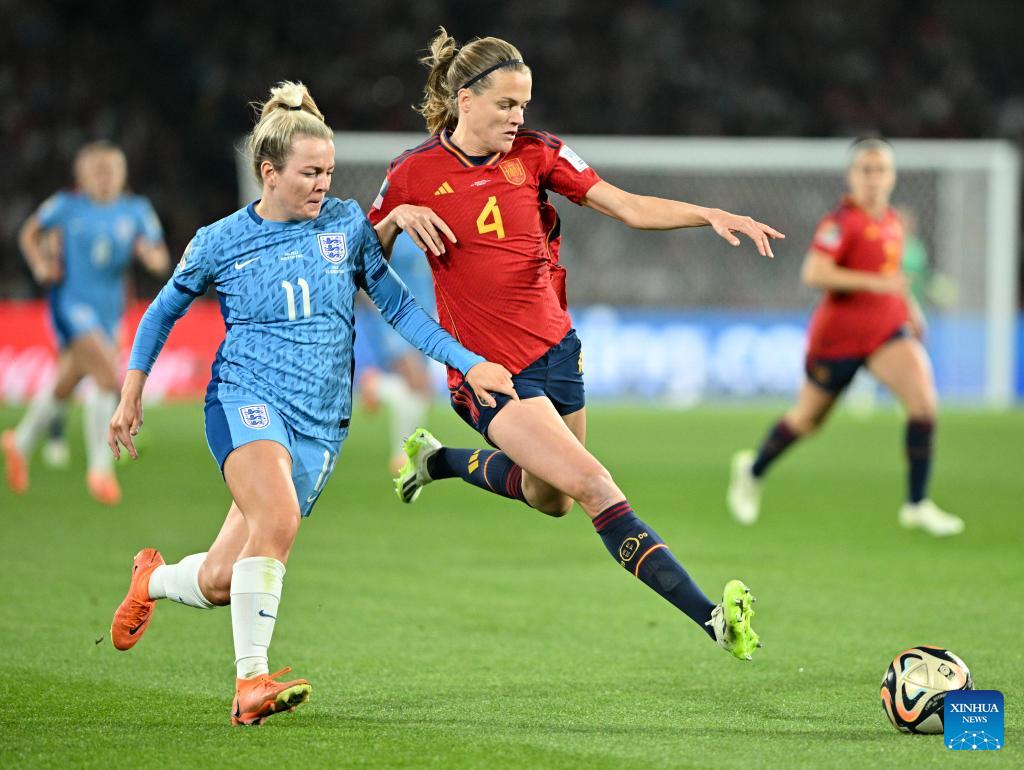 Spain's Irene Paredes (R) vies with England's Lauren Hemp during the Final between Spain and England at the 2023 FIFA Women's World Cup in Sydney, Australia, Aug. 20, 2023. (Xinhua/Guo Lei)
There had been fears that the biggest-ever FIFA Women's World Cup — 32 teams, up from 24 four years ago — would dilute the spectacle in Australia and New Zealand.
Lopsided scorelines were a feature of the previous eight World Cups and critics said debutants such as Haiti, the Philippines and Morocco would be humiliated.
But the opposite proved to be true and the tournament will be best remembered for the large number of shock results and the end of the United States' long reign as world champion.
Among the surprises, Germany was beaten 2-1 by Colombia on the way to a group-stage exit. Italy, Brazil and Olympic champion Canada also went out at the first hurdle.
The Philippines, New Zealand, Zambia, Portugal, Jamaica, South Africa and Morocco all won a World Cup game for the first time.
The US was chasing an unprecedented third title in a row but it very quickly became apparent that the Americans were not the force of old and that the rest had caught up.
Their exit in the last 16 on penalties to Sweden was their worst World Cup ever and coach Vlatko Andonovski quit last week.
There was no fairytale ending for Megan Rapinoe, who retires from soccer at the end of the season.
"It has been an amazing World Cup with 32 teams and lots of teams who have improved," Sweden coach Peter Gerhardsson said following his team's 2-1 defeat to Spain in the semifinals.
"Everywhere around the world there will be a lot more interest in women's football."
Gerhardsson said that Sweden's last-gasp 2-1 victory over South Africa in the group stage had been a taste of things to come.
"Physically, many (teams) have caught up. With better training, they can last 90 minutes and then there is the technical ability and the speed," he said.
'Real legacy'
Co-hosts New Zealand and Australia will regard the World Cup as a success on and off the pitch.
Even before the last-16 stage concluded, nearly 1.4 million people had been through the turnstiles, making it the best-attended Women's World Cup.
New Zealand won its first World Cup match ever — at the 16th attempt — with a 1-0 victory over former champion Norway in front of more than 42,000 fans at Eden Park in Auckland.
That was a record crowd for a soccer match, men's or women's, in the country.
Not all of the matches in New Zealand were nearly so well-attended.
Just under 7,000 watched Japan beat Costa Rica 2-0 in Dunedin on a chilly Wednesday early evening and it remains to be seen if interest holds in rugby-mad New Zealand.
In Australia, matches regularly drew bumper crowds and the country fell in love with the Matildas, the team's exploits making front- and back-page news.
The best World Cup run in their history met an end in the semifinals with a 3-1 defeat to England in front of over 75,000 fans in Sydney.
The match smashed all television records in Australia — 11.5 million people tuned in at some point out of a population of 25 million.
"Legacy is often a word that is bandied around, it can be a platitude when major events are involved," Football Australia chief executive James Johnson said.
"But we think we have demonstrated concretely that there is a real legacy around this tournament, of course in Australia and New Zealand, but also around the world."
Financial disparity
While standards have improved on the pitch and interest is at an all-time high, there remains a huge financial disparity between men's and women's soccer.
Prize money for this Women's World Cup was a record $110 million, but still far short of the $440 million on offer to teams at last year's men's finals in Qatar.
In the build-up to the tournament, FIFA president Gianni Infantino threatened a television blackout in five major European nations which was only resolved at the 11th hour.
Infantino accused broadcasters of only offering between $1 million and $10 million to show the World Cup, compared to the $100-200 million they pay for the men's version.
Several nations were in open dispute before and during the World Cup with their federations over pay and conditions, including England, who put aside a row over bonuses to reach the final.
FIFA says it is committed to equality but Infantino came under fire on Friday when he said that women should "pick the right fights" to "convince us men what we have to do".
Norway's striker Ada Hegerberg responded on X, formerly known as Twitter, by writing: "Working on a little presentation to convince men. Who's in?"