The main act appears to be the only one maintaining a sense of calm, while others can't find enough words to praise Harry Kane.
Despite having joined his new club, Bayern Munich, just a week ago, a wave of euphoria is sweeping over the Three Lions captain.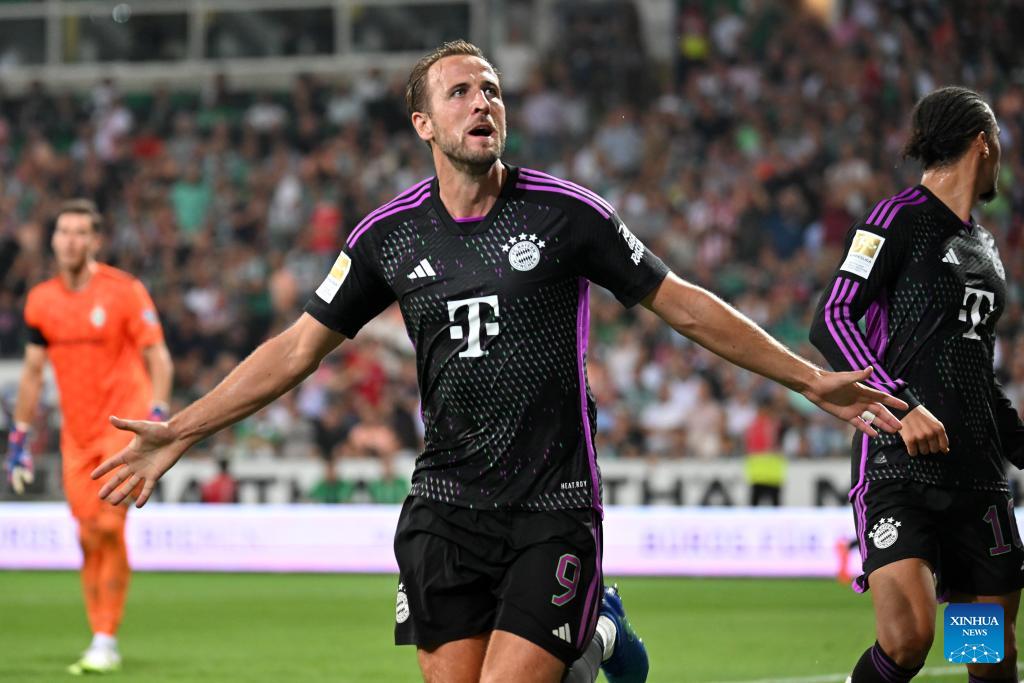 Harry Kane of FC Bayern Munich celebrates scoring during the first division of bundesliga 1st round match between SV Werder Bremen and FC Bayern Munich in Bremen, Germany, Aug.18, 2023. (Photo by Ulrich Hufnagel/Xinhua)
Positive news seems to be pouring in, covering both personal and sporting aspects. A goal and an assist in his first German league game, along with the birth of the Kane family's fourth child last Sunday, are being widely celebrated.
The media is abuzz with catchphrases when describing his accomplishments. From game-changer to leader, goal and assist provider, to revitalizing Bayern's long-lost self-reflecting principle of "We are what we are" ("Mia san Mia"), the burden placed on his shoulders seems almost unbearable.
Coach Thomas Tuchel and teammates are speaking about the impact the 30-year-old has made in such a short time.
Tuchel, the winner of the 2021 UEFA Champions League, is praising his "exceptional personality" and his role as a professional role model.
Teammates mention that the team's mood has shifted from frustration to glory, while former Bayern captain and German record international, Lothar Matthaeus, draws comparisons between the new arrival and the club's icon, Thomas Muller.
"He's a crowd-pleaser, he's close to the fans right away, he's instilling a professional attitude within the squad, and he seems to embody the club's motto 'Mia san Mia,' even though he might not fully grasp it at the moment," said Matthaeus.
Former Bayern player Stefan Effenberg acknowledges Kane's impact, noting that everyone around him benefits from his experience.
Kane appears like a shooting star, streaking across the night skies and sparking a glimmer of hope for a club that has faced tumultuous waters over the past two years.
He discusses the simple challenges of life, such as still having a driver as he adapts to driving on the right side of the road, which remains a future goal.
Learning German is his next objective, "as I only speak a few words I need on the pitch," he added.
However, with a long season ahead and soaring expectations, Kane is requesting sufficient time to acclimate to his new environment.
Kane has quickly developed a close relationship with Tuchel, possibly aided by their shared experiences in the Premier League.
Teammates are eager to play a round of golf with Kane, and Muller can't seem to get enough of inspiring conversations about various subjects.
Fans hang on his every word when Kane expresses his desire to experience the sensation "of needing to win every game," not to mention his aspiration to win the Champions League.
Without a doubt, Kane has ignited Bayern without needing to talk excessively about it, adhering to his life motto that actions speak louder than words.