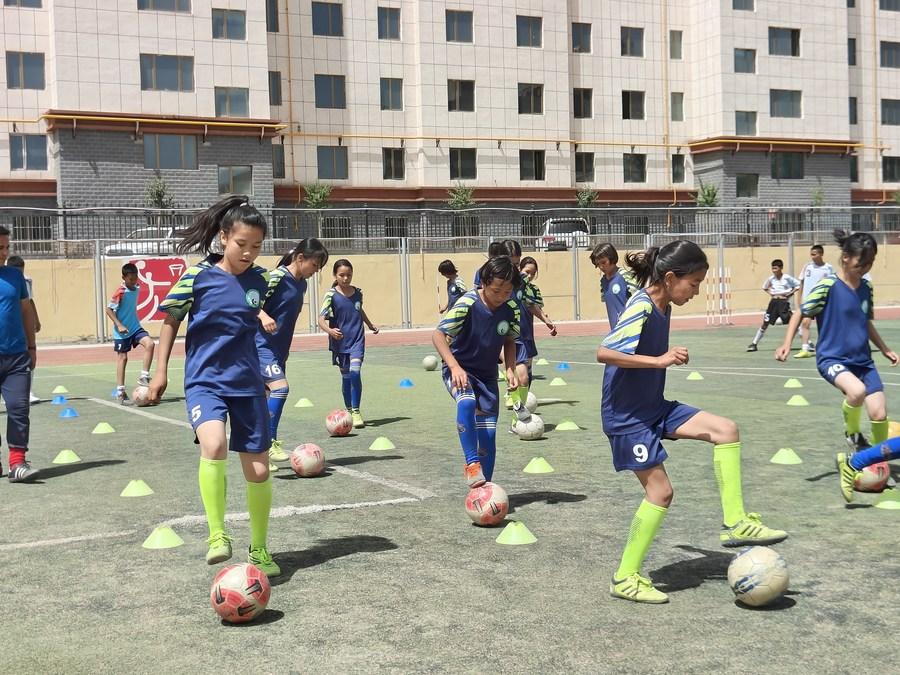 A girls' football team is practicing dribbles in a primary school in Gujiangbage Township, Hotan City, Northwest China's Xinjiang Uygur autonomous region. [Photo/Xinhua]

When she was young, Gulikiz Igarbeydi was haunted by one question: When will girls be able to play soccer as freely as boys in Xinjiang?
During her college days, Gulikiz struggled to find female companions to play with. She would wait for a chance to practice by herself only after the boys had stopped playing.
But change is in the air.
Now 46, Gulikiz is the coach of a girls' soccer team in a middle school in the town of Bageqi, Hotan county. The squad comprises 27 girls, and many more are eager to join.
"When I was a student, my parents always told me that soccer is for boys, and teachers said soccer is a highly competitive sport and it's not suitable for girls," she recalled.
Out of the 77 students in Gulikiz's class, just seven were girls, and she was the only one of those to play soccer.
"People would give you a peculiar look if you played soccer, and some neighbors would even point fingers," she said.
Her love for the game, however, led her to pursue a career as a PE teacher. She admitted that her early years working at a middle school in Hotan prefecture presented plenty of challenges.
"In the past, many parents didn't care about their children's education, and it was normal for students to cut class. Girls were quite shy about having PE classes with boys, and even dreaded the stretching exercises," she explained.
Gulikiz believes that in recent years people in Xinjiang have more opportunities to travel and work elsewhere. TV and the internet have also broadened their outlook, helping to change attitudes about education and sports.
Soccer's development in Xinjiang in recent years owes a lot to the support of other provinces.
Nineteen provincial-level regions, including Beijing, Shanghai, and Jiangsu, have provided aid for various prefectures and cities in Xinjiang across numerous fields. Since 2020, this funding has amounted to an investment of over 10 billion yuan ($1.37 billion).Moreover, over 14,000 teachers have been selected to improve the quality of education in Xinjiang, many of whom have contributed to local soccer development.
"It feels that dream has been realized in just a few years," Gulikiz said.
According to Gulikiz, almost every school in Hotan prefecture has set up a girls' soccer team.
"About 20 percent of our female students play soccer," said Bai Huilin, head of Bageqi Town Middle School.
A total of 799 schools have participated in the Hemei Cup, a school soccer competition organized by Hotan prefecture, in the first half of 2023.
In Kizilsu Kirgiz autonomous prefecture, over 20 soccer competitions were held throughout the year, attracting around 13,000 students from primary and middle schools, with girls accounting for half of the players.
Confidence is the biggest asset they have gained through playing soccer.
"When my mother saw my certificate from a soccer competition, she felt so proud of me and even showed it off to the neighbors," said Munire Adili, a fifth-grader at a primary school in Gujiangbage township, Hotan city.
About half a year ago, Munire became fascinated with soccer after watching a women's game at school.
With her mother's support, she plucked up the courage to apply for a trial and passed several tests before eventually becoming a goalkeeper on her team.
For Munire, the joy of playing the sport was soon tempered by the pain of injuries she sustained in training.
"When the ball hits your face or body, it really hurts," she said.
However, encouraged by her coach and teammates, she stuck with training and soon toughened up.
"The ball has no mouth, so it cannot eat me," she joked, adding that she hopes to train harder and get the chance to represent her school in competitions, so she can see more of the outside world.
Thanks to soccer, Bumairemu Ali, a ninth-grader in Bageqi Town Middle School, had the opportunity to travel to several other places in Xinjiang.
"I made some friends from different ethnic groups when playing soccer matches in other places. We often exchange ideas online about soccer skills and our studies," Bumairemu said.
With most of the students coming from the families of local herdsmen, Bageqi Town Middle School covers all expenses, including kits, shoes, transportation, and accommodation, for students to participate in tournaments.
Senior middle school is just around the corner for Bumairemu, and she is upbeat about what the future holds.
"I have many choices ahead of me, but soccer is what I will persist at," she said.
Keenly observing the action pitch-side, Gulikiz clearly draws immense pride and satisfaction at how far girls soccer has come in Xinjiang's schools.
"Gone are the days that girls were called by their parents to do farm work when they were taking classes, or they were mocked when they were playing soccer," she said.