Defending champions Chen Qingchen and Jia Yifan of China claimed a straight-game victory over Apriyani Rahayu and Siti Fadia Silva Ramadhanti of Indonesia in the badminton World Championships women's doubles final on Sunday, becoming the first women's pair to win four golds in the tournament's history.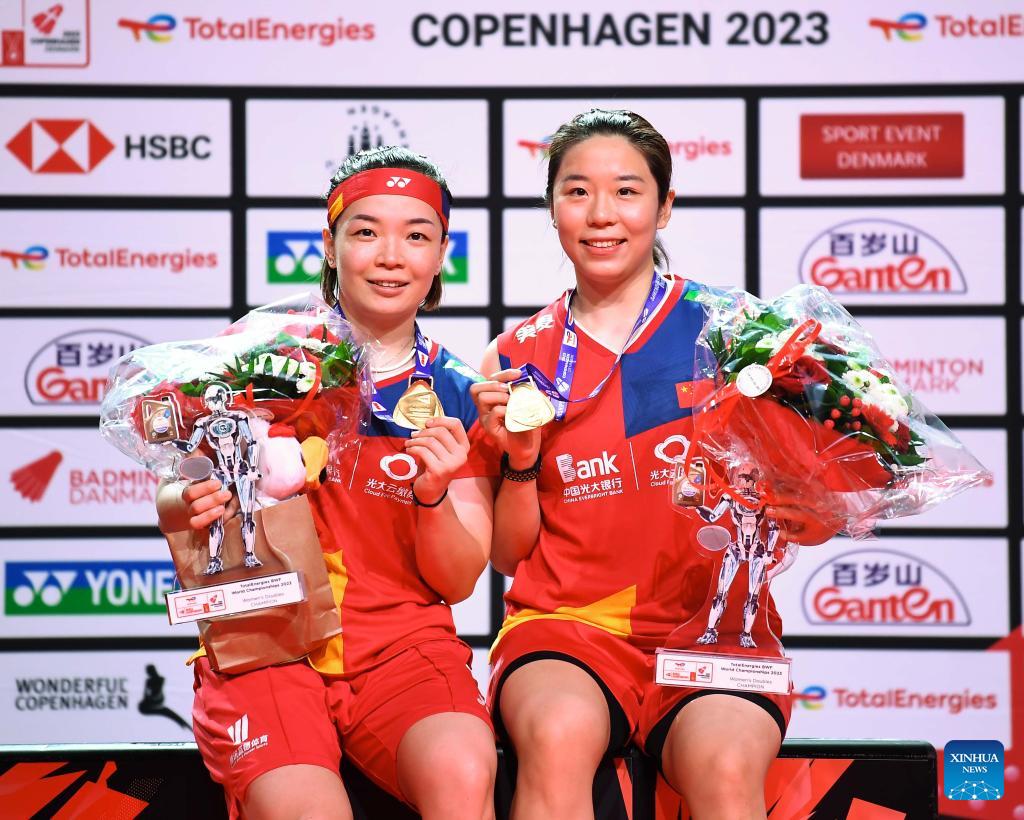 Chen Qingchen (L)/Jia Yifan of China pose during the awarding ceremony after the women's doubles final match against Apriyani Rahayu/Siti Fadia Silva Ramadhanti of Indonesia at the BWF World Championships 2023 in Copenhagen, Denmark, Aug. 27, 2023. (Xinhua/Ren Pengfei)
The top seeds, playing their fourth final in six appearances at the worlds, took 41 minutes to wrap up the victory 21-16, 21-12, expanding their head-to-head meetings against the Indonesian duo to 5-1.
"We felt it was incredible, to keep being at a high level for a year and another, we support each other in our daily training and competitions to come together here," said Jia.
"Sometimes one of us may feel a lack of motivation or feel tired, but we always had the other one to push us to go further," Chen added. "It was a magic chemistry."
26-year-old Chen first paired with Jia, also 26, at a World Championships in Glasgow in 2017, when they went all the way to win the title. They swept another two in 2021 and 2022, making them already one of the most successful women's doubles players in the sport's history.
Coincidentally, the date of the 2017 final was also August 27, the same as this edition in Copenhagen.
"Actually, on August 27, 2018, we also won women's doubles gold at the Asian Games, so I think today is indeed a special day. I especially want to thank my partner for her contributions, only then can we maintain the ability to compete at a high level," said Jia.
China's mixed doubles top seeds Zheng Siwei and Huang Yaqiong also had the chance to make history, but failed to defend their title after losing to South Korea's Seo Seung-jae and Chae Yu-jung for the first time in their 10 encounters.
Coming to the tournament as the reigning champions, Zheng and Huang had three world titles to their name and were looking to become the first mixed pair to win a fourth.
"I just felt regret because we had some chances in the match. We actually came back in the second game, but somehow when we switched sides in the third, we lost our play," Zheng said.
Fifth-seeded Seo and Chae needed 59 minutes to claim the victory 21-17, 10-21, 21-18, while 25-year-old Seo has the chance to win another title, as he will pair with Kang Min-hyuk in the men's doubles final later.
The Chinese duo bounced back in the second game to pull the match into the decider, but the South Koreans surged to a 7-1 lead to start the third, leaving Zheng and Huang little chance to respond.
The three-time champions saved three match points from 20-15, only to see Seo's powerful smashing end their chances.
"Their speed was very fast, their defense was very good, every time I made a smashing, their response was very aggressive, not purely passive defence," Zheng added.
In the women's singles final, top seed An Se-young beat 2016 Rio Olympic gold medalist Carolina Marin 21-12, 21-10 to become the first South Korean to win the women's singles event at the worlds, and crushing the Spaniard's hope to win her fourth world title.