Xabi Alonso's face never seems to hint at his mood, and after an impressive 3-0 Bundesliga victory over Borussia Monchengladbach, the Bayer Leverkusen coach appeared sphinx-like as usual.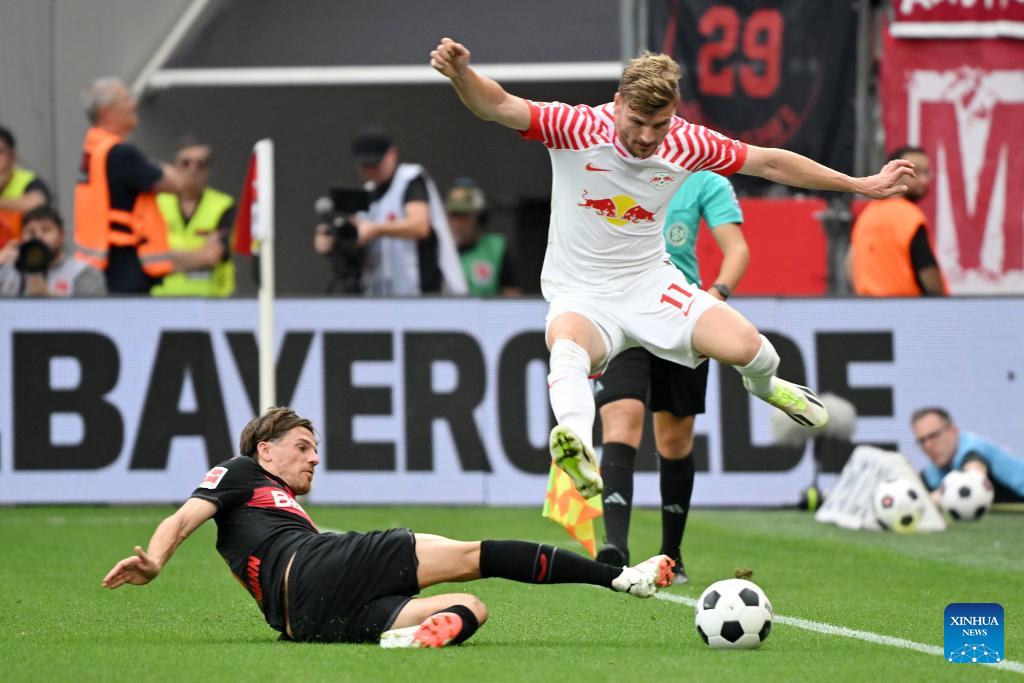 Jonas Hofmann (L) of Bayer 04 Leverkusen vies with Timo Werner of RB Leipzig during the first division of bundesliga 1st round match between Bayer 04 Leverkusen and RB Leipzig in Leverkusen, Germany, Aug. 19, 2023. (Photo by Ulrich Hufnagel/Xinhua)
While German and international media early in the season praised the 41-year-old Spaniard's achievements and supporters celebrated, the former Liverpool, Real Madrid and Bayern Munich midfielder seemed serene.
Discussing daily routines, Alonso mentioned his side's game dominance and stability as if talking about a recent training session against a youth team.
As a fact, the two-time UEFA Champions League winner has turned Leverkusen into a candidate to win the 2023-24 Bundesliga title.
With him in charge, Leverkusen seems on the way to possibly breaking through the dominance built by Bayern Munich, who has won the last 11 titles.
Alonso has transferred well-known features of the Spanish football school, and this season added missing puzzle pieces to his squad in former Arsenal midfielder Granit Xhaka and German international Jonas Hofmann, in addition to Nigerian striker Victor Boniface.
Internal competition has increased, according to Sporting Director Simon Rolfes.
30-year-old Swiss international Xhaka has become the team's beating heart, ruling the game like the conductor of an orchestra.
"He is the heart of our game. With him, we gained dominance, stability, and mentality," Alonso said.
Der Spiegel called Bayer a well-oiled machine, while the Suddeutsche Zeitung talked about complete dominance, and tabloid Bild called Leverkusen's football the league's best.
After two rounds of matches, Leverkusen seems to be approaching perfection, having beaten two strong rivals in RB Leipzig and Gladbach.
In addition to Xhaka's significant contribution, Boniface seems a perfect match regarding Leverkusen's attacking force. The muscular striker already finds himself among the league's top scorers having provided two goals and one assist.
The encounter against Bayern in mid-September in Munich might give proof of how much Alonso's team has developed.
For now, hopes are growing that the Spaniard might lead the club to new heights after years of agony when Leverkusen earned mockery and scorn for always ending up behind the title winners.
Alonso led the side to the UEFA Europa League semifinals and sixth place in the Bundesliga last season. As it seems, there is more to come in the new campaign.