Not only in Dortmund but across Germany, media are full of reports on Jude Bellingham's stunning achievements in the shirt of Real Madrid.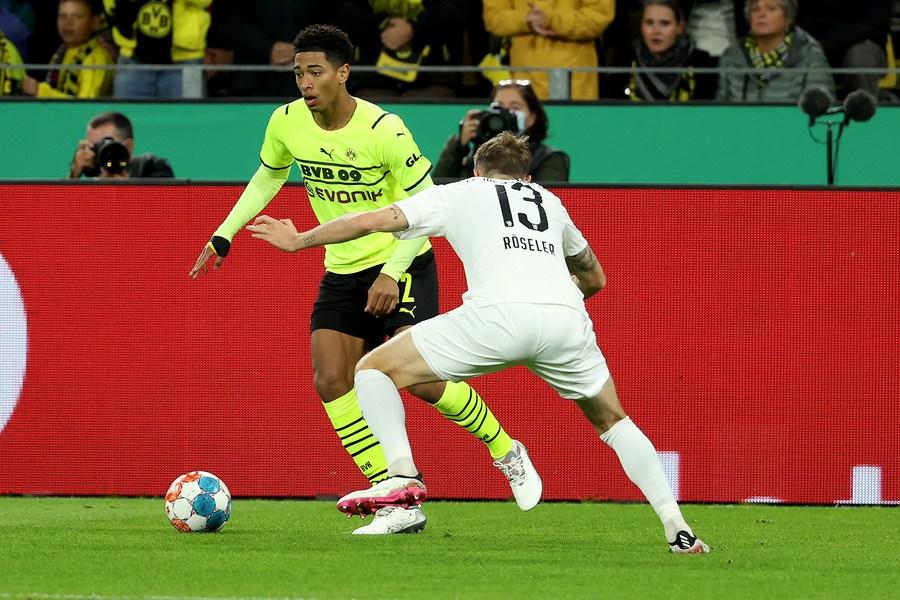 Jude Bellingham (L) of Dortmund vies with Nils Roeseler of Ingolstadt during a German Cup second round match in Dortmund, Germany on Oct. 26, 2021. (Photo by Joachim Bywaletz/Xinhua)
Articles and photos about the 20-year-old England international are often placed near ones reporting about the unsteady times his former side Borussia Dortmund has been going through since the midfielder departed for the Spanish capital in July.
The current state of the team that threw away the 2022-23 Bundesliga title on the season's final day gives reason for concern after a disappointing start to the new campaign.
Consistency and confidence appear like lost property for Edin Terzic's side.
Instead of a successful promising restart, the side seems stuck in a pattern that accompanied the club since coaching icon Jurgen Klopp left for Liverpool in 2015.
Despite Dortmund having reached calm waters after years of financial turbulence, a consistent sporting breakthrough has been missing.
Early this season, the mood has reached a low point and Dortmund is in danger of losing its edge in German football.
Newly-appointed captain Emre Can spoke about "a mystery why we can't push through our game, but only react to the opponent."
Forward Julian Brandt complained about the lack of shape of "many in our team."
As Bellingham solved the team's problems in setting up a dynamic attacking game, difficulties have increased without the midfielder. More than ever, Dortmund lacks speed, solutions and inspiration in midfield and up front.
New arrival Marcel Sabitzer hasn't managed to improve things, while Felix Nmecha seems far from Bellingham's level.
While Terzic is demanding patience for the revamped team, a desperately needed power source doesn't seem available.
Critics claim the club has failed to invest the revenue of the Bellingham deal in an appropriate replacement.
"We have proven we can dig ourselves out of holes like that in the past," Terzic said despite the general disappointment that has taken hold of the 2011-12 Bundesliga champion after a narrow 1-0 win and a 1-1 draw against lowly Koln and Bochum.
Despite Sporting Director Sebastian Kehl refusing to talk about a deeper problem, a successful game next Friday seems necessary in order to escape the crisis.