World Athletics Championships concluded on Sunday, with the U.S. team emerging as the biggest winner. Stars such as sprinter Noah Lyles and pole vaulter Armand Duplantis showcased their abilities as they made remarkable achievements.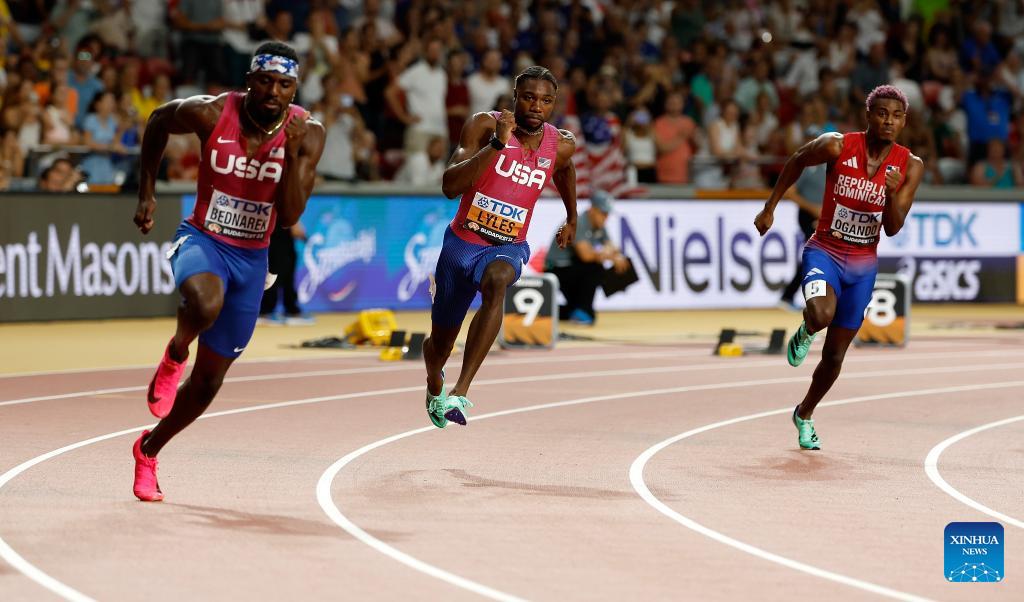 Noah Lyles (C) of the United States competes during the men's 200m final during the World Athletics Championships in Budapest, Hungary, Aug. 25, 2023. (Xinhua/Wang Lili)
The tournament, consisting of 49 events, unfolded over nine scorching days in Budapest. The U.S. team secured an impressive 29 medals, including 12 golds. Their dominance extended beyond sprint races, as they also held a firm grip on throwing events.
In the men's 4x100m relay final on Saturday, the 26-year-old Lyles delivered a sensational fourth-leg run, clinching three golds and solidifying his position as the Championships' most prolific athlete.
On Friday, Lyles clinched his third consecutive world title in the 200m event, becoming the first man since Jamaican legend Usain Bolt in 2015 to achieve the 100m and 200m doubles at the World Championships.
Lyles' teammates also shone: Ryan Crouser defended his title in the men's shot put, while Chase Ealey mirrored this feat in the women's event. Laulauga Tausaga stunned the competition by improving her personal best by over four meters, securing gold in the women's discus throw.
Lyles openly shared his ambition to enhance athletics' popularity, recognizing that achieving greatness is crucial to realizing his broader goals.
Duplantis, a role model for Lyles, remained a force to be reckoned with. The 23-year-old Swede maintained his winning streak for four years, with just one loss on record. In Budapest, he successfully defended his Olympic title and persistently challenged his own world record of 6.22m.
"I try not to set limits and barriers on myself," stated Duplantis, who cleared the heights six times, each on the first attempt. While he retained his world title at 6.10m, he fell short of surpassing 6.23m after three attempts.
Yulimar Rojas also captivated the audience. Despite initially being in eighth place with a jump of 14.33m in the women's triple jump final, the world record holder and Olympic champion showcased her magic with a final jump of 15.08m, securing her fourth consecutive world title.
In the long-distance races, Faith Kipyegon of Kenya stood out, triumphing in both women's 1,500m and 5,000m.
Spain's Alvaro Martin and Maria Perez both secured double victories in the race walking events, enabling Spain to sweep all four titles.
However, despite its historical prowess, China failed to secure any medals in the four race walking events, with its best result being a seventh-place finish.
Notably, this marked the first time since 2007 that China did not claim any gold at the World Championships. The only consolation came from two bronze medals: one awarded to Olympic champion Gong Lijiao in the women's shot put and the other to defending champion Feng Bin in the women's discus throw.