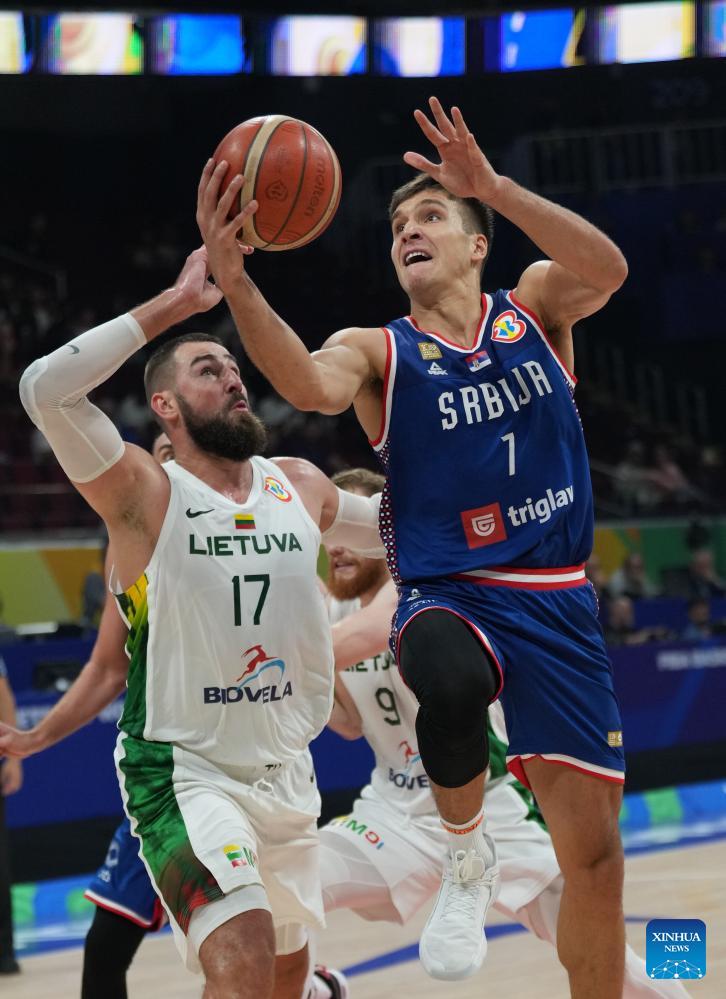 Bogdan Bogdanovic (R) of Serbia goes for a basket during the quarterfinal between Lithuania and Serbia at the 2023 FIBA World Cup in Manila, the Philippines, Sept. 5, 2023. (Xinhua/Meng Yongmin)

Serbia became the first team to reach the final four at the FIBA Basketball World Cup after beating Lithuania 87-68 on Tuesday.
Bogdan Bogdanovic scored a game-high 21 points for Serbia, becoming the sixth player in the 21st century to reach the 400-point milestone in the tournament. Filip Petrusev took 17 points and Stefan Jovic added 11.
Four players scored in double digits on Lithuania's side, led by Tadas Sedekerskis' 14 points.
Jonas Valanciunas made the game's first 3-pointer, showing that everyone on the Lithuanian squad can shoot from beyond the arc, even big guys. The Lithuanians held an astounding 46.4 percent in 3-pointer shooting in their first five games to lead all 32 participating teams.
But they only made nine 3-pointers out of 28 attempts, a bleak 32 percent. The team's 13 points in the second quarter are their lowest tally in any quarter of a World Cup game since the start of the 2019 edition.
The defense obviously went wrong on the Lithuanian side, as Nikola Jovic easily sneaked into the paint for a dunk and Jovic had too many wide open 3-pointers.
While Serbia's 41 percent behind the arc seemed not that outstanding, Svetislav Pesic's side had fewer turnovers, more rebounds and did well in the paint. They doubled Lithuania's paint points at 48-24, and long passes in transition were another effective and energy-saving way for them to score.
"We had an amazing tournament, winning five games in a row. I don't know what happened today, but they (Serbia) played better offense, they played better defense, they crushed us," Sedekerskis said at the post-game press conference.
"We set a goal of winning a medal, and we have to pass Serbia in the quarterfinal to the semifinal. The game against the United States [last game] is now nothing," he added.