In addition to enabling more people to experience and enjoy cycling, the RideNow Cycle Club in Shanghai has a wider goal: to connect cycling enthusiasts around the world through its work.
Established in 2016, the RNCC has grown from a small group of expats into a major cycling community, echoing the changes in the national cycling market. As such, it is now considered to be one of the largest cycling communities in the country.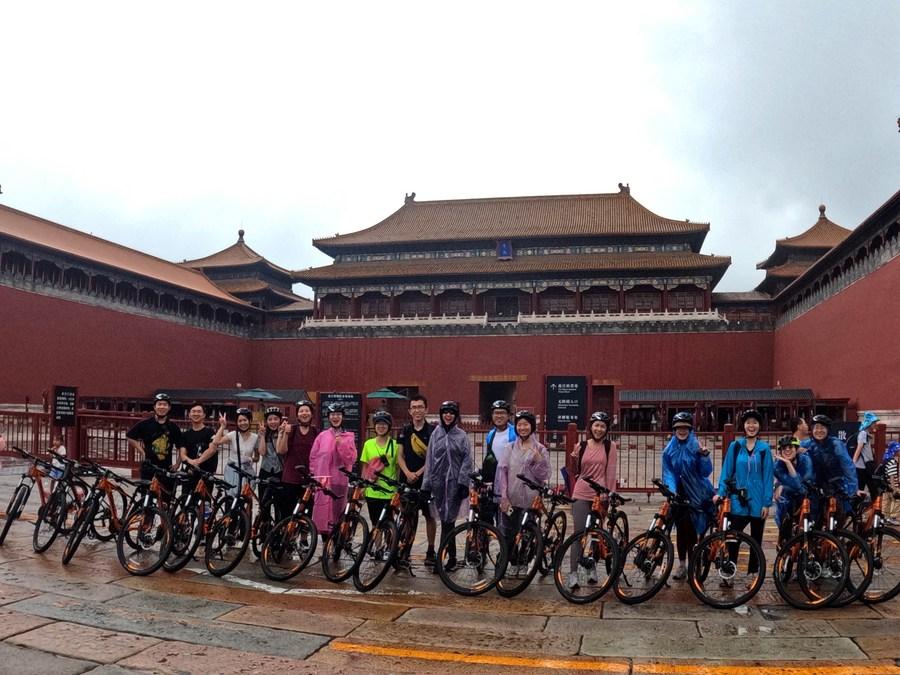 Students of a cycling course offered by the Peking University Summer School International 2023 pose for a group photo in front of the Meridian Gate of the Forbidden City in Beijing, capital of China, July 13, 2023. (Xinhua)
Its founder, Ken Goh, from Singapore, is widely regarded as the driving force behind the growing popularity of road cycling in Shanghai. He gets up at 4:30 am every day to lead his members in rides around the waking city.
"Cycling is my lifestyle now. I wake up every morning full of anticipation, knowing that everyone is waiting for me to lead that day's ride," the 45-year-old said.
Motivation, revelation
Goh's sense of responsibility has not only enabled him to persist in rising early, but it also provided the initial motivation to establish the club.
Having lived in China for 18 years, Goh, who has been fond of cycling since childhood, began riding seriously in 2015, when he encountered a bottleneck in his work as a professional photographer.
"For a while, I couldn't produce any satisfactory photos, so I chose to stop for a while," he said, adding that road cycling provided a wonderful antidote to his situation.
"I explored many beautiful places that could serve as material, and also deepened my understanding of light and shadow as I often set out against the dawn."
With a strong physique and a passion for sports, Goh's cycling ability quickly improved and the people around him simply couldn't keep up. In response, he joined a club in the Hongqiao area in the hope of finding new company.
"However, the cycling activities at the new club were not like those of a team, but more like a competition. No one explained the rules or regulations, or set a speed before the activity. After setting out, many newcomers could not keep up with the pace, and if an accident occurred, few members had good awareness of emergency procedures," he said.
To improve the cycling experience, Goh wrote a safety code but it didn't win much support from the members. When he cycled overseas, he was inspired by seeing people riding in a standardized manner, such as giving way to pedestrians and cars, and cycling in groups.
"I felt I could not change my club. Instead, I decided to influence the entire cycling circle in China," he recalled.
Low ebb, poor growth
China used to be nicknamed the "Kingdom of Bicycles" as that was the major form of transportation in the years after the founding of the People's Republic of China.
Even today, the country has the world's largest manufacturing base for both bicycles and electric bikes, accounting for more than 60 percent of their total global export volume.
However, professional cycling clubs that aimed to build a safe riding environment and a social space after workouts hadn't developed well in China, so Goh decided to establish his own club.
"I didn't consider profits at first. I just wanted to establish a community that would give members confidence and a sense of security," he said.
The RNCC's cycle events started with as many as 20 riders moving at a fixed pace, ensuring that everyone moved forward at a relatively synchronized speed.
Lin Weijie, who joins the events, said that the first time she rode with the team she felt very safe. "The team leader explains everything in advance: the route, speed, rules and solutions if problems are encountered," she said.
Goh also wrote some guidelines for future leaders of group activities, letting them know the rights and wrongs, and to learn to abide by their obligations and regulations.
The scarcity of decent cycling clubs in Shanghai and the RNCC's good reputation have seen membership numbers continue to grow, while the format and frequency of activities have gradually expanded.
"In 2019, the scale of each of our activities was between 40 and 80 people, and the RNCC became a benchmark. However, the characteristic at that time was that foreign nationals were our main members because most Chinese cyclists preferred to ride at night, while our activities were held in the morning, which was more in line with the expats' exercise habits," Goh said.
The COVID-19 pandemic brought some changes. Goh stayed in Singapore during the outbreak, and the RNCC was unable to continue its regular activities in Shanghai for a while.
"Fortunately, many event leaders volunteered to lead rides and keep the community active, which moved me deeply and allowed this 'family' to continue surviving," Goh said.
The pandemic was a double-edged sword, as it persuaded some people to leave the club, but many newcomers were attracted because the outbreak raised people's awareness of healthy lifestyles.
According to Guo Wenyu, chairman of the China Bicycle Association, sales of high-end bikes in the country rose by 30 percent last year from 2021, and they are expected to rise by 10 percent this year.
"While (the use of) such transportation has mostly been covered by shared bicycles, the people who buy high-end cycles are mostly enthusiasts," Guo said.
In addition, "RNCC" has become a popular search term on Chinese social media, which has helped attract many new members.
"I used to only post content on Instagram, but in May last year, I suddenly noticed that there were many posts about the RNCC on the life-sharing platform Xiaohongshu, such as our cycling routes, photos and activities. Later, I registered an official RNCC account on the platform and decided to manage it carefully," Goh said.
With the promotion on Xiaohongshu, more local cyclists joined the RNCC, marking a demographic shift and lowering the proportion of foreign nationals from 90 to 50 percent.
Now, in terms of social media, the RNCC has nearly 3,300 followers on Xiaohongshu, 3,700 on Instagram and 100,000 on Sina Weibo. Meanwhile, it has approximately 4,800 members on the exercise app Strava and it operates five WeChat groups, each containing nearly 400 people, including a newly established Singapore cycling group with about 100 people.
"The fastest period of cycling growth in China started in 2021. Our member numbers on Strava fluctuated between about 800 and 1,200 in 2020, reached 2,000 in 2021 and broke through 3,000 last year. This year, the figure has already reached nearly 5,000," Goh said, adding that he has been surprised by the rise.
At present, the club guarantees to hold six activities targeting different levels of cyclists every week to meet the needs of this growing group.
Changes, future plans
The rise of the RNCC reflects and accompanies the growth of the local cycling market. Goh said that he rarely saw cycle lanes a decade ago, but the introduction of shared bicycles has boosted their construction, leading to a noticeable rise in the number of cyclists.
The improved road conditions have also expanded the route options. The current routes in Shanghai range from 10 to 100 kilometers, according to Goh. "The long-distance ones are about 60 to 100 km, such as a journey from Thames Town in Songjiang district to the Huangpu River," he said.
"There are also daily city rides of 10 to 50 km, such as cycling around downtown Huangpu district, where riders will be pleasantly surprised by the changes in the seasons, the sunlight and the passersby."
With more cycling events being held, related insurance has also been optimized. Also, manufacturers of cycling clothing and related products have launched more styles and choices.
"We used to buy cycle clothing that was good enough to wear for about 100 yuan ($14). Now, cyclists have a higher sense of aesthetics and requirements, so it's common to spend 2,000 to 3,000 yuan on riding clothing," Goh said.
Moreover, the abilities of local cycling enthusiasts are rising, while the performance of their bikes has improved significantly. In addition, more girls and women participate than ever before.
"We used to only have one or two females ride with us, but now the proportion has reached 30 to 40 percent. It's not just limited to leisure cycling but also to participating in training and team competitions," Goh said.
The growing market trend seems set to continue. China has an increasingly affluent middle-income group and the government is encouraging healthy lifestyles, resulting in a continuously growing interest in fitness, said Feng Baozhong, vice-president of the Chinese Cycling Association.
Feng added that the value of the national bicycle market reached 194 billion yuan in 2021, and it is expected to hit 266 billion yuan in 2027.
Goh has devised a plan to help maintain this trend. "We started to design cycling clothes because many members wanted to compete in events," he said.
"With the rising demand, I hope to reach 100 SKUs (stock-keeping units, the method used by retailers to monitor merchandise) of our products — including cycling supplies, accessories and clothing — and distribute them to members around the world as agents."
This year, the club launched an online store on Taobao, a popular e-commerce platform.
"I want to make our club members more recognizable, and I also hope to set up more rendezvous around the world," Goh said.
He added that while after-sales service is an important part of the RNCC, the club has collaborated with groups in countries such as South Korea and Malaysia to establish in-store services.
"We hope that all cycling enthusiasts around the world will make connections through the RNCC," he said.