Olympic champion Chen Yufei of China and world No. 2 Akane Yamaguchi of Japan both stormed into the second round of the women's singles at the badminton China Open on Wednesday.
Chen, the 3rd seed at the tournament, beat Zhang Beiwen of the United States 21-18, 21-5. "I was patient and determined on the court, so I got some key points and sealed the victory," Chen noted.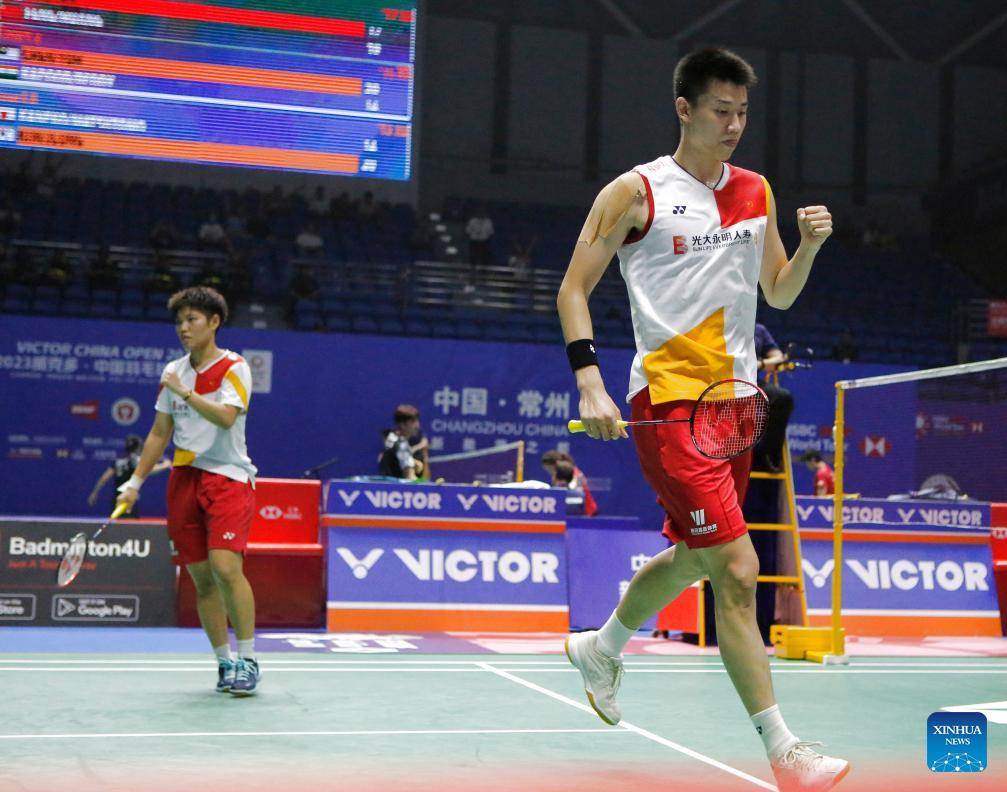 Feng Yanzhe (R)/Huang Dongping of China react during a mixed doubles first round match against Singapore's Hee Yong Kai Terry/Tan Wei Han Jessica at the 2023 China Open in Changzhou, east China's Jiangsu Province, Sept. 6, 2023. (Xinhua/Liu Wenhui)
The Hangzhou native has been selected as a torchbearer for the 19th Asian Games to be held in her hometown. "I heard about it this morning, and I feel very honored, grateful and excited. I have a new torch to collect now!" Chen said with a smile.
Second-seeded Yamaguchi eliminated Indonesia's Putri Kusuma Wardani 21-12, 21-18 to reach the last 16.
In the men's singles, world No. 2 Anthony Sinisuka Ginting of Indonesia suffered an early exit at the hands of Japan's Kanta Tsuneyama 21-11, 18-21, 21-17, while another Japanese contender Kodai Naraoka, seeded fourth, secured a 26-24, 12-21, 21-11 win against Malaysia's Lee Zii Jia.
China's top men's singles player Shi Yuqi also booked a last-16 berth by sweeping Magnus Johannesen of Denmark 21-8, 21-11.
"I will try to find my shortcomings through the competition and prepare for the Asian Games," said Shi.
His compatriot Li Shifeng fought 75 minutes to overcome Chou Tien-chen of Chinese Taipei 21-14, 18-21, 21-18, and will take on his teammate Lu Guangzu, who beat Ng Ka Long Angus of Hong Kong, China 21-17, 21-15.
In the mixed doubles, China's Feng Yanzhe and Huang Dongping defeated Hee Yong Kai Terry and Tan Wei Han Jessica of Indonesia in straight sets.
He Jiting/Zhou Haodong and Liu Shengshu/Tan Ning, both of China, also progressed through in the men's and women's doubles respectively.