Thomas Muller's infectious positivity is evident these days. Despite the weight of expectations, the Bayern striker exudes a sense of calm and purpose.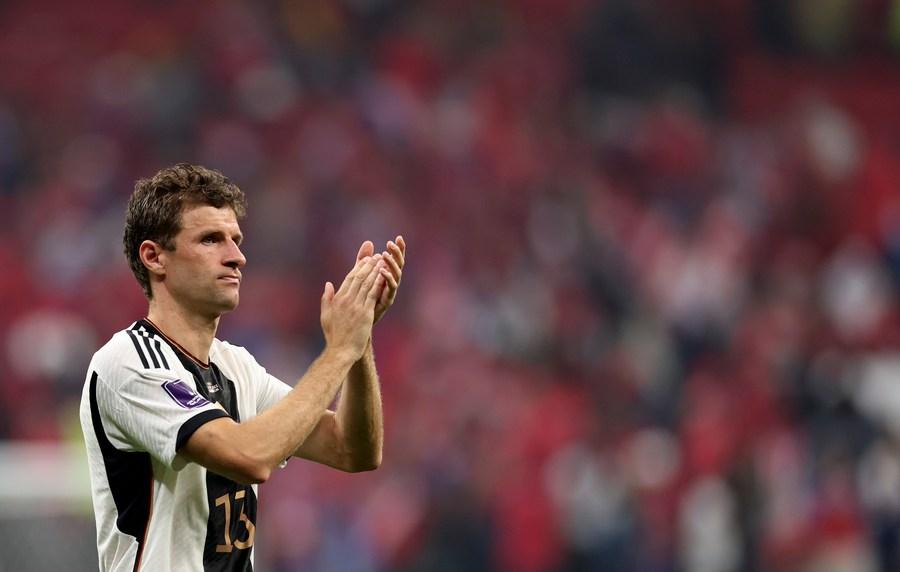 Thomas Muller of Germany reacts after the Group E match between Costa Rica and Germany at the 2022 FIFA World Cup at Al Bayt Stadium in Al Khor, Qatar, Dec. 1, 2022. (Xinhua/Xu Zijian)
As the 2014 World Champions prepare for friendlies against Japan and France this Saturday and the following Tuesday, Muller has emerged as a beacon of hope for national coach Hansi Flick.
Some even view him as German football's last hope to rejuvenate the team with the 2024 UEFA Euro just ten months away.
In the twilight of his career, Muller is crafting yet another intriguing chapter in his professional journey.
After his last stint with the German team at the 2022 FIFA World Cup in Qatar, Muller seemed to have stepped back. His statements echoed sentiments of a farewell, expressing gratitude for representing his country and acknowledging his heartfelt performances on the field.
However, after a nine-month hiatus, the 121-times capped forward is back, aiming to defuse tensions and downplay his significance.
"I don't think German football is depending on me," he remarked, rejoining the German squad as a replacement for the injured Dortmund striker Niclas Fullkrug.
In a surprising turn, Muller is poised to don the team's captain's armband against Japan. He emphasizes the joy of playing football, even as whispers circulate about national coach Hansi Flick's precarious position due to past underwhelming performances.
Speculation is rife with names like former Bayern coach Julian Nagelsmann and ex-Frankfurt manager Oliver Glasner as potential successors.
Sporting director Rudi Voller's comments underscore the mounting pressure on the 2024 tournament host. "I want to see every single one burn with passion," the former striker declared.
Flick is banking on Muller's innate ability to gauge team dynamics and steer them positively. Once sidelined, Muller has unexpectedly become Germany's go-to crisis manager.
Every move of the striker is meticulously scrutinized, akin to the visit of a prominent foreign dignitary. Recognizing the gravity of the situation, team members continuously voice their resolve.
"It's on us to repair things," asserted full-back Robin Gosens.
And Thomas Muller? As the national team's beloved figure, he continues to radiate positivity, fostering a congenial atmosphere. Fans are optimistic that his uplifting demeanor will translate into compelling performances on the field.