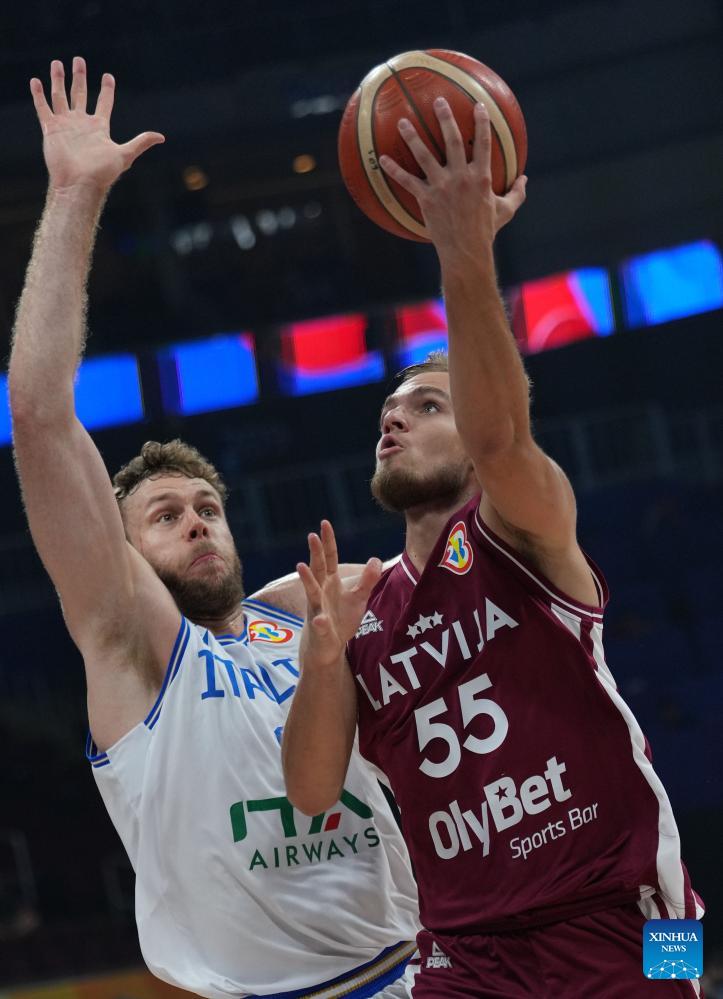 Latvia's Arturs Zagars (R) goes for a lay up during the Classification Games 5-8 between Italy and Latvia at the 2023 FIBA World Cup in Manila, the Philippines, Sept. 7, 2023. (Xinhua/Meng Yongmin)

Lithuania defeated Slovenia 100-84, while Latvia rallied past Italy 87-82 in the 5th-8th classification games at the 2023 FIBA Basketball World Cup on Thursday.
Slovenia's fans favorite Luka Doncic, who had been ejected in the quarterfinal on Wednesday, finished the back-to-back match with 29 points, six rebounds and two assists, with his teammates Aleksej Nikolic scoring 14 points and Mike Tobey adding 13.
Lithuania once again proved the strength of team basketball, as the team coached by Kazys Maksvytis had 28 assists compared to Slovenia's 12.
Jonas Valanciunas took his eighth double-double in the FIBA World Cup by scoring 24 points and grabbing 12 rebounds - only one player, Jose Ortiz (10 times), had more than him over the last 30 years.
Lithuania's Vaidas Kariniauskas, who went scoreless but dished out 10 assists, became the first player to have made 10 assists despite playing less than 20 minutes in a FIBA World Cup game since 1994.
Earlier on Thursday, Latvia came from behind to beat Italy. Latvia's top two scorers in the quarterfinal against Germany, Arturs Zagars and Davis Bertans, came off the bench to take 10 and nine points respectively. Forward Andrejs Grazulis led Latvia's boxscore with 28 points.
Italy bashed its rival 12-5 in the first five minutes of the game, but suffered a game-changing second quarter where they were outscored 28-16. 35-year-old Luigi Datome made seven out of 10 attempts to score a team-high 20 points, and Stefano Tonut added 11, with their star forward Simone Fontecchio sitting out the game.
The classification game for the fifth place on Saturday pits Latvia against Lithuania, while Italy plays against Slovenia for the seventh place.