With the torch relay for the Hangzhou Asian Games having started on Friday, organizers say the relay will showcase what a remarkable place Zhejiang is.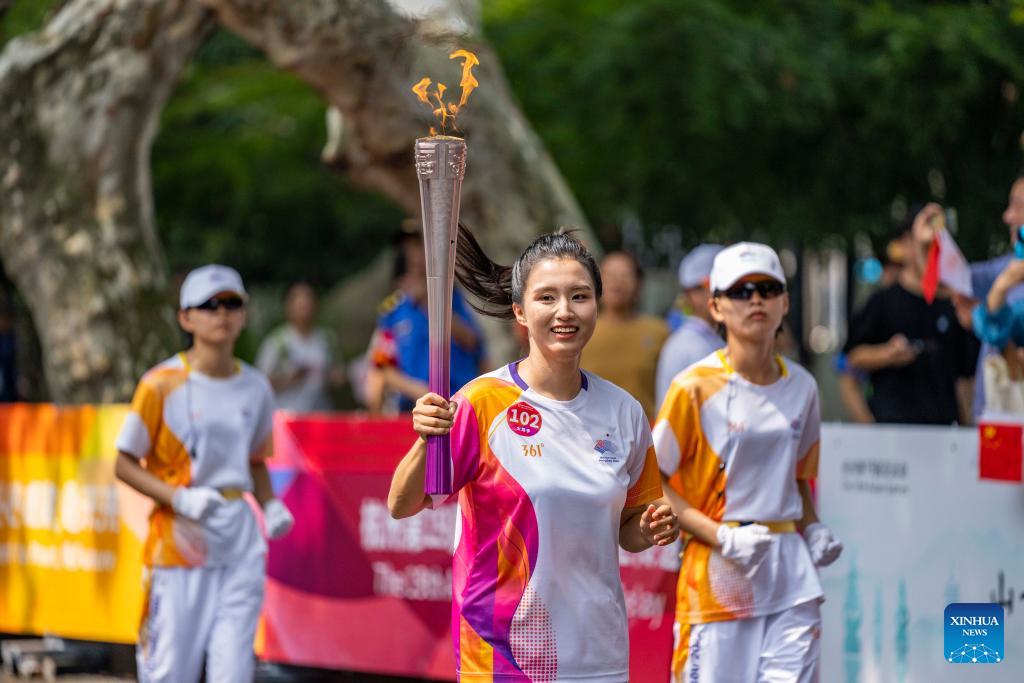 Torch bearer Wang Qinou runs with the torch during the torch relay of the 19th Asian Games in Hangzhou, capital of east China's Zhejiang Province, Sept. 8, 2023. (Xinhua/Sun Fei)
In line with the Games' ethos of "green, smart, economical and ethical", the torch relay route underscores simplicity and an appropriate scale, originating close to the renowned West Lake of Hangzhou, the capital city of China's eastern Zhejiang province.
"The torch relay route is meticulously designed in accordance with the theme of 'Picturesque and Dynamic Zhejiang,'" explained Du Zuofeng, deputy commander of the torch relay command center of the Hangzhou Asian Games.
"Its goal is to showcase the profound historical and cultural heritage, breathtaking natural scenery, remarkable achievements in economic and social development of Zhejiang, and the warm hospitality and enthusiasm of its people," he added.
The inaugural day of the relay featured a launching ceremony at the Yongjin Park Square, West Lake, where a total of 106 torchbearers participated in the event.
According to Du, the torch set to be carried through 11 cities in Zhejiang Province, namely Huzhou, Jiaxing, Shaoxing, Ningbo, Zhoushan, Taizhou, Wenzhou, Lishui, Jinhua, and Quzhou, before returning to Hangzhou on September 20 to complete its final leg.
To ensure the safety of the torch relay, the operational team has undertaken comprehensive preparations.
"The torch for the Hangzhou 2022 Asian Games, named 'Eternal Flame,' possesses strong resistance to both wind and rain," Du revealed. "For instance, the torch can maintain a burning flame in winds of 8 to 11, and can be ignited even under heavy rainfall of 300mm/h."
Du emphasized that each city will foster a warm atmosphere for the relay, while striving to minimize disruption to the daily lives of citizens.
The deputy commander also introduced that an "Online Digital Torchbearer" relay activity was launched on June 15 following the Asian Games Flame Lighting Ceremony, with the number of participants surpassing 84 million as of Friday, September 8th.
"Digital torchbearers from around the world will actively participate in some crucial segments of the opening ceremony," Du said of the opening ceremony, which is scheduled for September 23.