South Korean standout An Se-young defeated Japan's Akane Yamaguchi to take the women's singles crown at the Badminton China Open on Sunday, while world No. 1 Viktor Axelsen of Denmark clinched the men's singles gold by overcoming China's Lu Guangzu.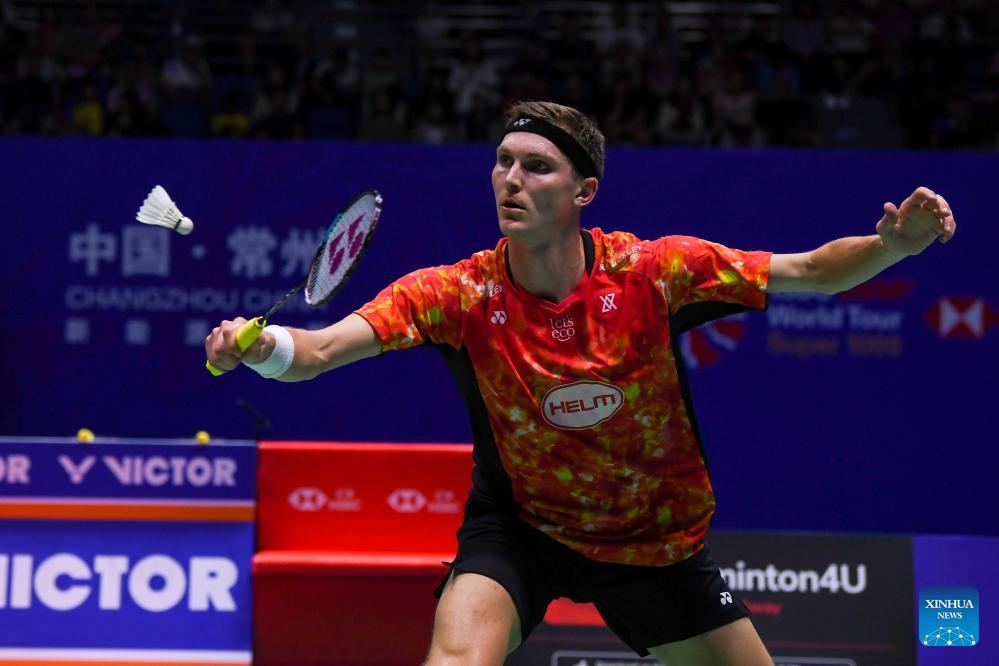 Viktor Axelsen of Denmark competes during the men's singles final between Viktor Axelsen of Denmark and Lu Guangzu of China at the 2023 China Open badminton tournament in Changzhou, east China's Jiangsu Province, Sept. 10, 2023. (Xinhua/Li Bo)
An, the newly-crowned world champion, dominated second-seeded Yamaguchi 21-10 in the first game and took the second 21-19, wrapping up the victory in just 38 minutes.
Thus, An has secured her ninth title this season. "If someone said now is my prime, I would be a little bit sad," said An. "I am very young, there is still a lot of time for me to do more things. I prefer to describe it as a period of my good form and good games," the 21-year-old added.
Against Lu who has surprised fellow countrymen Li Shifeng and Shi Yuqi in earlier rounds, Axelsen demonstrated his prowess with a 21-16, 21-19 victory in 49 minutes. "I was surprised in the second game because Lu played very well in attack. However, I was pleased that my defense was also getting better," said the Danish star.
"There are many crowds today, and of course, they support the Chinese player, but I'm grateful that there are also many people supporting me," he added.
In the men's doubles final, China's Liang Weikeng and Wang Chang bested fourth-seeded Aaron Chia and Soh Wooi Yik of Malaysia 21-12, 21-14.
For the women's doubles final, world No. 1 duo Chen Qingchen and Jia Yifan of China clinched a 21-11, 21-17 victory over the South Korean team of Baek Ha-na and Lee So-hee. "We have won many titles. I believe all professional athletes have a strong desire to win," Jia commented.
Earlier on Sunday, Seo Seung-jae and Chae Yu-jung of South Korea outperformed French pair Thom Gicquel and Delphine Delrue 21-19, 21-12, securing the mixed doubles title.