Novak Djokovic wrote another page of history in tennis at the age of 36.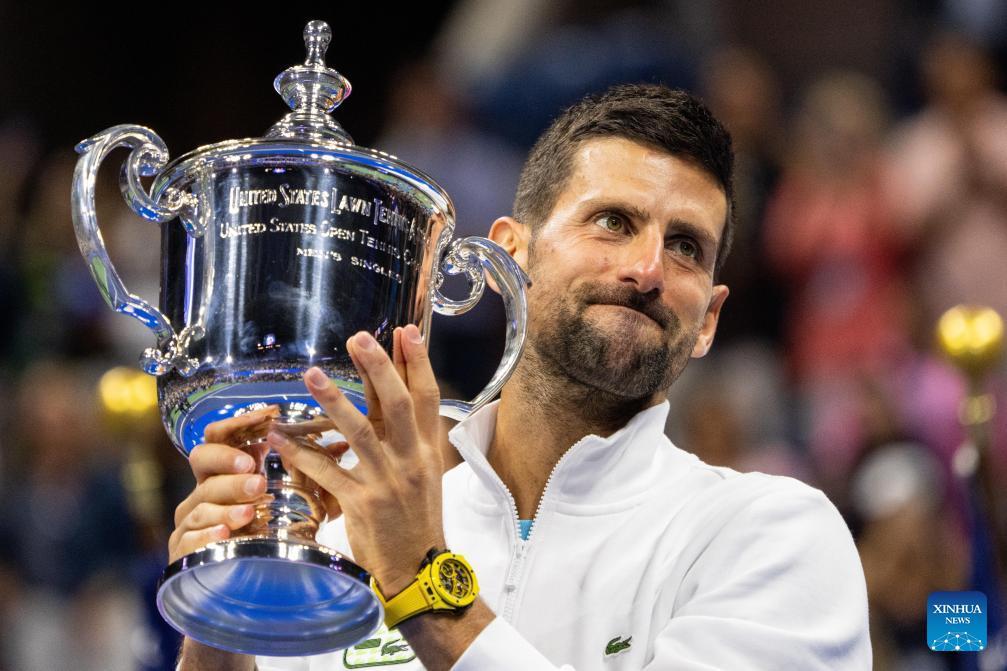 Novak Djokovic of Serbia celebrates during the awarding ceremony for the men's singles event at the 2023 US Open tennis championships in New York, the United States, on Sept. 10, 2023. (Xinhua/Liu Jie)
Eliminating Daniil Medvedev in New York on Sunday, the Serb cemented his claim as the greatest tennis player -- bagging 24 Grand Slam singles titles to level the record held by Australian Margaret Court in the all-time count.
With the victory, Djokovic became the oldest US Open men's singles champion in the Open Era. In total, he has 10 Australian Opens, seven Wimbledons, four US Opens and three Roland Garros titles, making him the sole man to win all four majors at least three times.
The Serb has long since realized his childhood dream -- winning Wimbledon and being No.1 in the world. "When I realized that, I started to dream new dreams and set new objectives, new goals. I never imagined that I would be here talking about 24 Slams," he said afterwards.
Djokovic reached all finals in this year's Grand Slams, and the only loss was at Wimbledon, when Carlos Alcaraz of Spain, 20, brought home the trophy after an intense battle lasting four hours and 43 minutes.
That defeat once again aroused the discussion of the generation shift from the Big Three -- Djokovic, Roger Federer and Rafael Nadal -- to the younger players.
Federer announced his retirement last year, and 37-year-old Nadal has been absent from matches due to a hip injury in this year's Australian Open.
Djokovic, at 36, shows few signs of losing physical edge. He stays healthy, maintains exceptional skills and always desires to win more. "I see this every Grand Slam that I play right now as really a golden opportunity to make more history."
Capturing his first Grand Slam in 2008, Djokovic bagged half of his 24 major titles after he turned 30. And a prolonged career requires stricter self-discipline.
"One of the biggest lessons I have learned probably mentally throughout my career is that even if you find a formula that works, it's not a guarantee, and actually most likely it's not going to work the next year," said the Serb who keeps reinventing himself.
"As a 36-year-old competing with 20-year-olds, I probably have to do it more than I have ever done it in order to keep my body in shape, in order to be able to recover so that I can perform on the highest level consistently," the Serbian noted.
For Djokovic, who always gets tough when the going gets tough, 24 is just a number that he can go beyond.
"I'll continue to prioritize them [Grand Slams] as my most important tournaments and where I want to play the best tennis. So that will not change. That will stay the same in the next season, or I don't know how many more seasons I have in my legs," he added.
"So, let's see."