China announced on Tuesday its 886-strong squad for the 19th Asian Games, and a lot of familiar faces will be competing in Hangzhou again. Following are 10 Chinese veterans who will return to the Asian Games in Hangzhou.
Ma Long (Table Tennis)
Five Olympic gold medals, 13 world championship titles, nine world cup titles, record 64 months as world No. 1 including a consecutive 34 months from 2015, Ma is widely regarded as the greatest table tennis player of all time.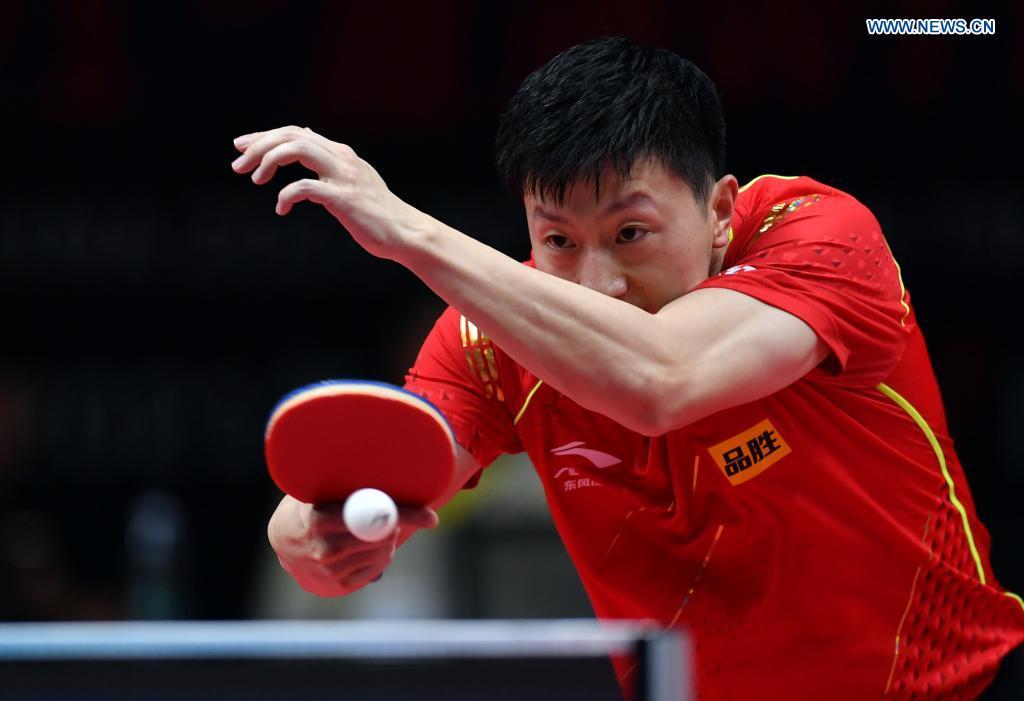 Ma Long returns the ball during the men's singles semi-final against Zhou Qihao at the 2021 WTT (World Table Tennis) Grand Smashes Trials and Olympic Simulation in Xinxiang, central China's Henan Province, May 6, 2021. (Xinhua/Li Jianan)
His extraordinary achievements also include winning five Asian Games gold medals from Doha 2006, Guangzhou 2010 and Incheon 2014. 34-year-old Ma will make his fourth Asiad appearance after missing the last edition in Jakarta, taking part in the men's team event.
Ding Xia (Volleyball)
Known for her swift movement and creative offensive play, 2016 Rio Olympic champion Ding will be playing at her third Asiad following a silver medal at Incheon after losing to hosts South Korea, and a gold at Jakarta with eight straight-set victories.
Earlier this year, Ding missed the national team's training camp due to a knee surgery and was then left out of the Volleyball Nations League squad due to a sprained ankle in May. As a sub setter, Ding is expected to bring experience and momentum to the team.
Gong Lijiao (Shot Put)
Gong won her second straight gold in women's shot put at the Jakarta Asian Games, following a silver in 2010. Since her first appearance at the athletics worlds in 2007, Gong has pocketed two gold, two silver and four bronze medals. She became a Grand Slam winner after being crowned at the Tokyo Olympics with a personal best of 20.58 meters.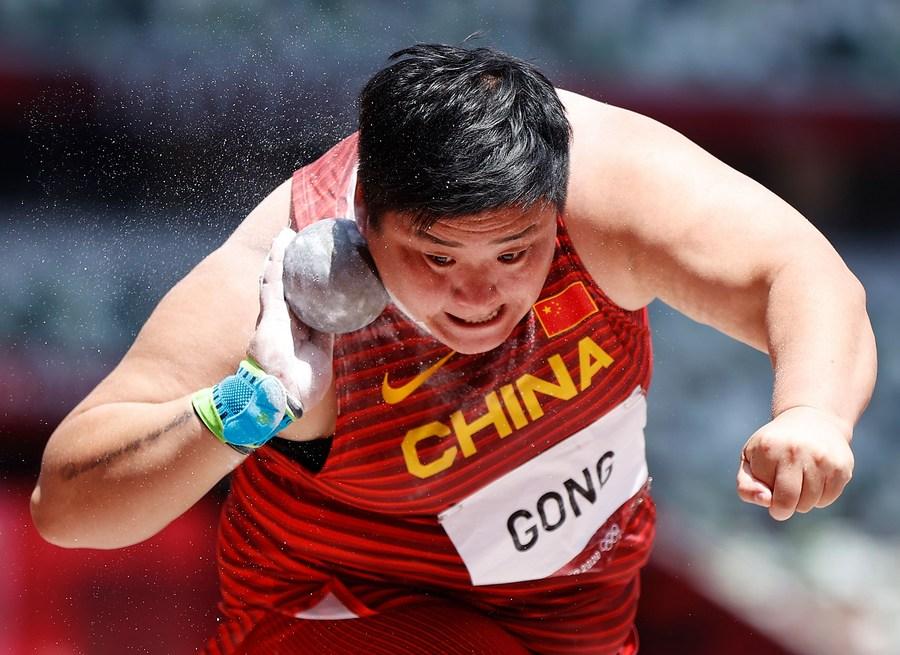 File photo of Gong Lijiao. (Xinhua/Wang Lili)
Gong was not satisfied with her performance after finishing third at the World Championships in August and expressed her determination carry on. Will the 34-year-old reach her 21 meters goal in her fourth Asian Games?
Zhang Yufei (Swimming)
25-year-old Zhang is the youngest on the list, but her achievements are no less stunning. Just two days after wrapping up her World Aquatics Championships journey with five medals, including two golds, Zhang kicked off her Chengdu Universiade campaign this August and completed a gold medal sweep in all nine events she competed in.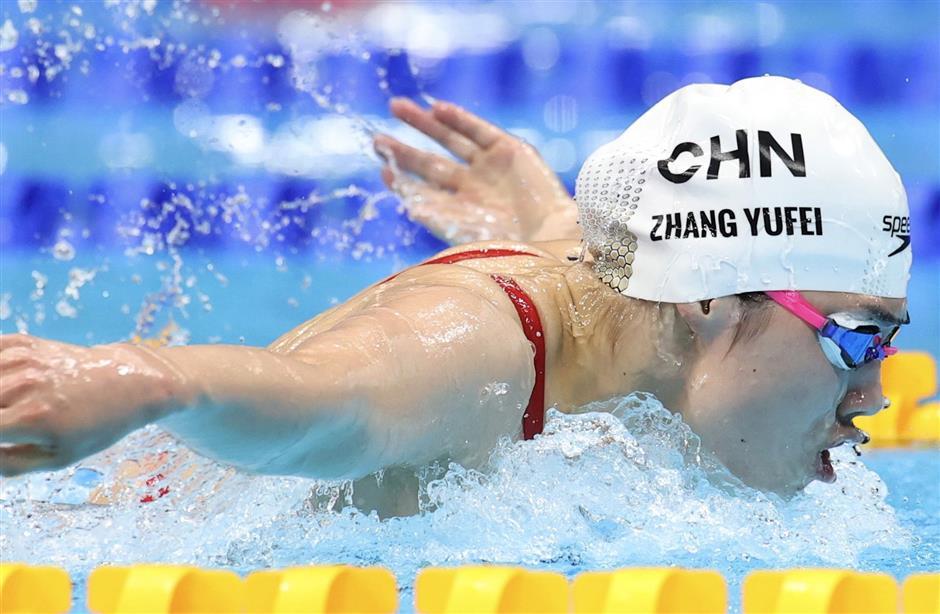 File photo of Zhang Yufei. (Xinhua)
Having won one gold in 2014 as well as two golds and a silver in 2018, the Olympic champion said that she aims to win seven golds at her third Asian Games.
Xiao Ruoteng (Gymnastics)
Xiao captured the crown in the men's all-around at the Artistic Gymnastics World Championships in 2017 and led China to a team good at the worlds in 2018. After taking an all-round silver, a floor exercise bronze and a team bronze at the Tokyo Olympics despite injuries, Xiao has long become the foundation of China's national team, with the ability to withstand pressure and steady the team at key moments.
Xiao came up short at the Jakarta Games with one silver and two bronze medals. After a lengthy injury lay-off, the 27-year-old has set his sights high.
Sun Yiwen (Fencing)
Injuries have always been something Sun has to deal with. After winning a historic gold in the women's epee individual at the Tokyo Olympics, Sun didn't compete at all for a long time until returning to the international field last November.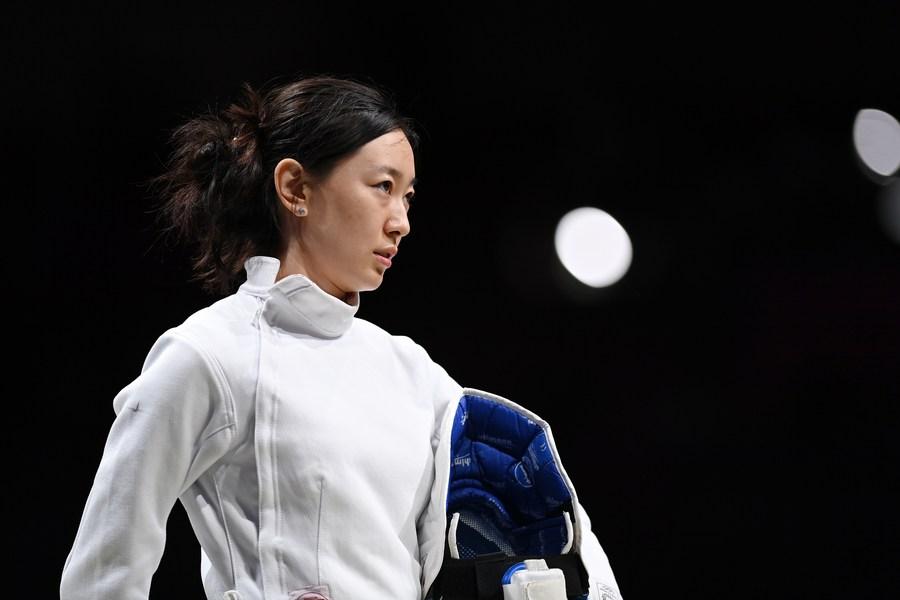 Sun Yiwen of China competes in the women's epee Individual quarterfinal match against Federica Isola of Italy at Tokyo 2020 Olympic Games in Tokyo, July 24, 2021. (Xinhua/Zhang Hongxiang)
Sun took a world cup bronze and her first-ever fencing worlds medal after finishing third at the Milan World Championships this July, lifting her world ranking from the lowest 95th to the current ninth. The 31-year-old is determined to win her maiden Asiad individual gold and the third consecutive team title in Hangzhou.
Xue Chen (Beach Volleyball)
Xue made the Chinese national team in 2002 at the age of 13 and started her Asian Games journey in Doha with partner Zhang Xi to win gold, half a year after becoming the youngest-ever beach volleyball champion at the Shanghai Open when she was 17.
The pair then defended the title at Guangzhou 2010. Along with multiple titles in the FIVB World Championships and an Olympic bronze, Xue/Zhang made the FIVB Roster 100 in 2021- the list of the greatest 100 volleyball players from 2010 to 2020.
After missing out on the Incheon and Jakarta Games, Xue returned to the Hangzhou roster, aiming for China's six consecutive women's beach volleyball gold at the Asiad since 2002 with partner Xia Xinyi.
Xie Zhenye (Athletics)
At Incheon 2014, Xie won the men's 4x100m relay gold with teammates and set a new Asian record, before withdrawing from the 2018 edition due to injury.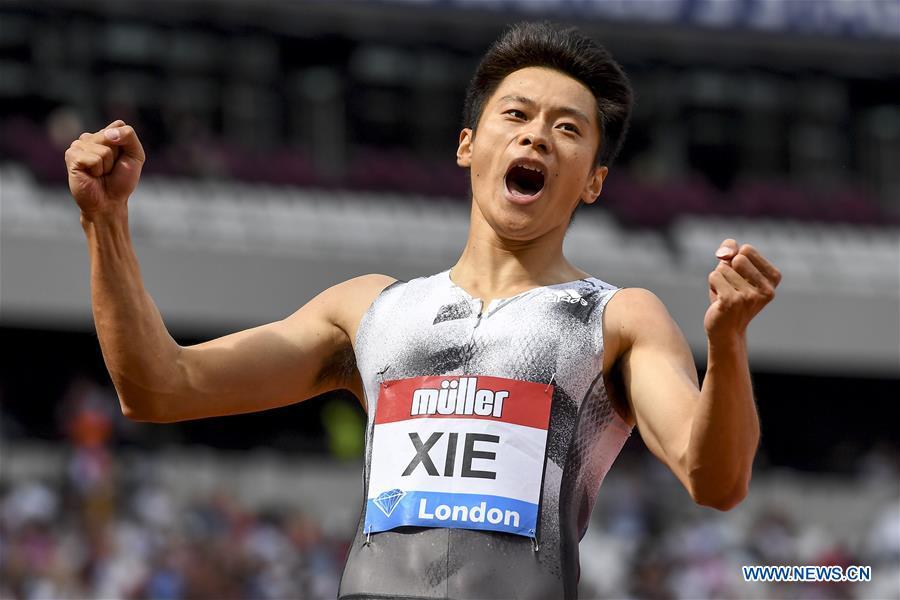 Xie Zhenye of China celebrates after the men's 200m final at Muller Anniversary Games at London Stadium in London, Britain, on July 21, 2019. (Xinhua/Alberto Pezzali)
China's men's sprinting team has been having a difficult time recently. And without star sprinter Su Bingtian, 30-year-old Xie will have to give up on his main event - 200m - to compete in the men's 100m and 4x100m relay in Hangzhou.
Asian record holder in the men's 200m and once China's fastest man in 100m, the Zhejiang native wishes to claim gold at home.
Wang Shanshan (Football)
Wang helped China win the 2022 Asian Cup in India after a 16-year wait. The 33-year-old, who played both as a forward and a defender, put out decisive performances in the semifinals against Japan and the final against South Korea. She was then named the 2022 Chinese Women's Footballer of the Year.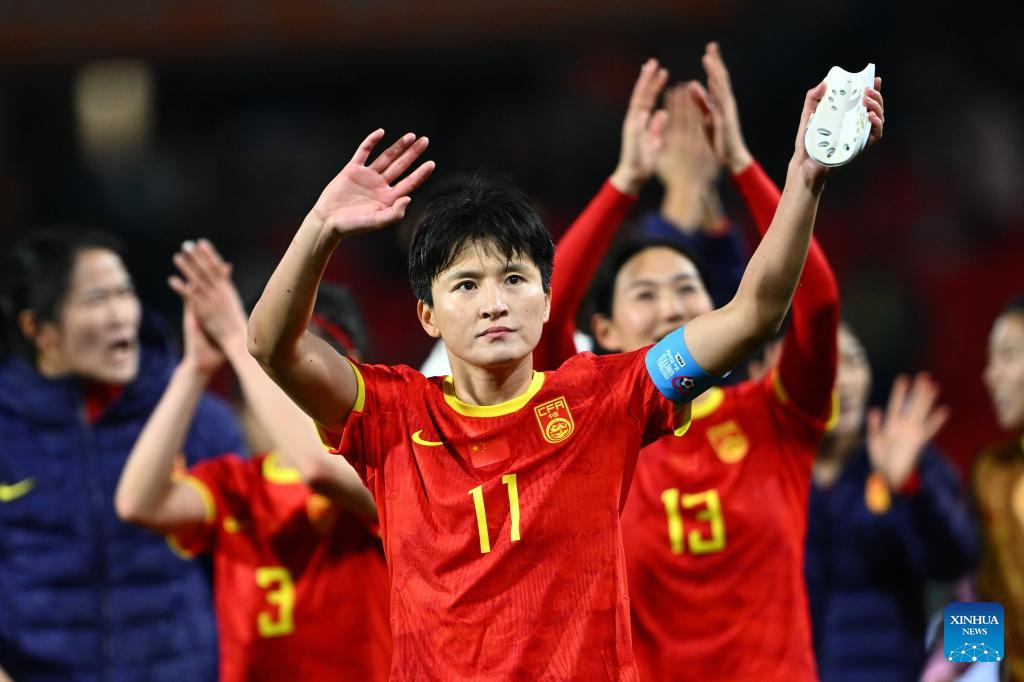 Wang Shanshan of China waves to the spectators after the group D match between China and Haiti at the 2023 FIFA Women's World Cup in Adelaide, Australia, July 28, 2023. (Xinhua/Li Yibo)
Wang's most impressive Asiad performance would be a group game against Tajikistan in 2018, in which she came off the bench to score nine goals in less than 40 minutes. Will captain Wang lead the team to another Asian Games title since 1998?
Shen Lijun (Weightlifting)
The Chinese weightlifting team returns to the Asian Games in Hangzhou after their absence at Jakarta five years ago. 30-year-old Shen is the only athlete who was in the Incheon 2014 roster, as he took a silver in the men's 62kg category.
At the Tokyo Olympics, Shen clinched the 67kg gold and equaled the Olympic total record of 332kg. Shen dominated the men's 67kg at the World Weightlifting Championships earlier this month, pocketing three gold medals in snatch, clean and jerk, and the combined total. He will compete in Hangzhou along with three other Olympic weightlifting champions.