Harry Kane has played in several UEFA Champions League games. One can assume the 30-year-old might be entirely focused but isn't excessively excited when heading for the next clash.
Things might be different this time, as the 30-year-old England captain is about to meet a side he might know better than his new Bayern Munich teammates.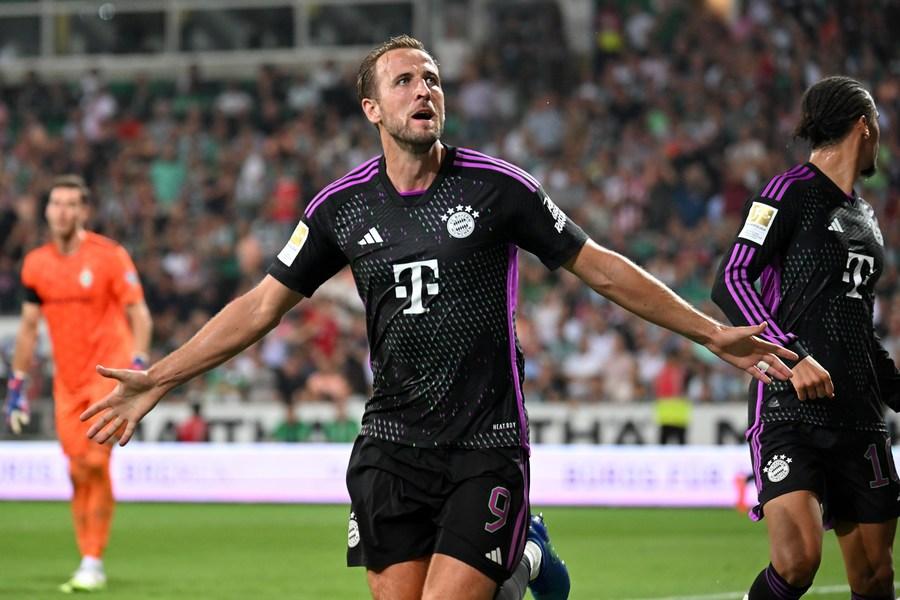 Harry Kane of FC Bayern Munich celebrates scoring during the Bundesliga 1st round match between SV Werder Bremen and FC Bayern Munich in Bremen, Germany, Aug.18, 2023. (Photo by Ulrich Hufnagel/Xinhua)
Undoubtedly, crossing swords with Manchester United this Wednesday evening in the Allianz Arena is a significant event for the former Tottenham Hotspur striker.
Kane played against United 18 times in the Premier League, but facing the 2008 Champions League winners for his new club seems like a specially-designed start into Europe's most important club football competition.
Seen as a man with inside knowledge about United, Kane seems aware of his role as an informant; at least when it comes to making clear that United, despite their current difficulties, will be no pushovers.
"We know about them struggling at present, but we also know that teams of their quality and tradition always try to come back in a great way," the striker said.
The forward recommends getting things done as early as possible and achieving dominance.
Kane's statements seem to perfectly match the leading role he has naturally slipped into despite only having joined the reigning German champions this summer.
Kane seems aware of his standing in Munich, "as I am England captain and have gained experience. All these factors influence people's picture of me," he said.
From his first day, the attacker played the role he was signed for - one of a team leader.
"It might not be overwhelmingly important to have a strict hierarchy in the team, but you definitely need leaders pointing the way," he adds.
Therefore, the England icon is talking to teammates, trying to find out how to give them as much confidence as possible.
"I am happy to see we have strong characters taking over in Munich," he said, admitting that there is still much for him to discover, "as I am a newcomer at Bayern."
The striker might have called his decision to leave Spurs after nearly 20 years "the right decision" but still is stuck in the stage of having to get to know his new side.
Things are improving day by day, he told German media; not to speak of his fast start scoring four goals in his first four Bundesliga games.
Now, crunch time is approaching, as Kane sees a satisfying start in the Champions League as vital to achieving his dreams of winning the competition for the first time.
On Wednesday, the England striker may have to unleash his leadership qualities more than ever before, as coach Thomas Tuchel will not be on the touchline due to a ban collected last season. Instead, the Bayern coach will sit in the stand, far away from his squad.