Arriving in Hangzhou having won the 2023 Asian Cup and finished runner-up in the 2022 FIBA Women's Basketball World Cup, China's women's basketball team is on a stable upward trajectory. Winning gold at the Hangzhou Asian Games to consolidate this momentum is undoubtedly the team's goal.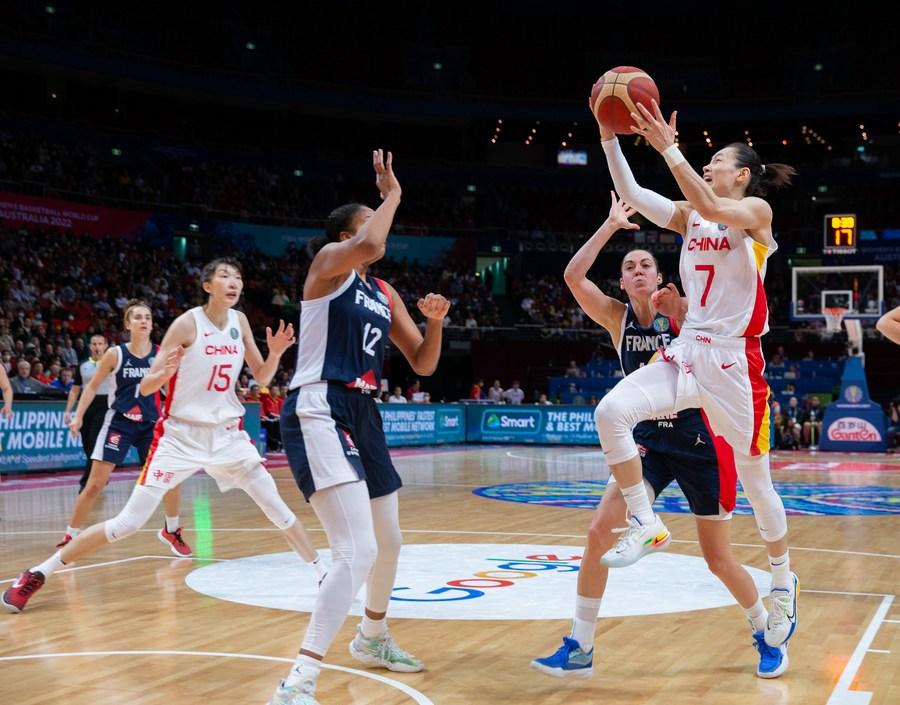 Yang Liwei (1st R) of China goes for a lay-up during the World Cup quarterfinal against France on Sept. 29, 2022. (Photo by Hu Jingchen/Xinhua)
In Hangzhou, 12 women's basketball teams will compete, with the top eight teams in the FIBA Asia rankings and the top four from the Asian Games qualifiers divided into three groups. After 18 group stage matches, the top two teams from each group and the two best third-placed teams will advance to the knockout stage.
China are grouped with Indonesia, India and Mongolia in Group A, with their opponents having respective FIBA rankings of 51, 67 and 91, meaning China are hot favorites to finish first in the group.
China's roster for the Asiad was based on their Asia Cup lineup. WNBA players Han Xu and Li Meng have returned to China for the tournament, and national team starters Li Yueru and Huang Sijing, who missed the Asia Cup due to injury, have recovered. Additionally, promising young talent Luo Xinyu, who shone at the Asia Cup, has once again made the national team. Head coach Zheng Wei's team is now well-rounded and has great cohesion.
Japan and South Korea remain the main contenders in the knockout stage for China. Despite China's higher world ranking compared to ninth-ranked Japan and South Korea (ranked 13th), the gap is not significant, as China narrowly defeated Japan to win the Asia Cup by just two points.
Japan, who finished runner-up at the Tokyo Olympics, will field a strong lineup led by Maki Takada, Monica Okoye, Saki Hayashi and Himawari Akaho, all of whom participated in Tokyo. Although Group B's Japan may not be tall in stature, their outside shooting and speed in driving to the basket could pose a challenge for Zheng's side.
After a disappointing loss to Australia in the Asia Cup quarterfinal, South Korea began a training camp in July. For the Asian Games, the team's roster has seen little change compared to the Asia Cup, with only one player new player among the 12 selected. Players like Kim Dan-bi and shooter Kang Lee-seul, who are well acquainted with China, are on the roster. Park Ji-su, who scored 22 points against China in the Asia Cup, could also be a threat in the paint.
For China, apart from understanding the playing styles of key opponents and adapting accordingly, injuries that have occurred frequently in recent years during major tournaments and league matches could be a hidden concern. If they can maintain their health, China have a strong chance of clinching victory in Hangzhou, with Mongolia set to be their first opponents.