Fresh from her excellent campaign at the US Open, Chinese tennis star Zheng Qinwen now turns her attention to the Hangzhou Asian Games.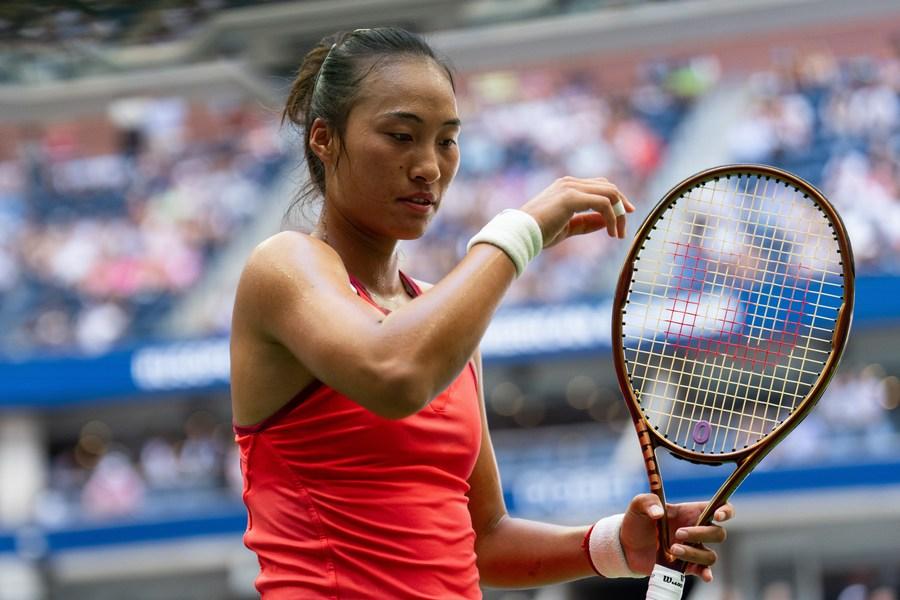 Zheng Qinwen of China reacts during the women's singles quarterfinal against Aryna Sabalenka of Belarus at the 2023 US Open tennis championships in New York, the United States, Sept. 6, 2023. (Xinhua/Liu Jie)
The 20-year-old participated in the torch relay as the second torchbearer on Tuesday, and is raring to represent the nation at her first Asiad, with the tennis competition getting underway on Sunday.
"I chose to play because I can compete for my country," the world No 22 told Xinhua.
This competition marks the first time Zheng will play in China in front of the home fans since turning professional, with her excellent season making her one of the star attractions in Hangzhou.
Zheng produced one of the biggest wins of her career by defeating last year's runner-up Ons Jabeur to reach the US Open quarterfinals — the first time she has reached the last eight of a Grand Slam. The performance earned her the nickname "Queen Wen".
"I love it!" she said of her new moniker. "It sounds powerful, rhymes with my name and really suits me."
Zheng's quarterfinal run capped a highly encouraging US Open for Chinese tennis. All seven singles draw participants from the Chinese mainland advanced to the second round. Zheng credited years of hard work on the practice court for the collective success.
"It's natural, as Chinese players have devoted themselves to professional tennis for over 20 years. We support and inspire each other, and, as a result, we are able to train harder and can come through difficult moments on the court," she said.
Expectations are rising that Zheng can eventually emulate Chinese tennis legend Li Na by lifting a Grand Slam trophy. Zheng admits that Li was, and continues to be, a big inspiration for her.
"As I see it, Li Na planted the seeds of tennis among our generation. She is the first Grand Slam singles champion from Asia, winning titles at both the French Open and Australian Open, which made her achievements even more remarkable. Her career inspired young players like me to be as good and tough as her. I never had the privilege to talk with her before, but hopefully I can have the chance to learn from her in the future."
Like Li, Zheng is a native of Hubei province, but says some of the region's delicious local cuisine is unfortunately off the menu when she's competing.
"Tennis is a one-on-one sport, and so requires a perfect individual performance. I don't eat hot, fried food during tournaments as it will affect my game on the court," said Zheng.
The Hangzhou Asian Games' closing ceremony coincides with Zheng's 21st birthday on Oct 8. By then, Zheng will hopefully be enjoying the spectacle with a medal around her neck — another milestone perhaps on the road to Grand Slam glory.
"I have thought of that, but I need to take one step at a time. I'll focus on the Asian Games, try my best in Hangzhou," said Zheng when asked about her chances of winning a major championship. "I need to keep my eyes on the sky and my feet on the ground."
"It's still too early for me to become an athlete of the stature of Li Na, but I do hope to be an inspiration for the younger generation in the future," she added. "There is a lot to improve — my return, my first serve, my mentality. Every game is different, but I have the confidence to do whatever makes me better."