Olympic champion swimmers Zhang Yufei and Wang Shun secured dominant victories on Sunday, propelling China to claim 20 out of 31 gold medals on the inaugural full competition day of the Hangzhou Asian Games.
Zou Jiaqi and Qiu Xiuping set the pace for the host nation, clinching the first gold medal of the Games in the women's lightweight double sculls Sunday morning. This marks the sixth consecutive edition where China has secured the first gold of the continental sporting event.
Zou and Qiu, who placed sixth at the 2023 World Championships just weeks prior, won with a notable lead, clocking in at seven minutes 6.78 seconds at the Fuyang Water Sports Center. Having advanced to the final with a top spot in the preliminaries, the Chinese pair took an early lead in the final. Bolstered by enthusiastic cheers, Zou and Qiu crossed the finish line well ahead of their competitors.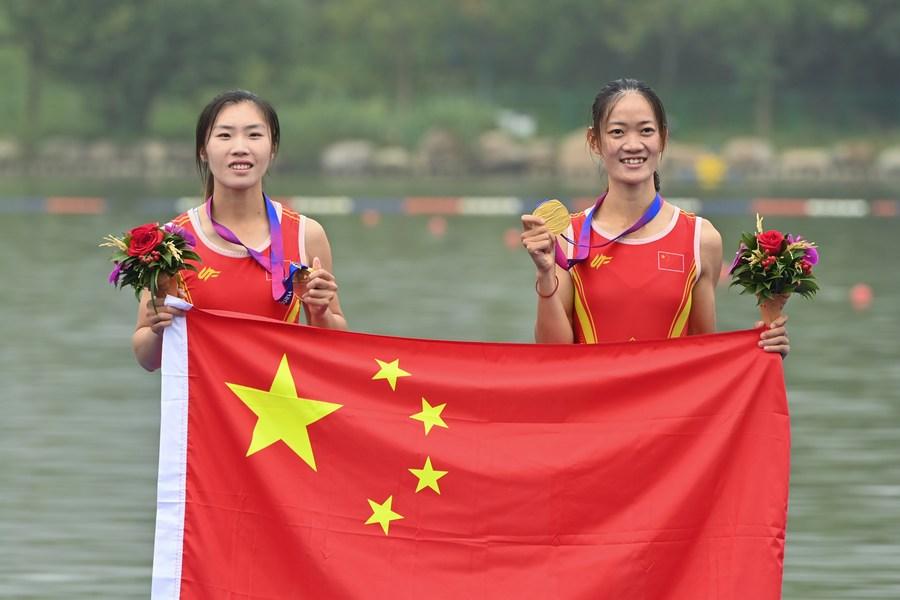 Zou Jiaqi (L) and Qiu Xiuping of China pose during the award ceremony for the women's lightweight double sculls at the Hangzhou Asian Games on Sept. 24, 2023. (Xinhua/Jiang Han)
"Usually we only hear (spectators cheering) in the last 250 meters of the red buoys, but today we could hear it in the 500 meters, which is quite exciting," said Zou, who hails from Hangzhou.
Their victory initiated a gold rush for China, with teammates subsequently securing five more gold medals in the sport.
Veteran rower Zhang Liang matched the record set by his Chinese compatriot Li Jianxin, clinching his fourth Asian Games gold medal in the men's double sculls alongside Liu Zhiyu.
"For me, as a veteran, physical fitness is a challenge," the 36-year-old shared, noting his limited two-week preparation for the Asian Games post the World Championships.
The only title that eluded China on Sunday was the men's pair, where Hong Kong, China's Lam San Tung and Wong Wai Chun recorded a time of six minutes 44.20 seconds to secure the win.
"Feeling grateful for the result, because we have been working really hard for the past few years. We struggle a lot and then we have a lot of doubt, but finally we cross the line and we feel we finally did it," Lam expressed.
In the pool, Chinese swimmers showcased their dominance, sweeping all seven gold medals available.
Zhang Yufei, who is set to compete in seven events in Hangzhou, successfully defended her 200m butterfly title, finishing ahead of teammate Yu Liyan with a new Games record of 2 minutes and 05.57 seconds.
Wang Shun's victory in the men's 200m individual medley was further highlighted by his setting of a new Asian record. Wang maintained a lead throughout and finished first in one minute and 54.62 seconds. Qin Haiyang, China's breaststroke specialist who clinched three golds at the Fukuoka worlds in July, secured second place with a time of 1:57.41. Japan's Daiya Seto finished third in 1:58.35.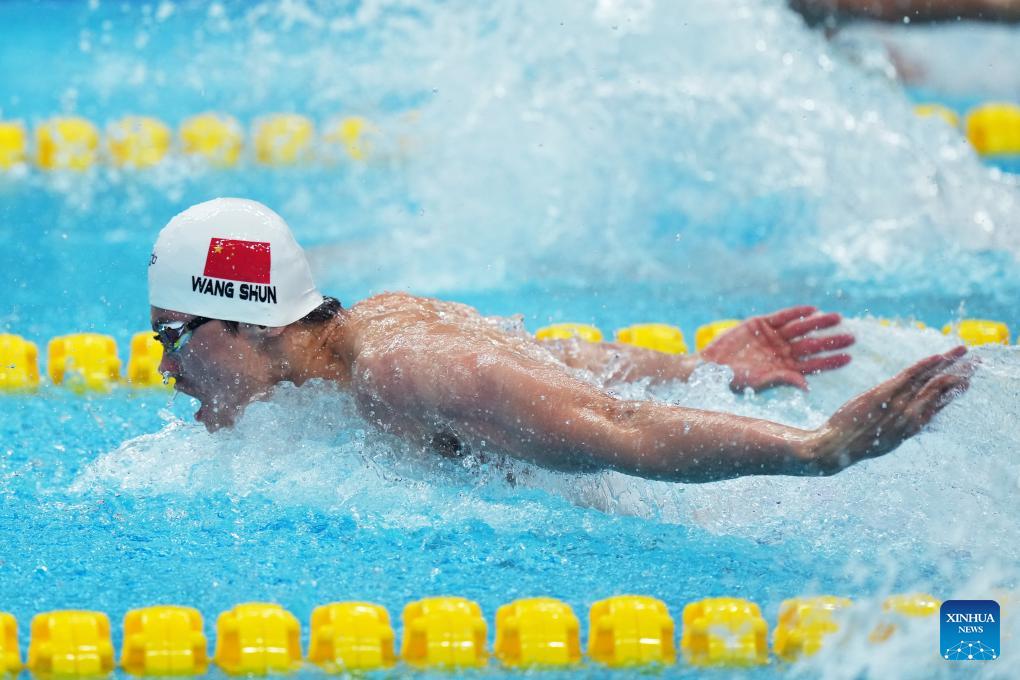 Wang Shun of China competes during the Men's 200m Individual Medley Final at the 19th Asian Games in Hangzhou, east China's Zhejiang Province, Sept. 24, 2023. (Xinhua/Du yu)
Wang shared his feeling of lighting the cauldron at Saturday's opening ceremony. "It was hard to fall asleep last night," he said.
Another new Asian record was established in the men's 100m freestyle, with Pan Zhanle registering a time of 46.97 seconds, improving his previous record by 0.46 seconds.
Chinese Wushu athletes also dominated the day's events, with Sun Peiyuan and Tong Xin securing gold in the men's Changquan and women's Taiji all-round, respectively.
"I've been looking forward to the Asian Games for a long time. It feels good to win the gold medal at home," said Sun, who scored 9.840 points.
Sun, 34, added this gold to his collection from previous Asian Games, having won one each at Incheon 2014 and Jakarta 2018.
Tong delivered outstanding performances to clinch the Taijiquan and Taijijian all-round gold medal. Basma Lachkar of Brunei and Chen Suijin from Hong Kong, China, secured silver and bronze, respectively.
Modern pentathletes Zhang Mingyu of China and South Korea's Jun Woong-tae successfully defended their Asian Games titles in individual modern pentathlon events.
Zhang, 21, who previously won the women's individual title in Jakarta, captured the gold with 1,406 points. This victory also earned Zhang a spot at the 2024 Paris Olympic Games.
Zhang, together with Bian Yufei and Zhong Xiuting, helped China clinch the team victory with 4,094 points. Japan and South Korea followed with 3,705 and 3,574 points, respectively.
Chinese shooters secured two gold medals and one silver. The remaining three medals of the day were claimed by India and Mongolia.
Han Jiayu, Huang Yuting, and Wang Zhilin, all from Zhejiang, clinched China's first shooting gold in the women's 10m air rifle team event with 1,896.6 points.
Huang, an emerging talent in the sport, captured the individual title with an Asian Games record of 252.7 points. Her teammate Han secured second place with 251.3 points, while India's Ramita took third with 230.1 points.
China also secured a gold in artistic gymnastics, with the host gymnasts defending their men's team title, scoring 262.025 points.
Japan and South Korea also made their mark in traditionally competitive sports. Judokas Natsumi Tsunoda and Ryoma Tanaka secured two gold medals for Japan, while South Korea earned two taekwondo golds courtesy of Kang Wan-jin and Cha Yea-eun in the men's and women's individual poomsae, respectively.
Bishrelt Khorloodoi of the United Arab Emirates clinched a historic silver in the women's 52kg class in judo, marking only the second time her country has won a judo medal at the Asian Games, following a men's bronze at Jakarta 2018.
"It's the first medal (of any color) for a UAE women's judoka as well, and I'm so happy," an ecstatic Khorloodoi shared.
China led the medal tally with 20 gold, seven silver, and three bronze medals. South Korea followed with five golds. Japan and Hong Kong, China each secured two golds. A total of 38 gold medals will be contested on Monday.