After a clean sweep of seven gold medals in the pool on Sunday, Chinese swimmers' momentum slowed down a bit on Monday - winning four out of seven golds contested at the Hangzhou Asian Games.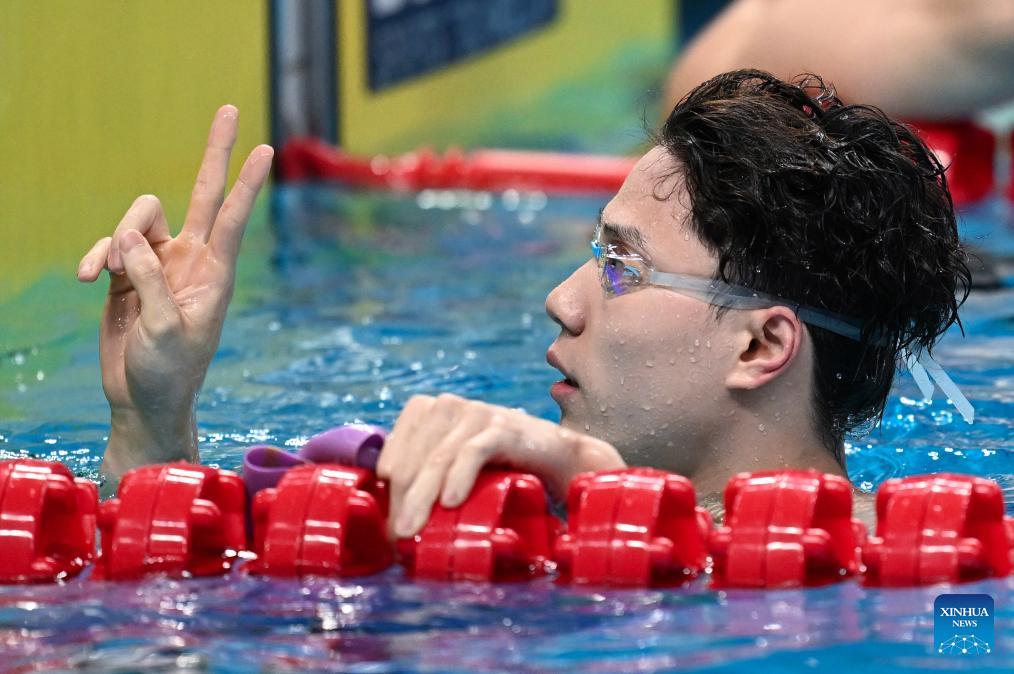 Qin Haiyang of China reacts after the men's 100m breaststroke final of Swimming at the 19th Asian Games in Hangzhou, east China's Zhejiang Province, Sept. 25, 2023. (Xinhua/Xia Yifang)
Meanwhile, Siobhan Bernadette Haughey made history for Hong Kong, China by earning its first ever gold medal in swimming at an Asian Games.
Triple breaststroke world champion Qin Haiyang dominated his signature 100m breast with a Games record time of 57.76 seconds. His fellow Chinese Yan Zibei came second in 59.09, while South Korea's Choi Dongyeol was third in 59.28.
Qin, flagbearer of the Chinese team at the opening ceremony, rose to stardom at the world championships in Fukuoka in July, becoming the first man in history to sweep all three breaststroke titles and also setting a new world record in the 200m.
When asked if he had plans to break the 50m breaststroke world record, Qin said that he would not prepare for it particularly. "It's not an Olympic event," said the 24-year-old. "I think I need some luck to break the world record."
Siobhan Haughey, the women's 100m freestyle silver medalist at the Tokyo Olympic Games, cruised to 200m victory ahead of China's defending champion Li Bingjie in a new Games record time of 1:54.12. Li took silver in 1:56.00, while her teammate Liu Yaxin came third in 1:56.43.
Haughey did not compete at the 2018 Asian Games due to a nagging foot injury. She also won a silver in the 100m freestyle at the World Championships in Fukuoka.
The women's 200m individual medley final saw a duel between rising star Yu Yiting and London Olympic champion Ye Shiwen. Yu set a new Games record 2:07.75 to clinch the title, followed by Ye in 2:10.34. Kim Seoyeong of South Korea came third in 2:10.36.
China's world champion Xu Jiayu secured the top spot in the men's 50m backstroke with a time of 24.38, while the other Chinese competitor Wang Gukailai followed in 24.88. Japan's Irie Ryosuke was third in 25.15.
In the women's 50m backstroke, Wang Xue'er narrowly outpaced her teammate Wan Letian, winning the title in 27.35. Wan had silver in 27.41. Japan's Miki Takahashi settled for a bronze.
In other races, South Korea's Ji Yuchan captured the first swimming gold for his country in Hangzhou when he won the men's 50m freestyle final with a new Games record of 21.72.
Ho Ian Yentou of Hong Kong, China and Chinese Pan Zhanle were edged to second and third places respectively. Pan, winner of the 100m free on Sunday, timed 21.92 after a slow start. South Korea also outpaced China to win the men's 4X200m freestyle relay.