World champion Zhang Boheng of China claimed the men's all-around gymnastics title with a score of 89.299 points at the Hangzhou Asian Games on Tuesday.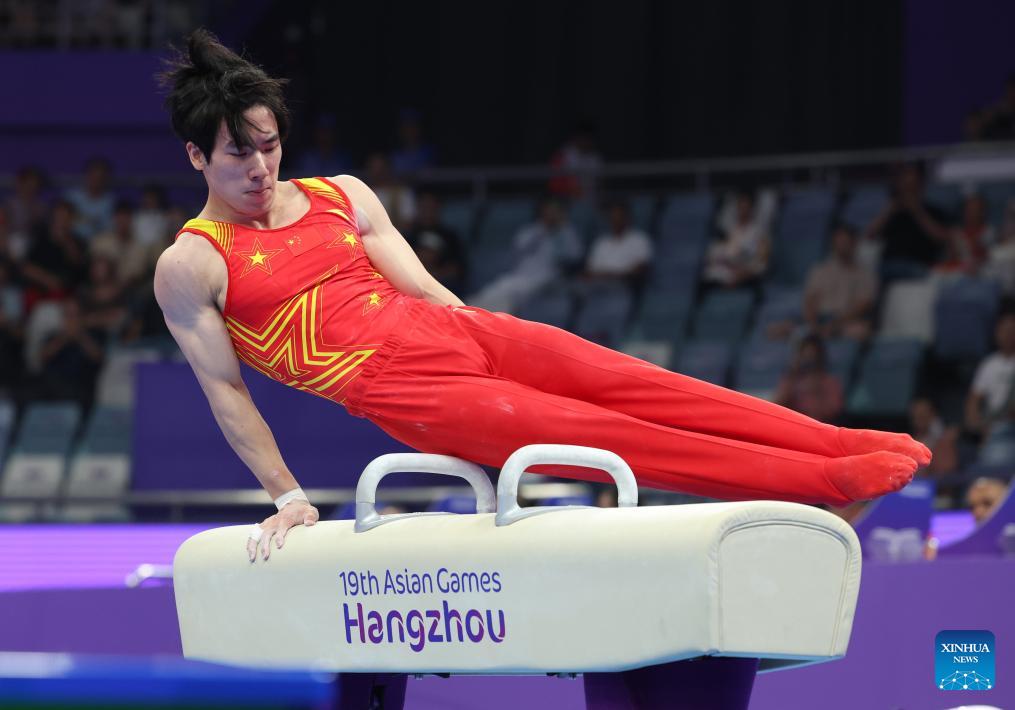 Zhang Boheng of China competes during the Pommel Horse of the Men's All-Around Final of Artistic Gymnastics at the 19th Asian Games in Hangzhou, east China's Zhejiang Province, Sept. 26, 2023. (Xinhua/Cheng Tingting)
Japan's Takeru Kitazono finished second with 87.032 and another Chinese gymnast Lan Xingyu took bronze on 84.965.
Zhang performed steadily throughout his routines on six apparatuses. His total included 14.500 on the floor, 14.600 on the pommel horse, 14.933 on the rings, 14.600 on the vault, 15.466 on the parallel bars and 15.200 on the horizontal bar.
"This is a milestone score," the 23-year-old Zhang said. "I hope to win a gold medal at the Paris Olympics."
Zhang's arch-rival, Daiki Hashimoto has opted to skip the Asiad as its schedule collides with the Artistic Gymnastics World Championships, which will take place from September 30 to October 8 in Antwerp, Belgium. But the duel between the world's best two all-arounders looms at next year's Olympics.
"China's Zhang showed us his strength. I have to figure out how to fill the gap with him in the next year, otherwise I can barely compete with him in Paris 2024," said Japan's Shohei Kawakami, who finished fourth in Tuesday's final.
"I am determined to compete in the all-around individual category for Paris 2024," Kitazono said.
"I and Hashimoto have experience from Tokyo 2020, so we must lead the team and win the gold medal in the team category too."