Yang Hao (front)/Lian Junjie of China compete in the men's 10m platform synchro final at the Hangzhou Asian Games on Oct. 1, 2023. (Xinhua/Xia Yifang)

Chinese athletes gave the home crowds more reason to celebrate on the country's National Day as they claimed 19 gold medals at the Asian Games on Sunday.
The sports arenas in Hangzhou and co-host cities have become a popular tourist attraction during the eight-day national holiday, as tens of thousands of sports fans have poured in to cheer the Chinese athletes on.
The "dream teams" of Chinese divers, paddlers, weightlifters and shooters entertained the home audience as they combined to contribute almost half of the 19 golds for the host nation.
In diving, China continued its dominance by adding two synchro titles.
Chang Yani and Chen Yiwen, winners at the Fukuoka World Championships, secured the women's 3m springboard synchro gold with 335.73 points. 22-year-old Chang also took gold in the event at the 2018 Jakarta Asian Games with Shi Tingmao, while Chen, 24, captured silver in the 1m springboard at the last Asiad.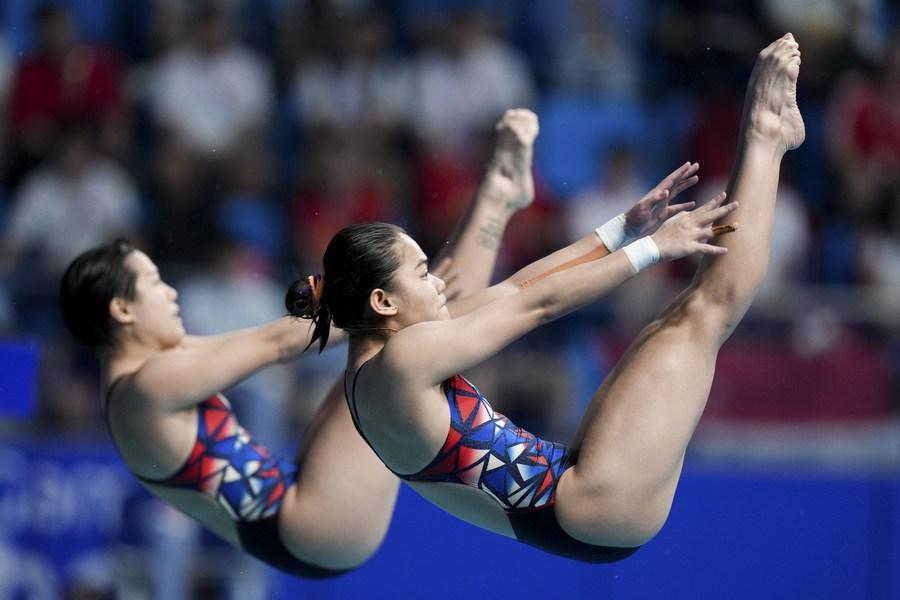 Ng Yan Yee (L)/Nur Dhabitah Sabri of Malaysia compete in the women's 3m springboard synchro final. (Xinhua/Du Yu)
"As it's my first Asian Games title, it means a lot to me," said Chen.
Malaysia's Ng Yan Yee and Nur Dhabitah Sabri came second in 270.27, and the South Korean duo of Park Ha-reum and Kim Su-ji ranked third in 253.56.
In the men's 10m platform synchro, China's duo of Yang Hao and Lian Junjie scored 492.63 points, 104.85 more than runners-up Yi Jae-gyeong and Kim Yeong-nam of South Korea. Malaysia's Lises Bertrand Rhodict Anak and Harold Enrique Maccartney Anak claimed the bronze in 386.07.
In weightlifting, Olympic and world champion Li Fabin lifted 143kg in the snatch and 167kg in the clean and jerk for a total of 310kg in the men's 61kg category.
Li outclassed Pak Myong Jin of DPR Korea by three kilograms, while Pak's compatriot Kim Chung Guk came third with 298kg.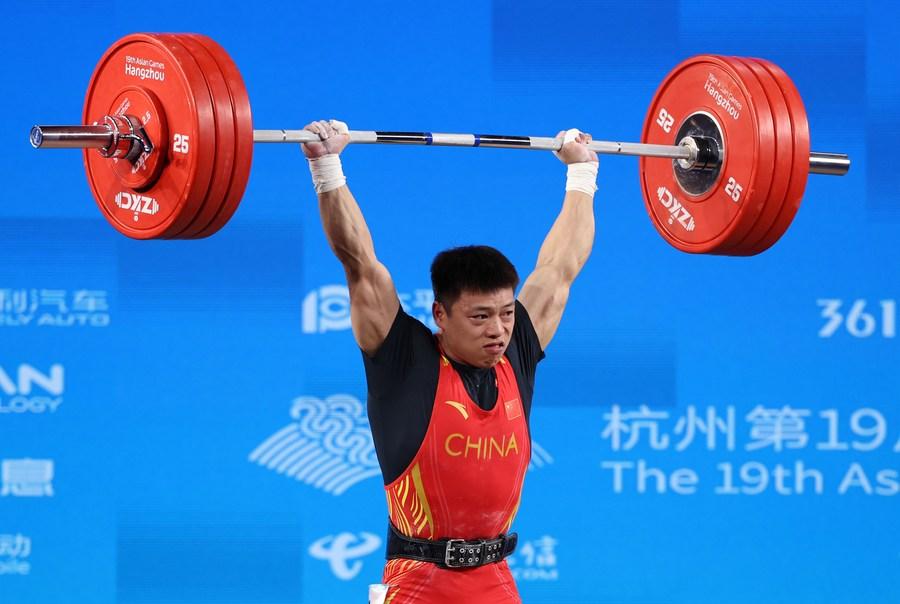 Shen Lijun of China competes in the weightlifting men's 67kg Group A match. (Xinhua/Yang Lei)
Shen Lijun, men's 67kg gold medalist at the Tokyo Olympics, grabbed gold in the category at the Asiad, lifting 150kg in the snatch and 180kg in the clean and jerk for a total of 330kg.
"My next goal is to win the gold medal at the Paris Olympic Games," Shen said.
Chinese paddlers also swept two golds on offer as Sun Yingsha beat Japan's Hina Hayata to take her first women's singles Asiad title, while her compatriots Fan Zhendong and Wang Chuqin won the men's doubles gold medal.
Sun, who had won all of her ten international matches against Hayata, did so again in Hangzhou with a 4-1 victory (11-5, 11-9, 10-12, 11-8, 11-7).
"I think we all played very well today, I have played against Hayata many times, I felt that she made great progress," Sun said.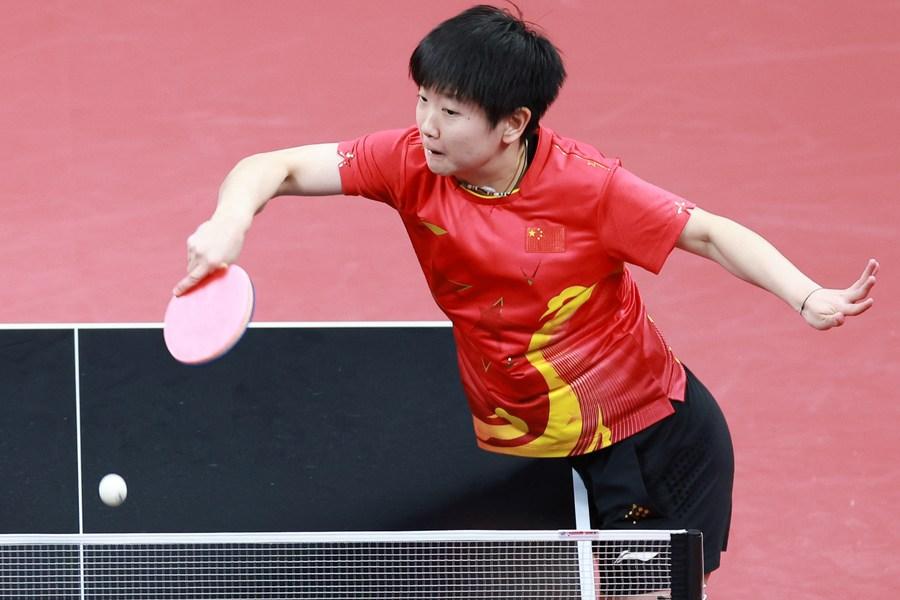 Sun Yingsha of China hits a return during the table tennis women's singles final against Japan's Hina Hayata. (Xinhua/Liu Xu)
Chinese shooters also underlined their supremacy at the Asian Games, firing down three out of four golds on offer.
Li Qingnian, Wu Cuicui and Zhang Xinqiu combined to set a world record of 357 hits for the women's trap team gold. China also won the men's and women's trap individual titles.
China's men's shuttlers rocked the house by bouncing back from 2-0 down to claim the badminton men's team title with a 3-2 victory over India in the final.
Li Shifeng saved China from the brink of defeat by crushing Srikanth Nammalwar Kidambi in straight games after India had built a 2-0 overall lead.
The 23-year-old took an intense first game 24-22, and then clinched his 21-9 win in quick succession.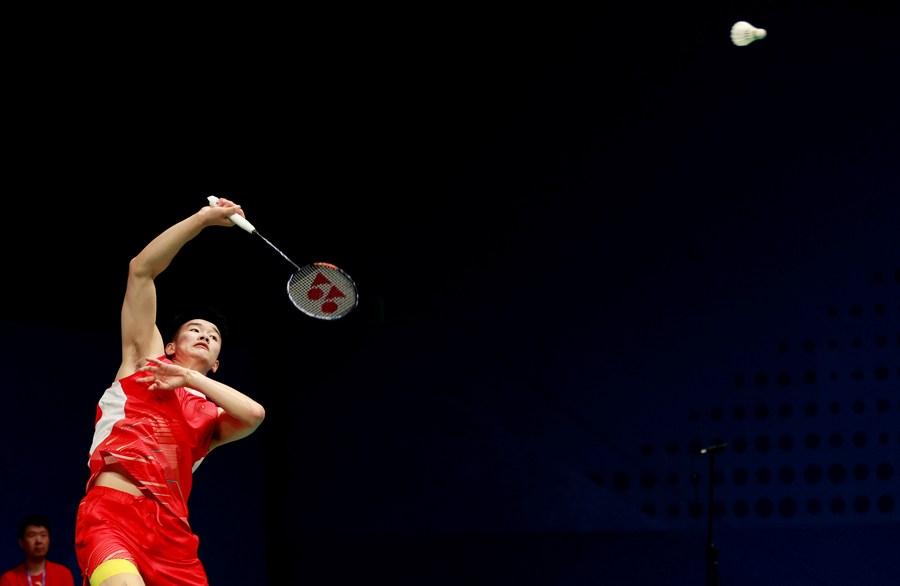 Li Shifeng of China competes in the badminton men's team final against India. (Xinhua/Ren Zhenglai)
"Pressure? I'm not thinking about it that much, I'm just thinking about playing point by point," Li said.
The host nation has more success on track and field, winning golds in women's discus, men's long jump, women's heptathlon and 100m hurdles. China's women's 3x3 basketball team and water polo team also secured their respective titles.
China has now collected 133 gold, 72 silver and 39 bronze medals to top the medal table. South Korea sits second with 30 golds, while Japan is third on 29 golds.