Two-time Olympic marathon champion Eliud Kipchoge said on Monday he is determined to find ways to improve and better the current world record, and suggested that his age would work for rather than against him in the pursuit of this goal.
"With age comes experience, and experience is important," said the Kenyan, who turns 39 in November.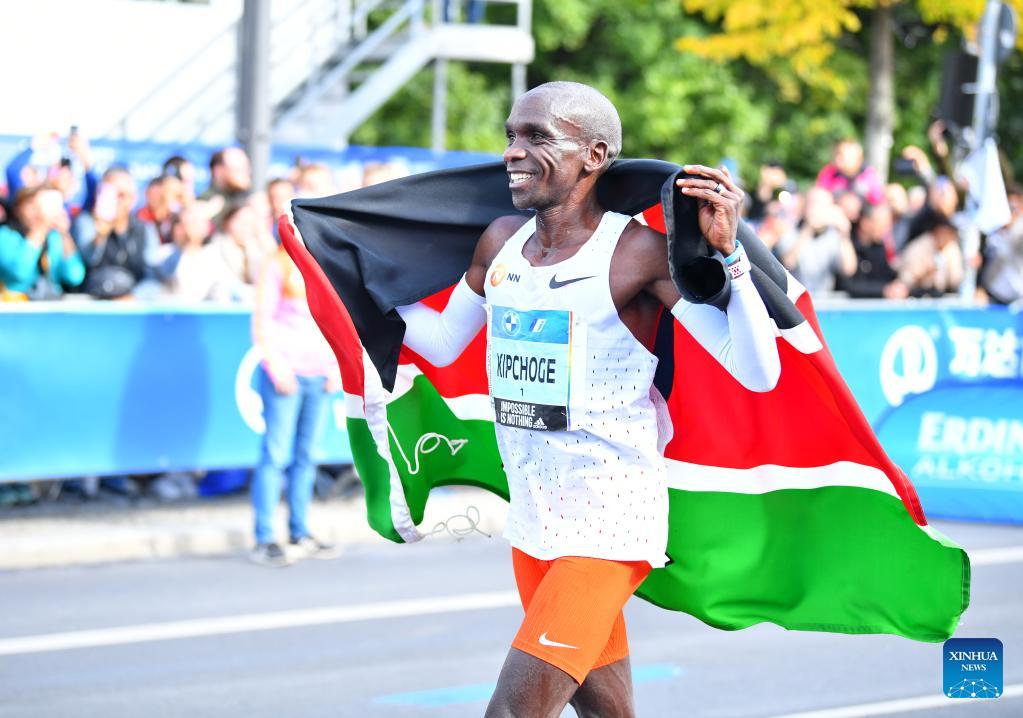 Gold medalist of the men's race, Eliud Kipchoge of Kenya, celebrates after the Berlin Marathon 2022 in Berlin, capital of Germany, Sept. 25, 2022. (Xinhua/Ren Pengfei)
Kipchoge made the remarks during his trip to the INEOS China office in Shanghai. He also took part in a two-kilometer run with the employees later that day.
Kipchoge was the previous holder of the world record of 2:01:09 — it was set at the 2022 Berlin Marathon — until his compatriot Kelvin Kiptum clocked 2:00:35 at the Chicago Marathon on Oct 8.
The Kenyan also implied that he is confident of breaking the two-hour marathon barrier in an official race.
"In sport, you train and be confident. It's like boxing. If you enter the ring not feeling confident, you'll be knocked out after 30 seconds," he said.
British multinational chemicals company INEOS is the creator of the INEOS 1:59 Challenge, a special event that helped Kipchoge become the first man in history to break the two-hour barrier in marathon running in October 2019.
The time of 1:59:40:2 clocked during the challenge was not ratified as a world record because of the use of pacesetters and the absence of open competition.
During the event in Shanghai, Kipchoge also unveiled the first set of INEOS 1:59 Pace Challenge posts. These physical posts are located around the world, with the first located in the Austrian capital of Vienna. Running enthusiasts can take on the challenge of running 352.6 meters within a minute — the pace that Kipchoge kept when he clocked 1:59.40.2 — at these posts.
"The INEOS 1:59 Challenge has a special place in my heart. Since that event in 2019, I have seen many people inspired to either start running or to take off the brakes in their heads and achieve what they want to achieve," said Kipchoge.
"I like to inspire people through running. This is why I'm encouraging runners to take on the challenge and run my pace from the INEOS 1:59 pace challenge."