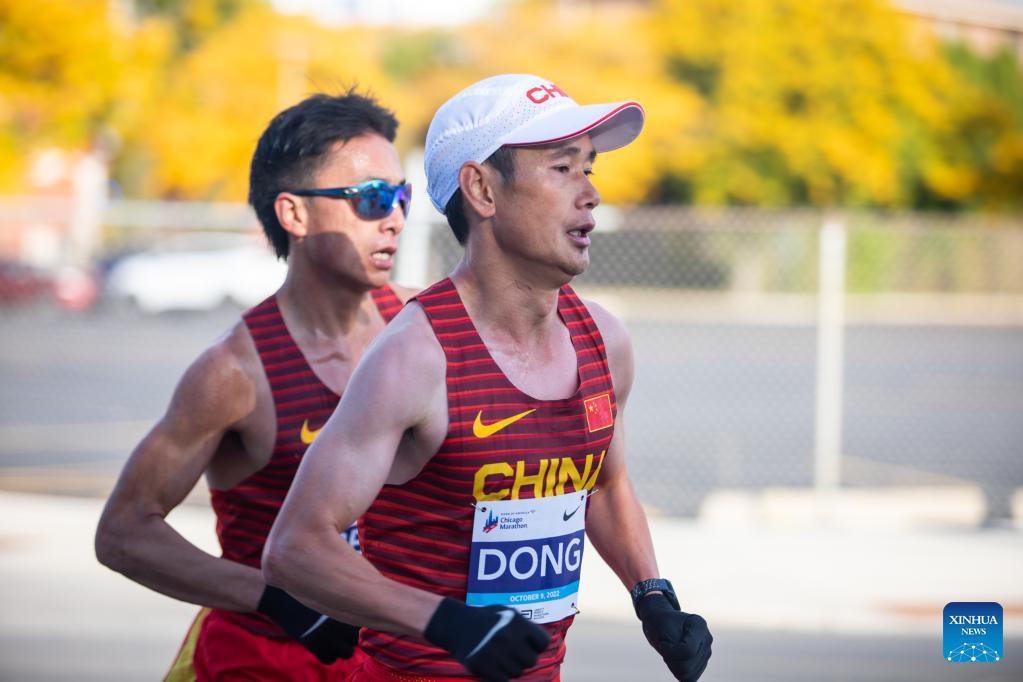 Dong Guojian (R) and Peng Jianhua of China compete during the 44th Chicago Marathon in downtown Chicago, the United States, on Oct. 9, 2022. (Photo by Vincent D. Johnson/Xinhua)

Dong Guojian of China claimed the men's title at the 2023 Xi'an Marathon with the best result of the event on Sunday.
The sixth edition of the event attracted some 35,000 runners to participate in. Among them, nearly 20,000 runners saw actions in marathon while 10,000 participated in the competition of half marathon.
The culture of the city and the great view of the route attracted lots of the country's famous marathoners to come to Xi'an.
Dong, the marathon champion in the 2017 National Games as well as the silver medalist of the men's 10,000m in the 2021 National Games, won the men's event with 2:10:44 and refreshed the best result of the event.
"I feel alright during the running despite temperature going up in the last 10 kilometers," said the 36-year-old, adding that he felt satisfied with the result.
Gao Chengliang and Ma Wenliang, from northwestern China's Gansu Province and Qinghai Province, finished second and third with 2:15:07 and 2:16:10, respectively.
29-year-old Yang Hua claimed championship of the women's marathon in 2:40:24. Wang Min finish second with a time of 2:40:25 while Zhu Dandan bagged the bronze medal with 2:47:46.
Zhao Haijie and Wang Qiaoxia claimed titles in the men's and women's half marathon races, respectively.