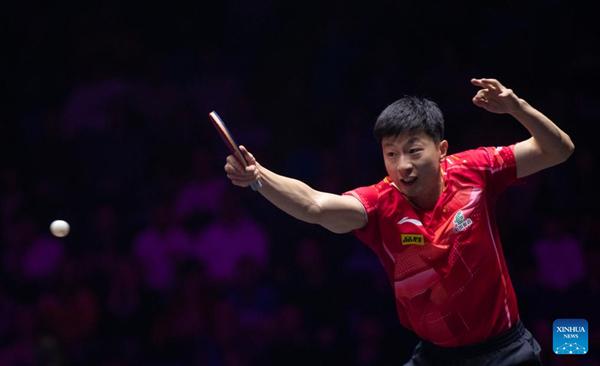 China's table tennis veteran Ma Long eased past local star Dimitrij Ovtcharov in the quarterfinal clash on Friday at WTT Champions Frankfurt.
Despite 19 defeats against Ma, Ovtcharov still hoped to make a breakthrough in front of the home crowd at Suwag Energy Arena. However, the Chinese Olympic champion dominated the match 11-7, 11-7, 11-7 to book the semifinal spot.
"Dima (Ovtcharov) showed good quality in the previous rounds, but it's not my first time to play against him here in Germany. I'm ready for the home court pressure," said 35-year-old Ma. "I had a disappointing start of 1-5 in the third game, but Dima later made mistakes before I grabbed the chance to win."
Awaiting Ma in the last four is French teenage sensation Felix Lebrun, who extended his stay in Frankfurt with a dramatic 3-2 victory over Lee Sang-su of South Korea 11-8, 11-13, 6-11, 14-12, 11-8.
The 17-year-old European star produced gutsy display, saving the match point at 11-12 in game four. Lebrun led the deciding game from start to finish to bag the semifinal ticket.
Second-seed Wang Chuqin of China also took a straight-game victory as Wang and Lim Jong-hoon of South Korea, both left-handed, showcased their attacking prowess in a closely contested match. Wang's fearless tenacity avenged his compatriot Liang Jingkun's departure with a 11-9, 11-5, 12-10 win.
"Lim is one of the most powerful competitors in the world. I was playing better in details today. I guessed he might have some tactical changes and he really did. I remained calm and played ruthlessly at crucial moments," said Wang.
Wang's semifinal opponent is Chinese Taipei's Lin Yun-Ju who prevailed fourth-seeded Tomokazu Harimoto of Japan 13-11, 9-11, 11-8, 11-4.
Women's singles top seed Sun Yingsha of China fought back from one game down to see off South Korean Shin Yu-bin 10-12, 11-5, 13-11, 11-6. Sun will face her compatriot Wang Yidi in the semifinal, as the latter beat Mima Ito of Japan 11-8, 11-9, 11-1 in the quarterfinals.
"Compared to the last time we met, Shin was playing better. I was not feeling surprised to lose the first game," said Sun. "But I stayed focus on every shot in the following games and the rallies fit me more."
The 2021 World champion Wang Manyu of China will face Hina Hayata of Japan in the penultimate round of the women's singles draw after pulling off a narrow 3-2 win in her nail-biting encounter with Joo Cheon-hui of South Korea 11-8, 11-5, 10-12, 9-11, 11-9.