Chinese Taipei's Lin Yun-Ju stunned China's table tennis star Ma Long 4-1 to claim the men's title while China's Wang Yidi defeated her compatriot Wang Manyu to lift the women's trophy on Sunday at WTT Champions Frankfurt.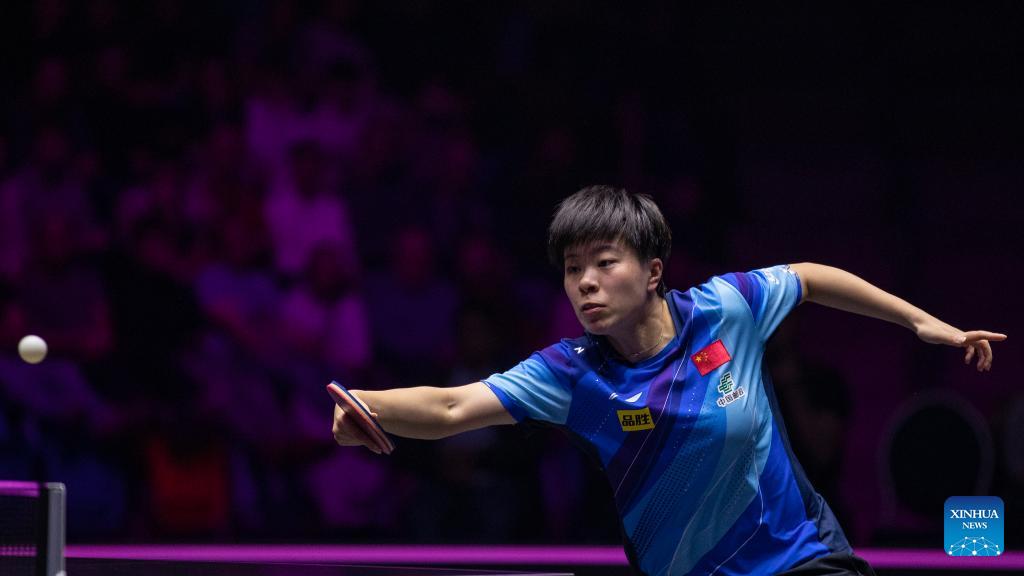 Wang Yidi of China hits a return during the women's singles final match against Wang Manyu of China at the WTT Champions Frankfurt 2023 in Frankfurt, Germany, Nov. 5, 2023. (Xinhua/Zhang Fan)
Lin completed an astonishing victory over one of the sport's all-time greats, Ma Long, in a thrilling men's singles final 7-11, 11-7, 13-11, 12-10, 12-10.
Appearing in his first WTT Champions final, 8th seed Lin was very much the challenger in the star-studded final against the three-time world champion and the only player to win men's singles gold twice at the Olympic Games.
However, Lin proved to be determined to score the crucial points, sealing the victories in the following four games after losing the first one. Bringing a magical week to a dream conclusion, Lin took home his first WTT Champions trophy.
"We're very close in every game but obviously Lin was the better one today. He had excellent skills and tactics, especially with his backhand. He had won over Wang Chuqin yesterday, which surprised me a bit. His progress gives us lots of pressure," said China's 35-year-old veteran.
It was Lin's second victory against Ma this year as he also won the match 3-1 in the round of 16 at WTT Champions Xinxiang.
"Ma Long is one of the greatest players in the world. I was definitely the underdog to challenge him and I did it successfully. I made some tactical changes to collect the key points. Additionally, some lucky points also helped me win."
Wang Yidi has finally got her hands on the WTT Champions trophy after beating third seed Wang Manyu for the women's singles title 11-3, 13-11, 12-10, 13-11.
Having lost five of her six previous encounters against Manyu, Yidi finally took her second win over her teammate. It was four years ago, also in Germany, when Yidi edged past Manyu 4-3 in the quarterfinals at the 2019 ITTF German Open.
Having picked up a left knee injury in her semifinal win over Hina Hayata of Japan, Manyu couldn't overturn the match as Yidi stayed resolute to seal the victory.
"It was really not easy to win the match. I didn't expect a 4-0 win. In the fourth game I was 10-3 ahead, then 10-11 behind. Manyu played really strong at that time. In the end, I was lucky to seal the win with a net ball," said Wang Yidi.
The result sees Wang Yidi become one of the only three players to lift a women's singles trophy on the WTT Champions stage, joining Wang Manyu and Sun Yingsha on an exclusive list.