With Olympic champions Han Cong and Sui Wenjing hanging up their skates indefinitely, China's national figure skating program is embracing a busy international season to hone a new crop of medal hopefuls — beginning on home ice this week.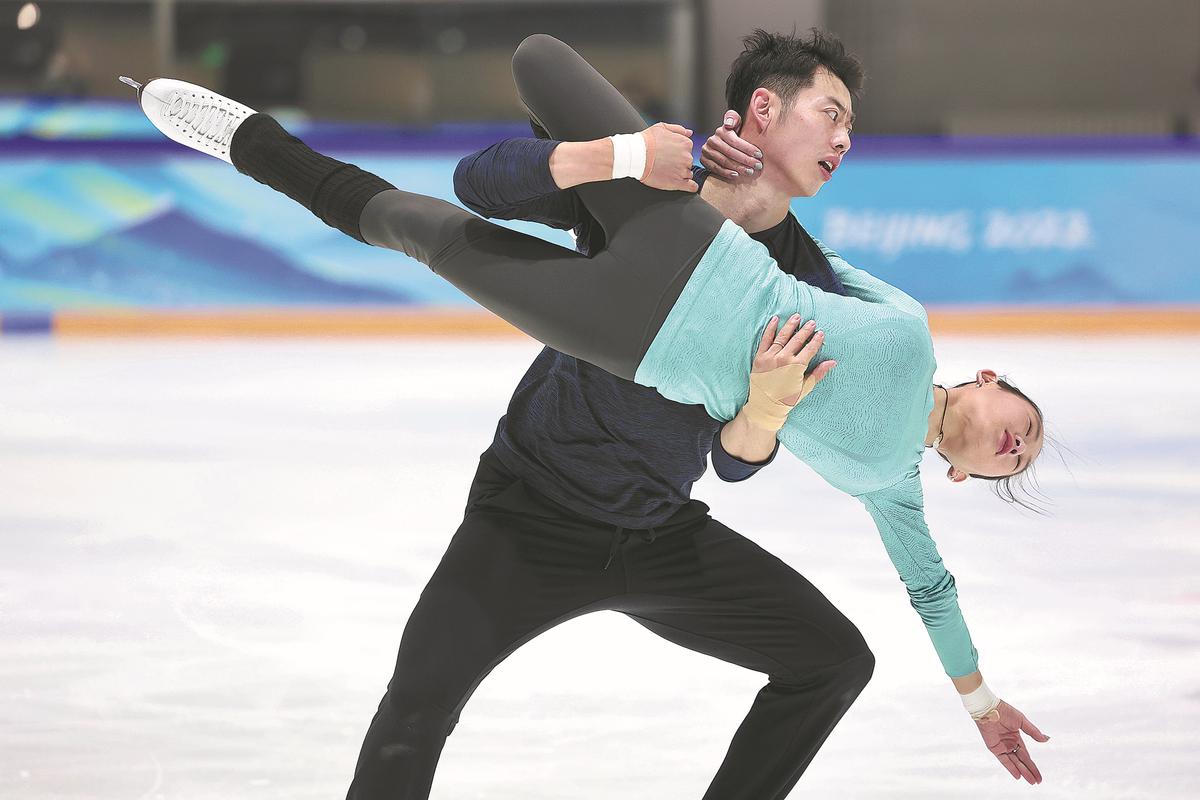 Wang Lei balances Peng Cheng in his arms during a Team China training session in Beijing last week. WEI XIAOHAO/CHINA DAILY
After the curtain came down on the Beijing 2022 Winter Olympics, Chinese figure skating stepped into a new era, with more youngsters promoted to the ranks and new manager Yao Jia bringing a fresh dynamic for the Milano Cortina 2026 Olympic cycle.
After missing out on the previous ISU Grand Prix season due to the pandemic, Chinese skaters are raring to shake off the rust and get back into their rhythm at the top-flight series, as well as a number of lower-ranked senior and junior events.
The quest begins on home ice with the Cup of China, the Grand Prix season's fourth leg which takes place from Friday to Sunday in Chongqing.
The goal is to make the most out of the host's advantage in the participation quotas to provide the relatively inexperienced squad with much-needed international drills, according to Yao, who was appointed manager in March.
"Each and every event this season is critically important for us as a young team in the rebuild," Yao said after a recent training session at the national team base in Beijing.
"We will try to get our skaters to compete as much as possible so that they identify their pros and cons, measuring their own routines against the world's elite and learning where they need to improve.
"Our long-term goal is to get ready for the 2026 Winter Olympics but we will always focus on making the next event count and getting there step by step," said Yao, a former director of the Beijing 2022 figure skating program.
As per usual for the host, Team China has been granted three entries in the Cup of China's singles and pairs events, for both men and women, as well as two quotas in ice dance.
After the Chongqing stop, the circuit heads to Finland (Nov 17-19) and Japan (Nov 24-26) before the series concludes with its year-end final back in Beijing (Dec 7-10), where only the top-six ranked competitors in each of the four disciplines will be in action.
Leading the host's race to the final are newly formed pair Peng Cheng and Wang Lei as well as men's singles star Jin Boyang. Yao was happy to report that all three have benefitted from a solid offseason training program, and are injury-free and mentally motivated.
"Our biggest hopes (to qualify for the final) will be in pair skating and men's singles. We have to seize the opportunities offered at each of the remaining Grand Prix legs for them to accumulate enough points to make it to the final," said Yao, who is also an ISU-certified international judge.
With reigning Olympic champion pair Han and Sui taking a break from competition to pursue other interests off the ice, it's now up to Peng and Wang to carry on the country's traditional prowess in pair skating and spearhead the young squad.
With big skates to fill, they admit the pressure is on but are determined to maintain the high standards of the national program.
"It's really hard not to be affected by the expectations to be honest," said Peng, a 26-year-old two-time Winter Olympian.
"Not just because of the hopes of people around you, more because that you know you have done a lot to be here and you don't want to let yourself down.
"Mentally it's a challenge, but we will focus on what we can control, and that's to complete each training session and competition as best we can on a daily basis," said Peng, who only began training with Wang in March.
Veteran Wang has assumed a "big brother" role — always ready to encourage and motivate Peng if necessary. At this late stage in his career, it's a task he is relishing.
"I've started anew and been approaching the new partnership with Cheng as a second chance in my career," said Wang, a 35-year-old native of Heilongjiang province who has never made it onto a Chinese Olympic roster.
"Peng is an exceptionally talented partner and we feel like we clicked on the ice pretty quickly after we decided to team up.
"We've been progressing quite well over the past eight months, improving our routines, building chemistry and complementing each other's strengths."
A domestic club title in August and victory at the Shanghai Trophy last month bear testimony to their synchrony. They will focus on fine-tuning their technical elements and perfecting their routines at the Cup of China and in Finland next week.
Jin, China's highest-ranked men's singles skater and a former bronze medalist at the world championships, is also eager to return to the international stage after fully recovering from a series of injuries.
"He's 100 percent healthy for the first time in a long while," Yao said of Jin, who's been training in Canada since the summer.
"As long as he's physically OK, Jin is in his best form. Technically, he perhaps needs to start with lower-difficulty routines to guarantee consistency and quality. But all his quad jumps are there, and he'll get better in competitions with time."