Nonstop travel, airport layovers, lost luggage and injuries that never got enough rest — and that was all before the weekly dogfights on the court tipped off.
It has sure been a hectic Olympic qualifying campaign for China's 3x3 basketball players, but their dedication and perseverance have ultimately landed them at their desired destination — next year's Paris Games.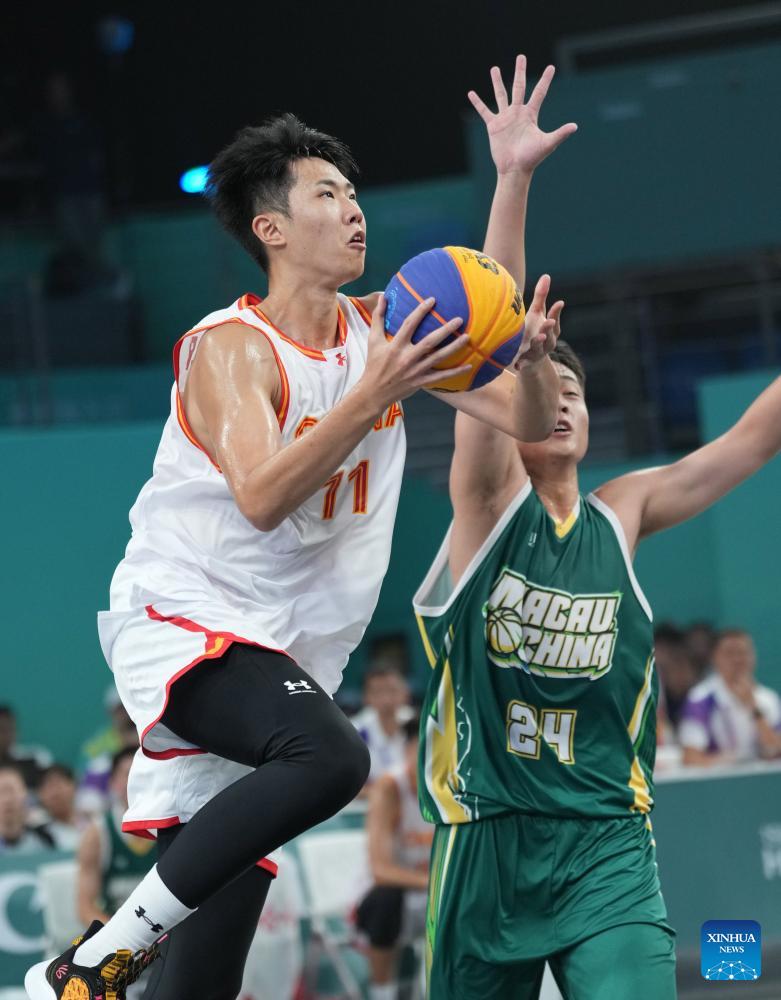 Zhao Jiaren (L) of China competes during the 3X3 basketball men's pool match between China and China's Macao at the 19th Asian Games in Hangzhou, east China's Zhejiang Province, Sept. 25, 2023. (Xinhua/Meng Yongmin)
Both China's men's and women's 3x3 national programs finished in the top three of the FIBA rankings by Nov 1, the cutoff date to decide the top three automatic qualifiers for Paris 2024.
Another 10 qualification quotas, five per gender, will be up for grabs at three qualifying tournaments early next year to decide the final fields for the half-court game's second Olympic tournament, following the sport's debut at the Tokyo Games in 2021.
The hard-earned tickets to Paris have provided Chinese hoops fans something to cheer about after a disappointing summer, during which the men's five-a-side national team missed out on Olympic qualification for a second straight time, due to its worst ever 29th-place finish at the FIBA World Cup in September. That setback was followed by defeat to the Philippines in the Asian Games final in Hangzhou last month.
The basketball community in China appreciates the 3x3 program's timely inspiration, said Chinese Basketball Association president Yao Ming.
"It all seemed like a daunting task as tall as a mountain at the beginning of this year when we discussed the 3x3 program's pathway to Paris," Yao said during a ceremony to celebrate the Olympic qualification last week in Jinjiang, Fujian province.
"Our players, coaches and all the supporting crews, however, have overcome unprecedented challenges to get it done. They've experienced the real-life version of The Wandering Earth. They lost count of the miles they had flown across the world, how many takeoffs they'd experienced and how many hotels they'd stayed in.
"I was an athlete for decades, yet I never experienced anything like this. The journey is worth being told and shared as an inspiration for more players. I appreciate all their efforts on behalf of the CBA," said Yao, an eight-time NBA All-Star.
Precious points
According to the FIBA system, the official Olympic qualification ranking list is calculated based on the federation points of each National Olympic Committee, or national association. Points are accumulated, for both genders, by the total of each association's top 25 players' individual points earned at their nine best-performing FIBA-sanctioned events over the 12 months prior to Nov 1.
As a world-class program on the global stage, the Chinese 3x3 women's team had almost secured a top-three finish halfway through the 2023 season, relying on a consistently competitive roster led by veteran guard Wang Lili and head coach Xu Jiamin, who eventually steered the women's unit to rank No 1 by Nov 1.
Ranked 15th at the beginning of the year, the men's program had a long way to go to elevate its ranking. Back then, China had no players in the world's individual top 50 men's rankings.
A bold initiative was then launched as an experimental approach by the CBA, which selected over 30 players from both the five-a-side and 3x3 domestic leagues, spread them out into seven club teams from home and abroad and flew them all over the world to play on FIBA's World Tour events since May.
The target was to fight for ranking points whenever and wherever available across the globe.
"Our team doctor has completed over 73 international flights over the past six months to try to cover each event that our athletes had played. That's proof of how rigorously demanding the project has been for everyone on the journey," said Chai Wensheng, director of the CBA's 3x3 basketball department.
For some key players on the program, such as prolific guard Zhang Ning from five-a-side CBA club the Shanxi Loongs, the travel was sometimes even more arduous than the action on court.
After finishing five games over two days at a FIBA Challenger event in Poitiers, France on July 1, Zhang and his Liman Huishan teammates had to take a long bus ride to Paris the next morning, then had a nine-hour layover at the airport before taking a 20-hour flight with two transfers to arrive in Macao the next day to prepare for the FIBA Masters tournament that tipped off on July 8.
Imagine doing this on weekly basis for half a year, battling fatigue and sometimes injuries as they played elite-level 3x3 matches.
"This was a unique journey on and off the court," said Zhang, who was named MVP at the Chengdu Masters on Oct 22, becoming the first Chinese man to receive the individual award at this level for his tournament-leading scoring total of 37 points.
"The real challenges came from behind the scenes, and these helped toughen us up for our mission on the court," said Zhang, who is now already back playing for Shanxi in the CBA league.
Now with the Paris tickets booked, the Chinese 3x3 program is aiming to reach new heights on the Olympic stage.
"Our goal is clear and that is to break our previous Olympic best," said women's team coach Xu, who led the squad to bronze at the Tokyo Games.
"We have reasonably higher expectations for Paris, which brings pressure and motivation at the same time.
"Yet, we've been conditioned to overcome all challenges on our road to Paris and we will do it again."