After taking a long break to recuperate, both physically and mentally, Olympic champion skater Gao Tingyu has come back fresh and motivated, targeting a golden encore on the ice at Milano Cortina 2026.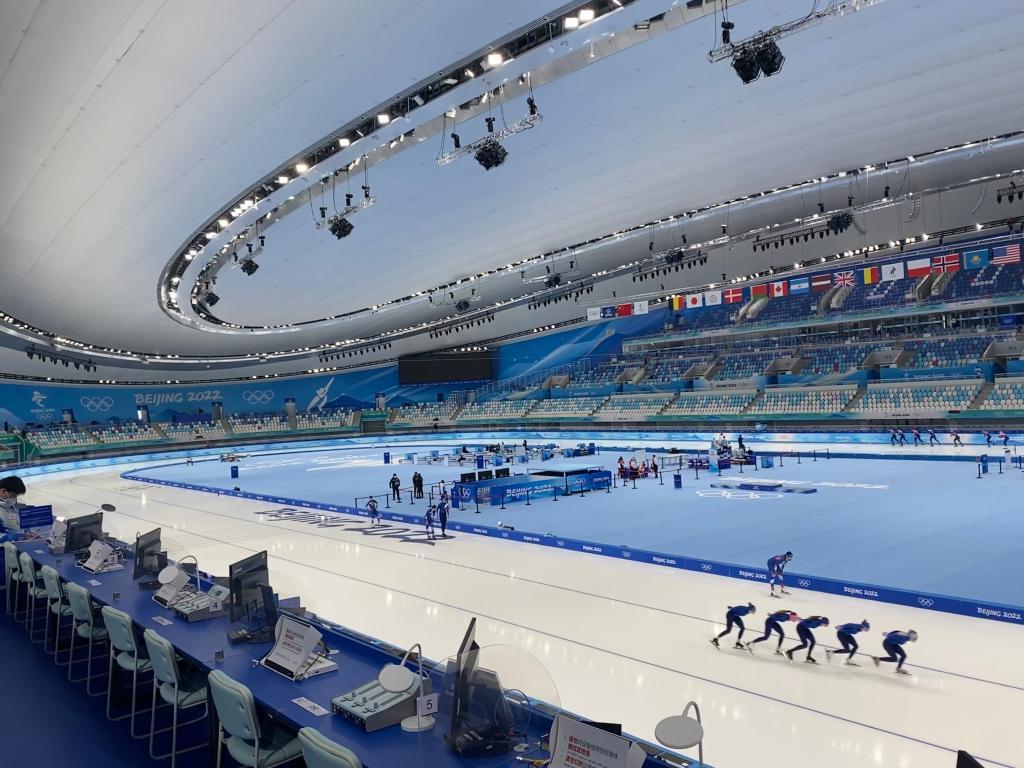 Beijing's Olympic oval, aka the Ice Ribbon, will stage this week's ISU World Cup speed skating meet, with the preparation work of ice-making expert Mark Messer expected to help produce fast times on the internationally acclaimed track. (Xinhua/Wang Luoxin)
As the world's elite speedsters gather again at Beijing's National Speed Skating Oval for this week's ISU World Cup meet, Gao's return to the iconic track, where he won China's first Olympic gold medal in men's speed skating, has attracted massive attention from fans and media.
A lower back injury had bothered Gao prior to and during Beijing 2022, so after claiming 500m gold at the home Games, he opted to spend over a year away from the track.
Having enjoyed plenty of family time and also starring in several reality TV shows, he described the hiatus as the "first totally relaxing" stretch of his career.
After rejoining the national program in the summer to prepare for the new Olympic cycle, he clocked 35.02 seconds at a domestic league meet in Harbin on Saturday to qualify for this week's World Cup stop, which will be his first international race since Beijing 2022.
"After taking a long enough rest and staying away from the ice completely, I feel the urge to race again and I am mentally refreshed to enjoy competitions again," Gao, who turns 26 next month, told a news conference in Beijing on Tuesday.
"Physically, I am far from my best. Perhaps, I don't deserve such a world-class track as fast as the 'Ice Ribbon' at the moment. I do have strong faith, though, in myself and my support team that we can get back to the top again.
"Hopefully, that happens at the 2026 Winter Olympics in Italy."
As the second stop of the six-leg ISU World Cup season, the Beijing event has attracted 241 athletes from 25 countries and regions, who will battle it out in 14 individual and team disciplines from Friday to Sunday at the Olympic oval, known as the "Ice Ribbon" due to its slick, futuristic design.
The venue's operational team, led by ice-making expert Mark Messer of Canada, has prepared the 400m track to the highest standards, with skaters testing it out in open training sessions since Monday.
"We are confident that international athletes will be amazed by the quality and conditions at the Ice Ribbon again since the Beijing Winter Olympics," said Chen Jie, a deputy director of Beijing Municipal Sports Bureau.
Located in Beijing's northern downtown area, where the altitude is close to sea level, the Ice Ribbon earned a resounding thumbs-up from Olympians at Beijing 2022 thanks to an eco-friendly refrigeration system that uses carbon dioxide to maintain a consistent temperature, density and firmness of ice across the rink.
Ten Olympic speed skating records were broken at Beijing 2022, matching the record total from Salt Lake City in 2002, where the oval is situated over 1,400 meters above sea level on the Utah highlands amid thinner air resistance.
Gao reckons the expected full house at the Beijing oval this week, compared to the empty stands during the pandemic-enforced bubble operation at the Olympics, will help bring out his best.
"Hopefully I can have a fast enough run to pay back the fans. I am kind of stoked and nervous at the same time to skate in front of the fans at the venue for the first time," said Gao, who took gold in an Olympic record time of 34.32 at the Beijing Games on Feb 12, 2022.
With a maximum of five quotas offered in each of the men's and women's individual distances for the host, the Chinese speed skating team is embracing the home World Cup as an invaluable learning curve for its young roster.
"Our goal for the 2026 Winter Olympics is to increase our slender advantage in sprint events to distance events and build a balanced prowess across all distances," said head coach Li Yan.
"This World Cup meet in Beijing offers a great opportunity to gauge ourselves against the world's heavyweights and we are determined to make the most out of it."
Legacy lives on
Following this week's speed skating races, a series of international competitions, including five more World Cup events on the ISU, International Bobsled and Skeleton Federation and International Ski Federation circuits, will mark the return of elite winter sports action to Beijing 2022 venues in the capital and Zhangjiakou, Hebei province over the next two months.
The FIS World Cup series' snowboarding and freestyle skiing Big Air event, scheduled for Nov 30-Dec 2, will feature local hero Su Yiming's first official ride since landing a gold medal in the high-flying discipline at Beijing 2022 at the iconic Shougang Industrial Park.
Another highly popular Beijing 2022 star, freestyle skiing Olympic champion Gu Ailing, will make her return to the slopes in a halfpipe World Cup meet at Genting Resort Secret Garden in Chongli, Zhangjiakou from Dec 6-9. Reigning men's Olympic champion snowboarder Ayumu Hirano of Japan and New Zealand freeski prodigy Nico Porteous also top the bill among a field of around 200 athletes set to compete on the Olympic pipe.
"The hosting of these international events bears witness to the continuous momentum of winter sports in China and helps implement the Chinese organizers' efforts to maximize the value of the Beijing 2022 legacy in facilities and operational expertise," said Li Yang, a deputy director of the National Winter Sports Administrative Center.