China's Ning Zhongyan secured his third medal when he won bronze in the 1,000m, at the Speed Skating World Cup in Beijing on Sunday.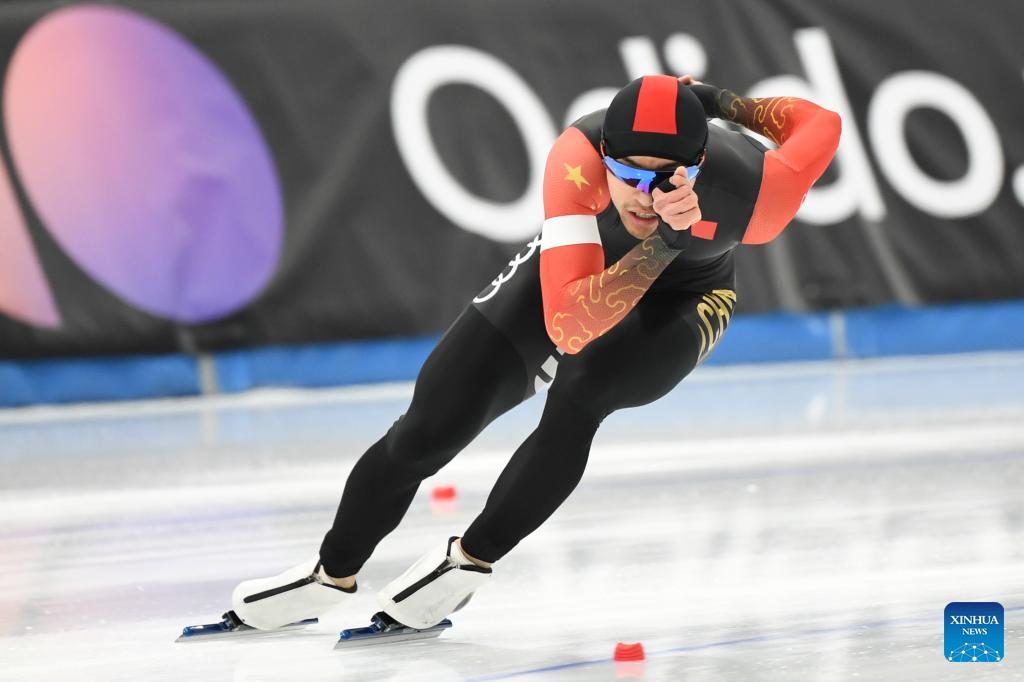 Ning Zhongyan of China competes during the 1000m Men Division A on the Day 3 of ISU World Cup Speed Skating at National Speed Skating Oval in Beijing, capital of China, Nov. 19, 2023. (Xinhua/Ju Huanzong)
Ning bagged a bronze medal in one minute and 9.03 seconds, marking his third medal in Beijing and fifth at the first two World Cups this season.
"It is a satisfying start to a new season. Hopefully I can change the color of my medals into gold in the next events," said Ning.
Ning, who had placed fifth in this distance at the Beijing Olympic Games, also won a bronze in the 1,500m on Friday and a silver in team sprint on Saturday.
Three-time Olympic champion Kjeld Nuis of the Netherlands demonstrated his prowess in the middle distance events as he stormed to victory in 1:08.11, following up on his 1,500m triumph in Beijing. Havard Holmefjord Lorentzen of Norway came second with 1:08.99.
Italy achieved a one-two finish in the men's mass start, the last event of this tournament, as Andrea Giovannini (7:39.52) and Daniele Di Stefano (7:39.91) won gold and silver respectively. Belgian Bart Swings came third in 7:39.97.
The women's 3,000m featured Norwegian Ragne Wiklund winning in 4:03.41 ahead of Martina Sablikova of the Czech Republic in 4:04.86. China's Han Mei earned a bronze in 4:05.45, adding to her 1,500m silver on Friday.
In the women's 500m, American Erin Jackson recorded a winning time of 37.54, and Kim Min-sun of South Korea was second, 0.31 seconds adrift. Dutch skater Jutta Leerdam captured bronze in 37.88.
The Netherlands clinched the women's team sprint title in 1:27.74, and Canada finished second, lagging 1.02 seconds behind. Poland was third in 1:29.09, and China ended up in fourth place.
The World Cup in Beijing, representing the second event of the World Series this season, was scheduled from November 17-19. The next event is set to be held in Stavanger, Norway, starting on December 1.