Following Sunday's game between the Xinjiang Flying Tigers and the Beijing Royal Fighters, the 2023-24 Chinese Basketball Association (CBA) league has entered an 11-day break before the second stage of the regular season resumes on December 1.
Since the league commenced on October 21, traditional powerhouses including the defending champions Liaoning Flying Leopards have started the season with in-form plays, while several past minnows have risen into the top 12, which will qualify them for a playoff spot after the regular season concludes.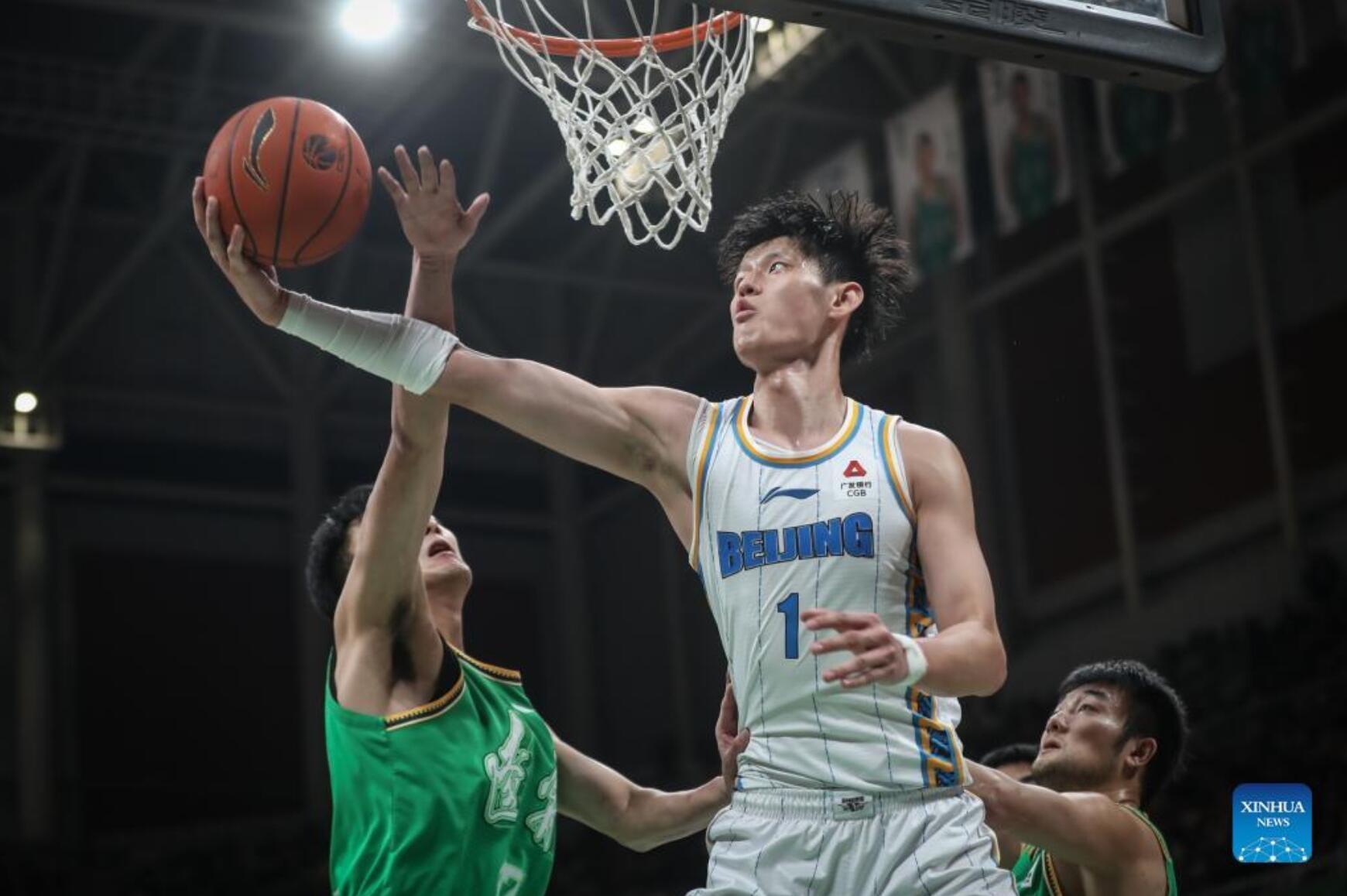 Zeng Fanbo (C) of Beijing Ducks goes for a basket during the 9th round match between Liaoning Flying Leopards and Beijing Ducks at 2023-2024 season of the Chinese Basketball Association (CBA) league in Shenyang, north China's Liaoning Province, Nov. 12, 2023. (Xinhua/Pan Yulong)
Aiming for its third CBA championship, Liaoning is the sole unbeaten team in the first stage, holding the top spot in the standings while having played one game fewer.
Without its star guard Guo Ailun due to a leg injury, Liaoning has demonstrated depth in its roster. Facilitated by international guard Zhao Jiwei, Liaoning averaged 107.4 points per game, ranking fourth in the league, while its defense was even more impressive, conceding the lowest average of 87.9 points.
Liaoning has retained its title-winning squad, and consistency has played a key role in its performance so far.
For the starting lineup, 33-year-old power forward Li Xiaoxu has surprised many by averaging 9.2 points and 6.6 rebounds on 50 percent field goal shooting and 39.5 percent from beyond the arc, with all these stats outperforming those of the past few seasons.
Despite struggling during his international duties last summer, Zhang Zhenlin managed to find his form in the domestic league, contributing an average of 16.8 points, 5.1 rebounds, 5.4 assists, and 1.6 steals, along with his landmark explosive slam dunks.
"It was a tough period back from the national team, and a low ebb in my career," admitted Zhang.
"But it also helped me grow as well. Playing for the national team has always been my dream, but as it [performance in the national team] was the fact, I need to improve myself and gear up for future matches," added the 24-year-old, who has been hailed as a prospect of Chinese basketball since his maiden CBA season in 2020.
Eric Moreland has maintained stable play this season, averaging a double-double of 11.6 points and 11.5 rebounds.
On the Liaoning bench, veteran center Han Dejun, Fu Hao, and Kyle Fogg can each contribute in their reserve roles.
Given the long season, Liaoning is also focusing on nurturing young talents. 21-year-old Li Huyi, promoted to Liaoning's first team this season, has justified the team's trust by averaging 6.6 points and 2.2 rebounds per game and partially filling the void in the backcourt due to Guo's absence.
In contrast to Liaoning, second-placed Xinjiang underwent significant roster changes in the offseason, transferring big man Zhou Qi to the Guangdong Southern Tigers while acquiring guard Zhao Rui. Former Jiangsu Dragons center Wu Guanxi and versatile guard Dominique Jones also joined, thus propelling Xinjiang, which already boasts sharpshooter Qi Lin and Abdusalam Abdurexit, into the ranks of title contenders.
Returning to his hometown of Beijing on Sunday, Qi delivered his best performance of the season, going 5 of 5 for 18 points in the first quarter. He tallied 31 points in Xinjiang's 112-105 victory over the Royal Fighters to conclude the first stage with a win-loss record of 8-2.
The Beijing Ducks, the Guangdong Southern Tigers, the Zhejiang Lions, and the Zhejiang Golden Bulls each notched seven wins in the first stage.
Under coach Ernest Raden, Beijing has enhanced its offensive efficiency through a faster game pace and improved ball movement, evidenced by its 138 points against the Sichuan Blue Whales.
Despite Zhou Qi not playing yet, Guangdong remains a championship favorite through its pillars Marshon Brooks, Hu Mingxuan, and Xu Jie, and new recruit Tremont Waters.
With key players Sun Minghui and Wu Qian excelling, two teams from Zhejiang, the Lions and the Golden Bulls, started strongly as expected.
Apart from these powerhouses, surprises and fresh faces have emerged in the playoff zone at the current stage, like the Shanxi Loongs, the Qingdao Eagles, and the Fujian Sturgeons.
Shanxi continues to exhibit offensive firepower, averaging the league's second-best 112.1 points, while Qingdao and Fujian both have benefited from the emergence of their future stars.
Touted as the Chinese version of two-time NBA MVP Nikola Jokic, the 2.18m-tall Qingdao center Yang Hansen has averaged 17.2 points and 12.0 rebounds. His footwork, game-reading, and rim-protecting abilities offer a hope for Chinese basketball's next big star.
Fujian's No. 5 overall draft pick Zou Yang has averaged 10.2 points, 6.5 rebounds, and 2.5 steals, aiding sharpshooter Chen Linjian.
At the expense of unfamiliar faces' improvement, the Shandong Heroes and the Shanghai Sharks, which had high expectations, are currently outside the top 12.
With 42 rounds remaining, the standings are likely to fluctuate, while the first 10 matches have signaled the early leaders in the race.