FC Barcelona will be without midfielder Gavi for the rest of the season after the 19-year-old broke his right knee cruciate ligament in the first half of Spain's 3-1 win at home to Georgia on Sunday night.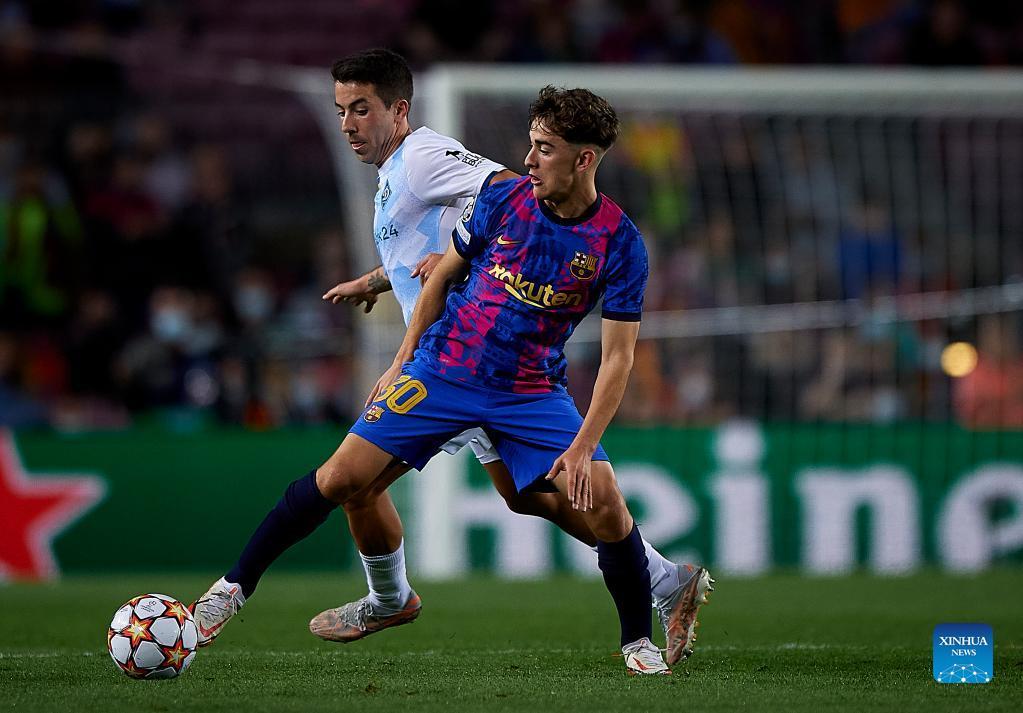 Gavi (R) of Barcelona vies with Carlos de Pena of Dynamo Kyiv during the UEFA Champions League Group E match between FC Barcelona and FC Dynamo Kyiv in Barcelona, Spain, on Oct. 20, 2021. (Photo by Pablo Morano/Xinhua)
Gavi went down after a challenge in the 21st minute. After attempting to carry on, he had to limp off in obvious pain, with the Spain medical team commenting at halftime that they were "pessimistic" about the injury.
Although Gavi will have to undergo further tests in Barcelona, the Spanish Football Federation later confirmed that the player has torn the ligament and will need an operation.
"This is the ugly part of football. This is the most bitter victory I have ever experienced in my life. It is a very difficult moment for Gavi, Barcelona, the national team and for me - it seems as if we have lost the game," commented Spain coach Luis de la Fuente after Sunday's match.
The recovery time for this kind of injury is usually at least eight months, which means that as well as missing the rest of the season, Gavi will be out for the European Championships, which are held in June and July next year, and probably won't have recovered in time to take part in the Olympic Games a month later.
Gavi is important for Spain and Barcelona. He has already played 27 times for his country and 111 times for Barca, who are still without Frenkie de Jong with an ankle problem, while Pedri is easing his way back after over two months out with a muscle injury.