Beijing has been ranked as the best tourism city on the Chinese mainland, according to a study jointly issued by Jiemian.com and toutiao.com.
Cities on the Chinese mainland were evaluated based on five aspects: number of visitors, tourism revenue and its contribution to the local economy, traffic and tourism infrastructure.
It's not surprising that Beijing, China's capital city, came out on top.
In 2016, Beijing received 280 million domestic tourists and 4.16 million foreign visitors. Its tourism revenue amounted to about 502.1 billion yuan, 20 percent of the city's total GDP.
Travel in Beijing is very convenient as its highways, railways and airlines connect with many locations.
With a history of more than 3,000 years, Beijing is a metropolis with abundant natural and cultural resources.
It houses 244 national A-class scenic spots and eight are five-A, the top grade of the country's tourist site classification system. There are 554 starred hotels, 64 of which are five-star alongside 2,204 travel agencies who provide diversified services to visitors.
Receiving 450 million visitors in 2016, Chongqing, China's "hotpot capital", was the most visited. Its tourism revenue totaled 264.5 billion yuan, accounting for 15 percent of its GDP.
As a transport hub in the southwest region, Chongqing has a developed traffic network consisting of highways, railways, waterways and airlines.
The mountainous city embraces 214 national A-class scenic spots and seven are five-A grade. Approximately 227 starred hotels and 479 travel agencies are available to visitors.
Shanghai comes third on the list. In 2016, the metropolis was the second most visited city with 300 million visitors recorded. Its tourism industry had registered revenue of 389.7 billion yuan last year, contributing to 14 percent of its GDP.
As China's economic center, Shanghai has a perfect traffic network but it offers relatively less in terms of natural and cultural resources compared to Beijing and Chongqing. Nevertheless, the newly opened Disneyland Resort has added much more glamour for tourists.
Significantly, the research found that five cities can truly be labeled as tourism cities as the contribution of the tourism industry to their local economies exceeds 60 percent.
They are Lijiang City of Yunnan Province, Huangshan City of Anhui Province, Sanya City of Hainan Province, Jinzhong City of Shanxi Province, and Shangrao City of Jiangxi Province,
Here is the list of the top ten tourism cities on the Chinese mainland.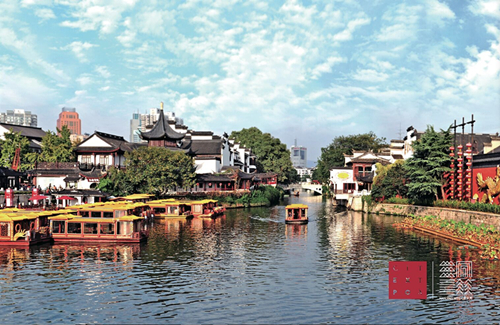 Confucius Temple in Nanjing. As one of the Four Great Ancient Capitals of China (the other three being Beijing, Luoyang and Xi'an), Nanjing has a prominent place in Chinese history. [nanjing.gov.cn]