Xuzhou is a major city in east China's Jiangsu province with a time-honored history and splendid culture. People can find a lot about the past of the city by visiting the Xuzhou Museum where many precious cultural relics are housed.
Opened in August 1960, the museum is now also the city's Institute of Cultural Relics and Archaeology and the Gallery of Stone Reliefs on Ancient Chinese Tombs and Shrines from Han Dynasty. As a national first-rate museum and a national AAAA tourist destination among many other honors, the museum has done a lot in excavating, protecting, exhibiting, collecting and studying cultural relics.
The museum boasts a collection of 27,850 pieces and sets of cultural relics, which include jade ware, gold and silver ware, bronze and iron ware, ceramic ware, imperial seals, calligraphy and painting works, and stone reliefs on ancient Chinese tombs and shrines from Han Dynasty. Among them, many represent the highest level of their kinds in China. The collection of cultural relics from the Neolithic Age, the Han Dynasty and the Ming Dynasty is rich and outstanding, with the ones from the Han Dynasty being the biggest feature.
Following are some of the most precious collections of the museum.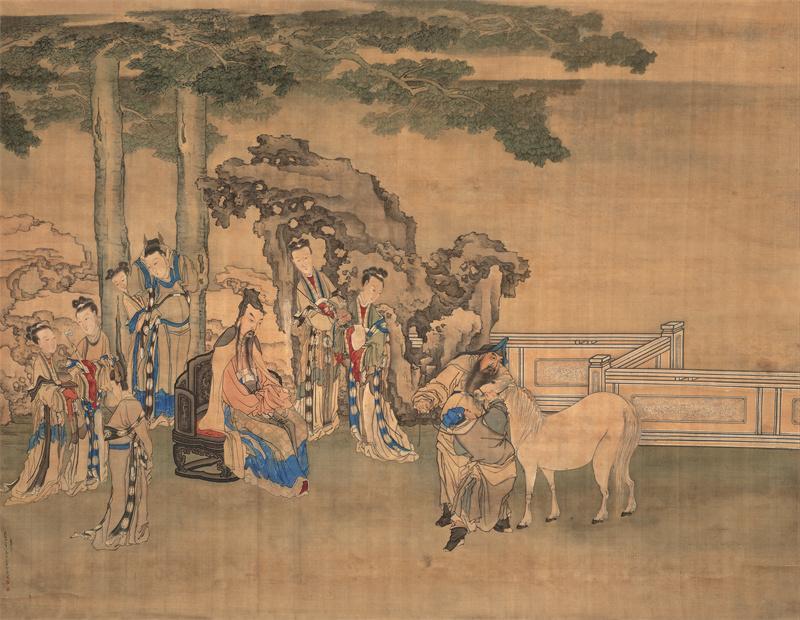 Name:Scroll Painting of Selecting Good Horses by Huang Shen
Time:【Emperor Qianlong in the Qing Dynasty】
Size:131.5*171 cm
Source:Donated by Deng Yongqing
Huang Shen (1687 - after 1768), whose courtesy name was Gongmao or Gongshou, and pseudonym was Yingpiaozi, was native of Ninghua, Fujian. As one of "Eight Eccentric Artists of Yangzhou", he was engaged in cursive script and adept at painting. He integrated the element of Huai Su's wild cursive into his painting, and created his own style. The Scroll Painting of Selecting Good Horses was his outstanding work in the transition period when Huang Shen began to form his own style as Shangguan Zhou's student.