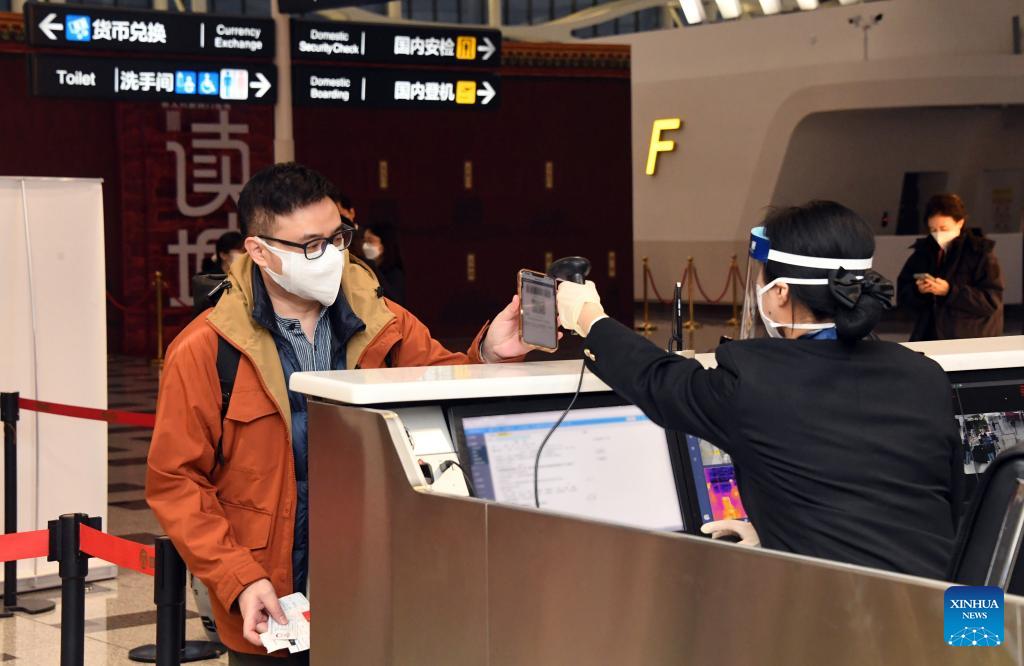 A customs officer verifies the health tracking code of a passenger taking flight CZ309 from Beijing to Hong Kong at the Beijing Daxing International Airport in Beijing, capital of China, Jan. 17, 2023. (Xinhua/Ren Chao)
With the take-off of the CZ309 flight to Hong Kong, the Beijing Daxing International Airport on Tuesday resumed the operation of international passenger flights after China continuously optimized COVID-19 epidemic prevention and control policies.
Among more than 100 passengers onboard the flight, a father returned to Hong Kong for a reunion with his children for the first time in three years. There was also a family of three who said they made travel plans via Hong Kong.
"Finally, I can resume meeting with international business partners," said Sun Han working in the field of international finance, also a passenger on the flight.
As Beijing's newest airport, the Beijing Daxing International Airport became operational on September 25, 2019. From March 14, 2020, the airport's international flights were transferred to the Beijing Capital International Airport until the resumption, which was among Beijing's unified deployment of COVID-19 epidemic prevention and control.
From Tuesday, several airline companies, including China Southern Airlines, China Eastern Airlines, Capital Airlines, and Himalaya Airlines, resumed passenger flights on international routes via the Daxing airport.
Also on Tuesday, the Daxing airport resumed the international flight transit service and the 144-hour transit visa-free policy in the Beijing-Tianjin-Hebei area, effectively promoting tourism and business activities in the city cluster.
Kong Yue, deputy general manager of the Daxing airport, expected the country's civil aviation market to usher in a new season from March with the opening of more and more long-distance international air routes.
The two major airports in Beijing expected the number of incoming and outgoing flights to surge 44 percent during the Spring Festival travel rush compared with the same period a year ago.
China's Spring Festival travel rush kicked off on Jan. 7 this year after the country adjusted its COVID-19 response. Spring Festival, or the Chinese Lunar New Year, falls on Jan. 22 this year.
It is estimated that 62,000 flights will arrive at or depart from the Beijing Capital International Airport and the Beijing Daxing International Airport during the 40-day-long travel rush, according to the North China Regional Administration of the Civil Aviation Administration of China.
China has eased COVID-related quarantine regulations and lifted restrictions on international flights. The Pudong International Airport on Jan. 8 saw the first international inbound flight after China adjusted the epidemic controls.