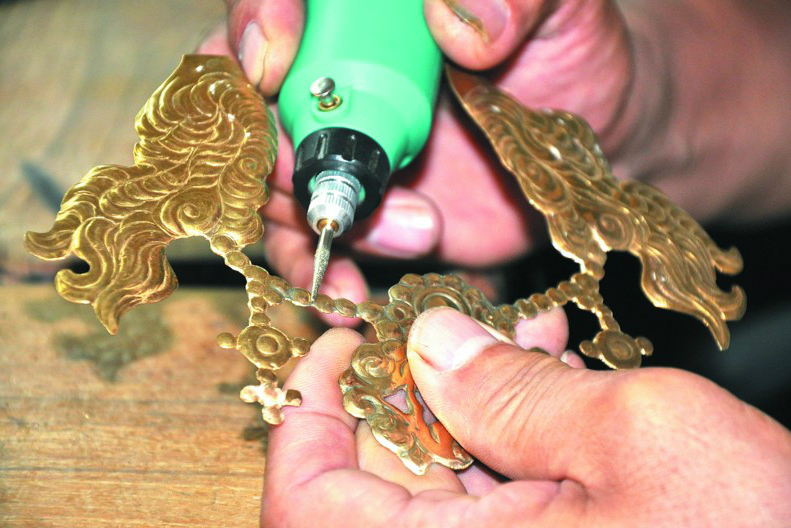 Li Keda is making a bronze relief. [Photo/Qingdao Today] 
62-year-old Li Keda is a skillful bronze relief craftsman in Qingdao. He has been in the trade of iron painting for over 30 years.
In his studio, which is filled with finished bronze reliefs, the vividness of the works never fails to amaze. There are reliefs depicting the mighty Guan Gong, a kind Buddha, a pretty and lovely maid as well as birds and flowers. These reliefs are true to life and durable enough for permanent collection.
Under the influence of his father from childhood, Li started to learn the iron painting art when he was still a teen. He quickly grasped the techniques. In 1989, Li found a job in a mould factory in Jiaozhou. The factory manufactured bronze hotpots for a period of time and a lot of leftover bits and pieces of bronze were disposed as waste which Li found quite a pity. He therefore started to use bronze sheets to replace galvanized iron sheet to paint on and also introduced chisel and relief techniques. This eventually resulted in his own style of bronze reliefs.
"There are a dozen or so steps in the whole process of making a bronze relief, including raw material selection and cutting, composition, forging, engraving, polishing and mounting," said Li. "Every step allows no careless work, or else the finished relief will be flawed."
Li started a studio after retirement because he has more time to study the bronze relief art. The studio also teaches young people how to make bronze reliefs free of charge.
A relief by Li Keda depicting two dragons playing with a pearl [Photo/Qingdao Today] 
Li Keda is making a bronze relief. [Photo/Qingdao Today]